Ford And Rivian Scrap Plans To Co-Develop Future Electric Vehicles
Ford and Rivian will no longer be developing electric vehicles together, according to Ford CEO Jim Farley's recent interview with Automotive News. Ford owns a 12% stake in Rivian, and made more than $7 billion from the EV startup's recent IPO, but believes that it has advanced its own EV technology to the point that it no longer needs to piggyback on the Rivian platform.
The deal to develop future EVs together was signed in April 2019, with Ford making a $500 million investment in Rivian to secure the partnership and see off competition from General Motors. The first jointly-developed product would have worn Ford badging and be built on Rivian's "skateboard" platform as used by the outdoor adventure-focused R1T pickup truck.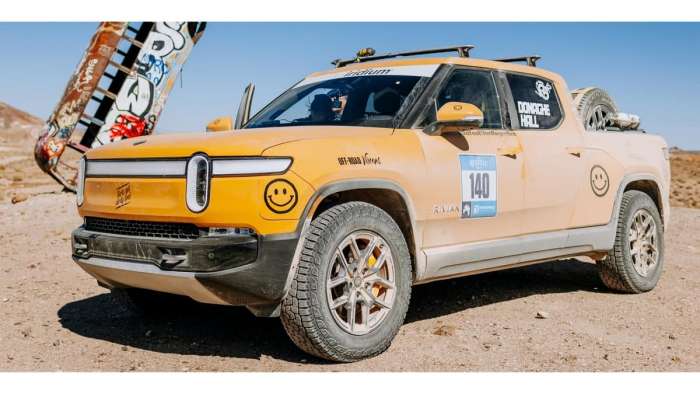 A similar deal was inked with Lincoln and would have used the Rivian R1S SUV platform, but was called off in 2020. Lincoln still intend to bring its own EV SUV to market, and will make use of Ford's platforms instead. It would seem that the scrapping of these latest joint development plans was also influenced by difficulties in getting Rivian's systems to work with Ford's software.
Still On Good Terms
Ford made sure to mention that the cancellation of the joint development plans in no way represent a souring of relations between the companies, telling Car and Driver, "As Ford has scaled its own EV strategy and demand for Rivian vehicles has grown, we've mutually decided to focus on our own projects and deliveries. Our relationship with Rivian is an important part of our journey, and Ford remains an investor and ally on our shared path to an electrified future."
Farley stated that Ford has its sights set on becoming a major force in EV production within the next two years. Second only to Tesla, Ford aims to deliver 600,000 electric vehicles each year in markets around the world by the end of 2023. Whether that happens remains to be seen, but Ford is betting they won't need Rivian's help to achieve such a leap.
Images from Ford and Rivian licensed by CC BY 2.0.
James Walker is an automotive journalist at Torque News focusing on Lucid Motors electric vehicles. If it's got wheels he's interested in it, and he's very excited to see what kind of driver's/performance cars the EV revolution brings us. Whether it's fast, slow, new, or old, James wants to have a look around it and share it in print and on video, ideally with some twisty roads or a track involved. You can connect with James on Twitter, Instagram, and LinkedIn.