Rivian Unveils R1S SUV at the LA Auto Show a day after it debuts its pickup truck. This is a full sized SUV that sits on the same R1T platform the original pickup model is based upon. Because this is an SUV, I'm assuming that this will be their flagship model, as it obviously will be the most expensive. With this SUV and the fresh newness of Rivian as a brand, there are a lot of ways they can go and a lot of things they can do with this vehicle. Here, I make the case to go in one particular direction:
The 2021 Rivian R1S SUV BEV due late 2020.
MSRP starts at $72,500 USD and up.
$1,000 refundable deposit starts now.
A Frunk! With 4 motors! Are you watching Audi, Jaguar, and Mercedes?
Its basically a R1T pickup truck variant. Features are basically the same for each.
Offer three choice of batteries for different ranges instead of just a paltry one (Hey Mercedes and Jaguar, get it now?).
Anti-minimalist dashboard 15.6 and 12.3 inch touchscreens grace a beautiful exotic veneer accented dash bespoke style.
Suited for Level 3 Autonomy.
Same 11.7 cu ft of frunk space as the pickup.
7 passenger 3 rower. Range Rover only seats 5, same size.
Both rows fold flat for gear.
3 battery pack choices: 105 kW, 135 kW, 180 kW.
Power: 300 kW, 562 kW, 522 kW 562 kW= 764 Hellcat Type Horsepower
Unprecedented 4 motor electric AWD.
Top speed: 125 mph.
0-60 4.9, 3.0, 3.2 secs.
Range: 240+, 310+, 410 miles.
Vehicle curb: 2,670 kg.
Payload: 800kg.
Tow Cap: 5,000 kg.
Compare Dimensions to 2018: Range Rover and Ford Explorer:
Ford Explorer: 198" L x 79" W x 70" H
Range Rover: 197" L x 78" W x 72-73" H
Rivian R1S: 198" L x 79" W x 72" H
Details on a Rivian supplied spec sheet are illustrated separately: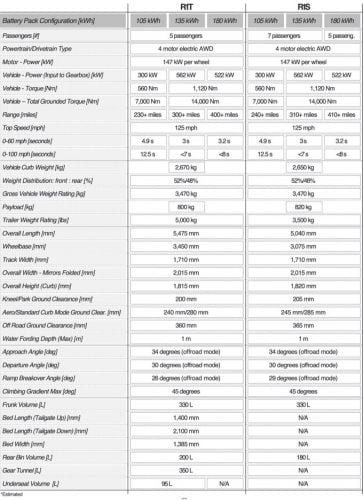 Let the electric SUV truck games begin!
With Rivian ready to bust out as it prepares to ramp up with the pickup first then this, they have great potential here to add something different, valuable, and special to their new brand, that Cadillac once had and lost 40 years ago, that it's difficult but not impossible to get back as they're trying to now. But when you're new it's much easier to obtain, and that's the prestige of being known only as a bespoke luxury brand. All they need to do is make some modifications to this vehicle go upmarket as Land Rover did with theirs, and suddenly if executed properly, they become the hottest luxury item to have since i-Phone. And it'll be rarer and cost much more.
Exterior Styling
Although some may say its a Range Rover copy cat, I say it has the conservative boxy truck styling of Range Rover because that's why it was made that way, to take them on. In fact Rivian is clearly ignoring Cadillac and Lincoln to head right to the throat of Land Rover. I could make an argument that where Range Rover leaves off in their styling and paltry electric offerings and performance, it's obvious Rivian is picking up the mantle to continue where JLR leaves off. There's a segment in the market that does not care for the ambiguities CUV crossover styling, moi included.
In my opinion, CUV styling outside of SUV style I find is rarely ever tastefully done. What's the point? If I want something that looks like a car I'd rather just get a real car. If I want something that looks like a sedan, I'll get a real one, not a Charger, rather, a European Saloon. If I want a wagon, I'll get a real station wagon or a traditional boxy truck SUV. Rivian and Range Rover is for me and you, if you are looking for a traditional conservative tall riding truck with power capable of negotiating interstates glibly at high speeds, and with the same power ascend and descend steep terrain way off grid.
Interior Styling
No Bentley Bentayga diamond stitching style required here. In a Tesla Counter-Minimalist revolt, Rivian sends a stinging rebuke to Tesla-style that's it's ok for an all electric vehicle to have a dash reminiscent of a Crewe made Bentley or a 1960's Crown Imperial dash done 21st century style. It's easy for any car maker to mount two screens in front of the front occupants, it's more challenging when they're surrounded by veneers and vents old school style. Yes there's no individual dials for instrument read outs, maybe that's something to consider when they have more cash and go upmarket that this point I don't see why that's necessary, but for what they give us now in the styling package presented I say not bad.
If used with real veneers and offered a variety of choices if done bespoke, including anti-tree-and-animal-killing choices, Rivian can have lots of options in the direction of which market they'd like to go. I can only imagine what a high performance carbon fiber blacked out version of this vehicle will look like! I can only imagine with 764 in stock horses what tuner shops will do to it!! I can't wait to watch it on YouTube!
And with that bespoke, I can only imagine how this truck is transformed when you stretch backseat room by seven inches, install veneer picnic tables or writing desks, install a fridge or wine cooler to make this vehicle less about the driver and kid hauling, and more about chauffeured or level 4 driving.
But as you can see from the illustrations that speak for themselves, a lot of thought went into the interior design and very much like the vertical oblong headlights that are polarizing on the road for visibility, and in public opinion for controversy, Rivian has clearly created an interior design that if you were to blindly open the door, to know your cars well without identifiers, you'll clearly know this is a Rivian.
"But Look at the Size It's So Small!"
No it isn't small. That's actually global full sized. Being American you're used to HUGE.
I can tell which of you drive those behemoth Yukons, Expeditions, Denalis, Suburbans, Navigators, and Escalades ESVs out there. Yes I love them too. Let me ask you though, how long do you really think those sizes are going to last? Forever? Because if you do believe that, buy a new one now and mothball it for at least a decade, depending how old you presently are . . .
I know what some of you are thinking, especially the ones who already went to the LA Auto Show to check out the R1S to see the size for yourselves. "But it's the same size as Explorer! How can R1S be taken seriously as an Autobiography?" Yeah yeah yeah, okay.
While the R1S is Explorer sized, that's actually considered full sized starting in rental fleet language (I cringe as we speak Rivian to hope they never go that way but to make a point). What a lot of my colleagues missed is that R1S is also Range Rover SWB sized as well.
The exterior dimensions for the 2018 Ford are 198" L x 79" W x 70" H. Range Rover: 197" L x 78" W x 72-73" H. Compare. R1S even has a third row, Range Rover does not. When we Americans think full-sized, we obviously think Escalade and Navigator. But with eventual electrification of both wooly mammoths, both will probably shrink and sleeken out to Range Rover size, so they can withstand and withhold a heavy battery tray, and in the case of Cadillac, because I have no hope for Lincoln to go upmarket, a sleeker Escalde will allow her to fit just right to compete in that ultra luxo bespoke segment as well. So with this size, and I'm sure the engineers and designers at Rivian well-thought this out, R1S's size is exactly where they need and want her to be so that all options are on the table to either go upmarket or mass market. I say, take advantage of your newness and go upmarket. You can always do mass market later, ask Mercedes, Jaguar, and although even still kind of high end still, even Bentley.
3 Packs, 3 Ranges, Stop Crying!
This is what Jaguar, Audi (they're finally moving that way with GT), and especially Mercedes should have done!
It is blatantly obvious that Rivian gets it offering three choices of battery packs and ranges that not only that Mercedes, Jaguar, and yes, Audi doesn't get it, and even some of you out there don't: If you don't understand what a true SUV is all about, then you need to step down to the CUV club of soccer dads and moms to leave yourself there and be happy with that.
And never compromise you're standards because that 300 mile Tesla CUV range is a $100,000 option. I can't believe some of you when I hear this from you that the 300 mile range is a $100,000 100D option. So what? That's not my problem, that's Tesla's for doing that! That's not the only reason that 300 mile range car costs so much, and if market demand wanted it that much for a base model, trust me, that could be the showcase feature in a economy model of makers had to! Ask VW about that! In your complacency when you folks who do that, you compromise your standards by asking for something that really doesn't cost automakers that much more money to do. It's like buying a PHEV now wanting so badly to go green, but afraid of the recharging dynamic. You're only fooling and short changing yourselves.
And contrary to what one of my colleagues I deeply respect over at one of the electric oriented vehicle online sites, an editor in chief, who recently wrote "The truth is, anything over 200 miles is generally more than enough." Oh really, I say? What does that mean "over 200 miles is generally more than enough?" For what kind of vehicle? Enough for what? Says who? You? Well, I retort, no, 200 miles is not enough for an SUV, and over 200 that statement can mean anything, and respectfully, who are you to decide on that figure?
This is what the problem is with i-Pace and it still seems nobody is listening but the Trump EPA of all administrations, certainly is! If you are going to haul things and go to far places where refueling options are limited and go deep adventure off grid for a prolonged period for time, SUV's need to have long ranges, and should be built and designed to perform that way. If you want to compromise then step down to CUV. This is, after all, what Rivian's business model and the theme of their "electric adventure vehicles" are all about! San Francisco to the Sierras and back on one charge! "Unplug. Charge on!"
And when you think of it, this is why gas versions of SUV and terrain pickups have 30 gallon gas tanks. This is also why a few of them designed for rugged terrain have an extra gas tank strapped on the side or back of the vehicle. It is for these reasons. Even if you go adventure hauling twice a year like you do with your camper, an SUV should be built that way anyway, it's nice to have that option especially for things like a disaster or an apocalypse or an impulse decided get-away, that's what they were intended for.
And it's obvious here, that Rivian gets it. And with this three tier pricing of trays I bet you Tesla will eventually have to readjust their pricing as well. So much for the $100,000 300 mile range.
The Jaguar i-Pace is a great vehicle I love it I do, but for a serious kayak, boating, fishing, camping trip that i-Pace if properly equipped can easily do, including towing too, I bet you in its current variant there are going to be more dissatisfied owners than the satisfied ones who need the vehicle to do what Jaguar says it can do. With what? 513 lb. ft. of torque and no tow rating? C'mon folks! Jeez.
And as I always said from the beginning, if people are still complaining about "range anxiety" in 2019, then do us all a favor and put at least 240 miles on the cars and somewhere around at least 300 miles on the trucks, please, to shut them up so they can stop buying PHEVs and we can get this green show on the road.
Rivian impressively did what Jaguar, Audi, and Mercedes didn't do and should've done: introduced battery options with different ranges, instead of one with a paltry one. If Rivian can do this, then there's no excuses why the others can't. Now everyone, well, those who can afford this, has no excuse not to buy one, and everyone, well most, can find something to be happy about. With 240, 310, and a staggering 410 mile ranges, and with all that at the least, we can tell certain people to stop their BEV range anxiety crying.
Possibilities for Rivian
Rivian not only has the right vehicles at the right time, the company is at the right moment to exercise different options. Learning from 1960s Chrysler's mistakes, Rivian R1S is poised to be in a position of being the next 1960s Crown Imperial Ghia, the third viable bespoke luxury American option at the time (I say for current times second past Cadillac), that if they play their cards right they can become a valuable luxury brand. I can easily see an Autobiography version of this truck pulling up at a red carpet at the next televised banquet awards ceremony in Hollywood or New York. It's all up to Rivian.
The bottom line is that Rivian took ten years to find the right vehicle at the right moment at the right time to start financing and ramping up production. That vehicle is here in two variants. With no pickup BEV on the market, and SUV sales going through the roof, Rivian if it plays its cards right has great potential to do great things in the electric vehicle market. Like Lincoln and Cadillac has, I hope they don't disappoint us!
Rivian images courtesy Rivian Media.
Tell us how you feel about this historic moment for Rivian down below!