Why 2019 Insight is Honda's Answer to the perfect Compact 4-Door Sedan
This week we drop in behind the wheel of Honda's reinvented third generation Insight Hybrid. Long gone is the quirky 2- seat original Insight -- the first mainstream gasoline electric hybrid car marketed to North America. That was way back in 1999, a lifetime in automotive development years.
Insight Hybrid Timeline and the electrification of Honda

Followed by a much larger 5 door 4 passenger hatchback, the second generation Honda Insight hatchback although conventional in body design, was overshadowed by the more powerful and plentifulToyota Prius. Toyota won that round.
Short Story: Honda Insight didn't sell well in the U.S., and subsequently left Honda's domestic car lineup for several model cycles, as Honda reinvented the entire lineup. We now witness the most dynamic car and light truck lineup in Honda history, with the reinvention of Accord, Civic, CRV, HRV, Odyssey, Pilot and Ridgeline. And then there's Accord and Clarity Electric, with MDX and NSX in the Acura lineup -- all new, and by and large, segment dominating.
In rolls 2019 Insight, Honda's reentry into a compact hybrid segment presently dominated by Toyota, with Hyundai, and Kia hot on the trail. However, Insight is unique in this segment for several reasons. Insight's European inspired body language will appeal to a car buyer not generally attracted to Prius. Gone is the hatchback, instead replaced by a well appointed near midsize 5 passenger sedan. Insight offers 15 cubic feet of trunk volume, and a 60/40 split folding second row seat that effectively extends the trunk for hauling longer items.
The benefit of a more conventional sedan format is improved frame rigidity resulting in superior handling, a quieter cabin, and what Honda engineering refers to as a more premium drive and ride experience.
Honda combines Civic dimensions with Accord Hybrid technology, 2019 Insight is born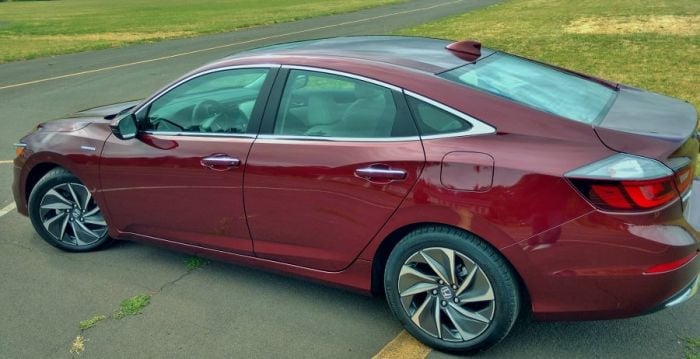 Without going into too much marketing detail in an attempt to second guess Honda as to Insight's targeted demographic, as recently shared with me by our friends at Honda public relations, simply put, 2019 Honda Insight is a very refined Honda Civic Touring Sedan with Accord body design cues, and next generation 2 motor hybrid motivation.
Honda believes that Insight fills the needs of the informed consumer looking for a bit more comfort and refinement from their compact sedan then currently afforded by the Civic lineup, without having to step up-line into Accord or Clarity.
2019 Honda Insight Touring refined and posh

Surveying Insight's cabin, I find the interior layout, center stack integration, sculpted body design, trim, and cabin finish to look and feel premium. Taking a closer look at the power adjusted, leather covered seat fitment, contrasting soft and hard surface interface, the intuitive and thoughtfully placed instrument cluster, and the high resolution color static touchscreen, I discover nothing "cheap" about 2019 Honda Insight, despite a beginning MSRP of $22,830 for a well equipped Insight LX featuring Honda Sensing ™ standard. Honda Insight as presented is an exceptional automotive purchase value.
2019 Honda Insight is comfortable on first seating

When drive compared to Honda Civic, 2019 Insight features a slightly higher seating position. I discovered exceptional head, leg and hip room, and, more than adequate clearance between my right knee and the lower dash pad.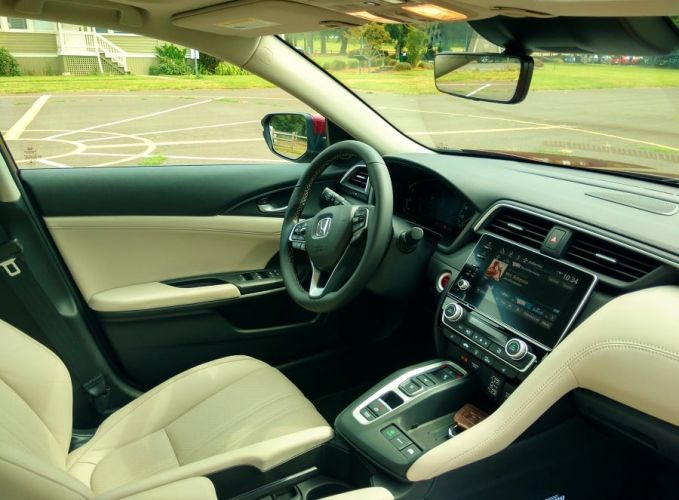 As is customary to the latest generation Honda design book, driver visibility is exceptional to the exterior in all directions. Insight's cabin is normal speaking level quiet, and thanks to advancements made in chassis and safety cage engineering, and the extra mile taken in reducing engine and tire tread to the road noise transmission to cabin, Insight may very well be the quietest compact sedan available today in the near-premium compact hybrid car segment.
2019 Honda Insight's 2 motor hybrid system produces exceptional torque and fuel efficiency
I first experienced Insight's Accord derived 2 motor hybrid system 3 or 4 years ago in Davis, California. Prior to the arrival of Honda Clarity electric to the market in late 2017, Honda Accord was not only the most powerful and refined sedan in Honda's North American lineup, but the most fuel efficient.
Integrating Accord hybrid power into the slightly smaller and lighter 2019 Insight results in a very dynamic, dare I say exciting drive and ride experience. This primary electric lineal hybrid produces 151 horsepower, and 197-lb-ft torque, while achieving up to 55 MPG City. According to Honda, 2019 Insight represents the latest rendition of the 10th generation Civic platform.
Equally impressive is the list of standard and optional features presented throughout Honda's simplified 3 option trim-walk. LX, EX and Touring, that's it. Read more about that here.
Last Thursday while attending Drive Revolution in Vancouver, Washington, I experienced 2019 Insight for the first time under real world driving conditions. Insight combines small displacement Atkinson cycle gasoline engine horsepower with electric motor torque.The end result is an instant-on, off-the light acceleration -- very handy in transitioning city traffic.
I appreciate Insight's variable drive modes and rough road taming suspension tuning. The road to steering wheel feedback is natural, braking is exceptional, and handling through the sweeps is more than adequate.
2019 Honda Insight: Unless compared side-by-side with a mid or full size sedan looks and rides much larger than its compact dimensions would suggest. Insight's wide-tracked, race-track-inspired body language translates well to the road. In the case of Insight, high fuel efficiency is simply a bonus. Looking to the price point, Honda's tossing in the hybrid system for free. Based on 2019 Insight's ride and design, I'd buy it with or without the hybrid attributes. I believe exceptional value packaging is Honda Insight's sales hook. Insight is a car worth far more than the sum of its tech-rich parts. As we turn the page in automotive history, Honda is well on the path to electrifying all of its car and light truck lineup. 2019 Insight is simply a stunning preview of things to come.
Commentary and Photos by Parks McCants 2018