2 Key features 'normalize' 2018 Honda Accord Hybrid
Last year while roaming the streets of Tokyo, one glaring difference between the Asian and U.S. car market was driven home -- in Japan, hybrid electrification is the norm, with the internal combustion engine used in most applications for co-generation. Here at home, with the price of retail gasoline hovering well below $3 per gallon in most regions, the car buying public all but shuns the electrified automobile, opting instead for a generally lower MSRP conventional powered car or light truck.
And yet, as stated by our good friends at Green Car Journal, the writing's on the wall; electrification and the auto industry has hit a momentous tipping point.
No longer a matter of if, but when, the automotive industry is embracing electrification, gasoline will go the way of the kerosene reading lamp, with Honda riding the crest of that first wave of transition. So you don't want hybrid, check out this Accord.
2018 Honda Accord presents a 3rd generation hybrid electric alternative without compromise
It wasn't long ago that purchasing a gasoline, electric hybrid car came with a long list of compromise; car size, less interior volume, and in some cases, more specifically, the sedan class, a small to nonexistent trunk, with no cabin to trunk access via the second row seating; and then there was the measurably higher MSRP.
Consumers who preferred a sedan configuration would settle for a small hatchback, or crossover, in a quest for greater interior space and utility. A very innovative Honda Motor Company presents a manufactured in Ohio 2018 Honda Accord 4-door hybrid sedan that will "normalize," the mainstream family sedan buying experience with 2-key innovations. The current Accord hybrid is the most fuel efficient sedan on the road today.
2018 Honda Accord Hybrid features a huge trunk with pass-through capability
Thanks to ever-evolving Lithium Ion battery development, greater charge density results in a smaller battery module with the same charge-hold capacity. Removed from behind Accord's second seating row to below the seat, results in not only a lower center of gravity, but an unobstructed, 60/40 split drop-down seat with clear pass through access to the trunk, allowing the transport of longer objects.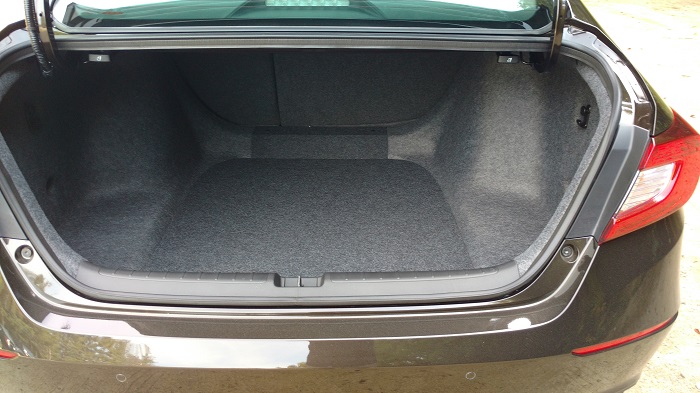 2018 Honda Accord Hybrid now presents the same trunk volume of the conventional sedan; with no loss of electric charge and regeneration capacity. Torque News first met Honda Accord Hybrid in Davis, California.
The bigger trunk is good, removing the higher MSRP price constraint is better
So, Honda does both: The 2018 Honda Accord Hybrid comes to market in early 2018 with an expanded trim walk and a lower entry level MSRP.
Honda's intent with 2018 Accord is to present an affordable hybrid option for just above entry level midsize car buyers. While Honda has not committed on price or availability, we're assured by Honda P.R. that the target price is "$ thousands" below the present offering; with Honda Sensing ™, active safety suite, a user preference heads up display, and an expanded touch-pad-like floating center stack touchscreen, all standard.
So, in short, you can anticipate a rather well equipped 2018 Accord Hybrid coming to market Q1 2018 with a beginning MSRP settling in the $25,000 range -- that's my educated guess, based on this week's visit with Honda. For those that want more electric, the all new Honda Clarity lineup takes auto-electric to the next level in power, range, and refinement.
Honda Torque News initial drive impression review coming next week
Photo attributions Parks R. McCants 2017