We dare to compare Toyota Tacoma to Honda Ridgeline
Granted, Honda Ridgeline will perform truck duty, and roam off road a piece while towing the jet skis down to the lake, but Ridgeline is no Toyota Tacoma. And Tacoma, while comfortable enough, does not claim to be as cab-comfortable as Ridgeline. Yet, I find great value in both.
I could shorten this article a tad by proclaiming Toyota Tacoma the winner of the trailer hauling competition in this rundown. And Honda Ridgeline the superior of the two in highway ride quality and overall cab-comfort.
Yet there's much more To "trucking" and what consumers require from their pickup trucks today than the aforementioned. In today's economy, for most new truck owners, their truck of choice must also serve as a daily commuter, date night ride, and kid hauler. Today's pickup truck must be capable, good looking, mechanical bulletproof, safety oriented, well connected, and multiple task resilient.
Toyota Tacoma's been on the truck scene since 1995
Built in Freemont, California, or San Antonio, Texas since 1995, Toyota Tacoma is as American as apple pie. In 2016, 191,631 Tacoma's sold in the U.S.., Honda Ridgeline, not so many. It was the first year back in production for Ridgeline after a 2-year redesign hiatus. Ridgeline came late to the game in 2016, we'll look to 2017 sales numbers for some real market indicators.
Sitting at the top of the midsize pickup segment is the decades tested Toyota Tacoma. Some Toyota truck fans argue that current Toyota Tacoma was ruined over time by the over refinement of interior and ride dynamic -- that the current generation Tacoma is too soft by "real" pickup truck standards. And, although Toyota's time proven 3.5 L V6 is mechanically sound, in it's stock specification, it's a bit under powered and darn fuel thirsty. If you fall into this category of old-school Toyota Trucksters, move on. There's nothing in this article for you.
In late October, I spent a week behind the wheel of a well equipped Toyota Tacoma full cab, long bed. We have 3 Toyota Tacoma's at various stages of modification within the extended family. So, at first, I hesitated in taking delivery of the dead stock, yet visually impressive, fully loaded, Tacoma TRD Off Road -- I'd driven plenty of Tacoma's -- however, this one still smelled and looked new, begging for some road time.
Sporting an out the door MSRP of $42,672. I was a bit blown away by the price point. But then again, my son's Dodge Ram hit the road at $58,000. I guess price is relative. Toyota Tacoma remains the best selling midsize pickup truck in North America, bar none. So, there had to be something beyond brand recognition and dealer incentives driving the sales numbers, right?
Where I come from as a truck guy
As a decades long owner of multiple brand compact, midsize, and heavy duty pickup trucks, both gasoline and diesel engine powered, 2 and 4 wheel drive, I find the current Toyota Tacoma TRD Off Road 4x4 to be truck enough. In-fact, it takes me back to my early days of pickup truck ownership, when the only standard safety feature found was a seat belt, and the occasional ABS disk brake.
Of course Toyota Tacoma, decades in the making, presents a heavy duty body mounted on frame construction, descent engine power, ease of operation, and a handful of passive and active safety features. I like the overall look and ruggedness presented by Toyota Tacoma, yet remain a bit puzzled by some of the old-school, last decade features (still) present in Toyota's latest midsize truck offering.
For me, In a pickup truck priced north of $40 K, I require a power adjusted driver's seat, that's just me, Toyota Tacoma TRD doesn't feature one. However, there is a moon roof, powdered activated rear cab window, a near intuitive, descent resolution color touch monitor, smart steering wheel controls, a better than average driver's seat feel, and a pretty darn civilized, controlled-float drive and ride dynamic -- the sound system is also exceptional enough.
Due to TRD off road suspension tuning and plus+mild off road tread wheel and tire sizing, Tacoma's general road to steering wheel feedback was a bit spongy. And, although the cab environment is comfortable enough, due to a rather "chopped" roofline, for this tall driver, head to head liner clearance is iffy, making seeing the light at a stop challenging. I also found the cab to be painfully road noisy at times, dependant on paved road surfaces.
The later could easily be mitigated through electronic active noise cancellation, Toyota choses not to spend the dime. Sitting in the second row is best reserved for the family pet, the kids, or that inlaw that you'd just assume not come along for the ride. It's a bit tight back there for the full-sized among us, but is dooable in a pinch.
I like the rear seat area for construction tools, mountain bikes, and groceries. Although our test mule was with a roll-top truck bed tonneau cover with locks. I also discovered a nifty stash space or two, along with an inverted 110 AC plugin for power tools, sound equipment, etc.
I do appreciate Tacoma's engine to transmission pairing, as well as the ease of 2 or 4 wheel drive (hi and low) drive selection. Our TRD 4x4 features a limited slip differential, on-the fly 4W demand selection, crawl control, and hill-keep assist, to name a few features. I didn't have occasion to use much of it, although I did engage 4WD high in the dirt, it works well! If I was allowed to change one factory equipped aspect of Toyota Tacoma it would be the fuel economy, or lack of it. Although our Tacoma loaner claimed a combined 20 MPG, the best I experienced under real world driving road and weather conditions was 17.9 MPG - pitiful by today's midsize truck fuel economy standards. I'd love to defend Toyota on this issue, but I can't. With today's available engine and drive-line technology, there's no excuse for low fuel efficiency -- I'm sure they're working on it.
After driving Tacoma V6 for a day or two, I called my #1 son, and complained a bit as to what I perceived as an unseasonably underpowered pickup truck. Jake turned my on to what's essential Toyota's drive mode selection toggle, the re-mapped V6 gained some attitude, it was quick enough, in a midsize truck sort of way.
Like I said, Toyota Tacoma is the "truckier" of the two, when comparing Tacoma to Ridgeline. However, I'd gladly trade some quiet and cab comfort for payload capacity in my daily pickup truck commute, this is where Ridgeline takes the lead. Yet, despite what you may hear or read from Honda Ridgeline haters, Ridgeline is far more than a Honda Pilot with a bed -- and and is "truck-tough-enough, when it comes to taking on work and play duty.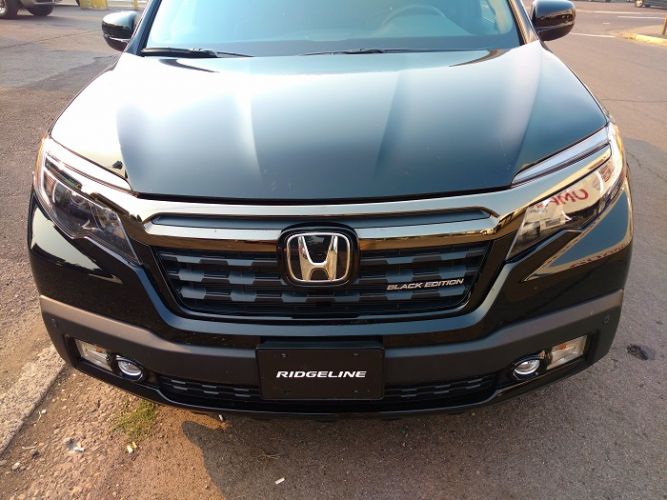 3,000 miles behind the wheel of Honda Ridgeline Black Edition
Let's get past the "looks" controversy first: The 2nd generation Honda Ridgeline does not look like a conventional midsize pickup truck. As hard as Honda engineering and design attempts to mainstream Ridgeline, this unibody truck-like offering is like no other in America's favorite vehicle segment -- nor does it profess to be -- there is only one Ridgeline. The first time I encountered Honda Ridgeline was back in 2005. At that time Honda's unibody-car-platform-sharing truck was quite an oddity -- the closest cousin to Honda Ridgeline at that time was built by General Motors, it didn't sell in huge volume.
Yet, anytime I'd meet a Ridgeline owner on or off road, they loved their truck. Ridgeline, at that time, as it is today, was a do-anything, relatively fuel efficient real time AWD. Honda' only North America truck offering pulled, hauled, and performed tasks well beyond its specifications.
Today, it's not uncommon for Torque News to read from Ridgeline owners reporting 200,000 trouble-free miles from their trucks. Honda tells us that Ridgeline is the truck for part-time truck driving weekend warriors, the consumer that already owns Honda, that itt is.
Honda Ridgeline presents a car-like drive and ride experience exclusive to Ridgeline
The second generation Honda Ridgeline makes ownership seamlessly easy, automated safe, and segment leading fuel efficient. No other maker comes close to matching Ridgelines comfortable, quiet and roomy cabin accommodations. Ridgeline rightfully claims the roomiest full 4-door cab in the ever growing midsize truck segment. In the case of Ridgeline, you can comfortably seat 5 adults, while hauling weather sensitive cargo, luggage, etc, in Ridgeline's unique lockable below the truck bed multiple purpose trunk. Inside Ridgeline you discover a well appointed, power seat adjusted interior environment more akin to a midsize premium sedan than a rugged utilitarian pickup truck -- Ridgeline surprises, and it's quiet!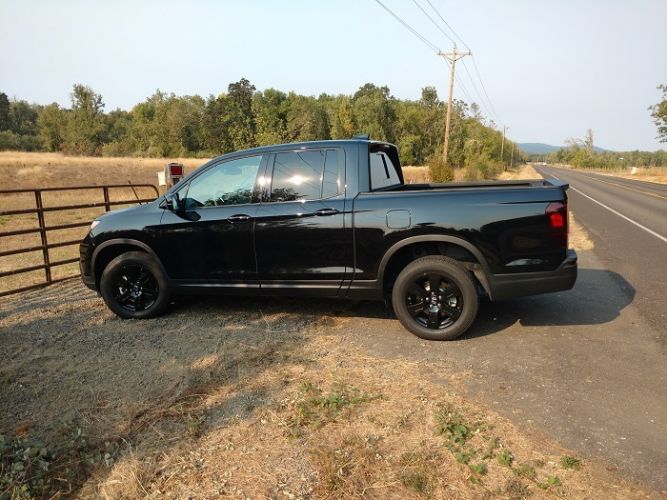 Featuring beefed up suspension components, composite truck bed, and frame rigidity like no other truck offering in the midsize segment today, Honda Ridgeline is surprisingly durable, and truck-dutty capable. Torque News hits the open road in Ridgeline Black Edition.
Experiencing the reinvented Honda Ridgeline in San Antonio, Texas was a bit of an eye-opener for this truck owner. Ridgeline is much tougher than one might think, featuring driveline and suspension components 50% larger than platform sharing Pilot SUV. Furthermore, as demonstrated by a drive event tool box and rock drop test, the Ridgeline plastic composite rust proof truck bed construction is dent, and scratch resistant, trucktough.
As to ride dynamic: When driven off road, due to a superior unibody frame rigidity, we experienced virtually No frame flex or roll in Ridgeline. On the highway, Ridgeline rides like a Honda Accord, but with a bit more conviction. Ridgeline, while not as "truck-like" as Toyota Tacoma, will hall 1580 lbs in the bed, and tow a reported 4500 lbs with little effort. It's fuel injected 3.5 Liter V6 is time proven, and fuel efficient thanks to superior engine cylinder management, and favorable automatic transmission pairing. Like Tacoma, Ridgeline is no off-the-light- sprint all star, but it does get the job done, while outshining Toyota Tacoma in overall ride quality, and fuel efficiency.
Apples, as to Oranges
At the end of this comparison I come to the conclusion that while Honda Ridgeline is unquestionably more civilized than Toyota Tacoma, the pickup truck loyal turn to Tacoma because Toyota's best selling midsize truck is historically correct, infinitely customizable, and holds unprecedented used car sale residual value -- it's also very cool looking in a tough-truck sort of way. We'll call Tacoma the apple in this comparison, It is however long overdue for a fuel efficiency upgrade.
As to Ridgeline: Ridgeline's body design is anything but mainstream. In-fact, many first generation Ridgeline owners, including Chef Eric King of Santa Cruz, prefer the boxy Ridgeline design of the past, and stop short of praising the present Pilot look alike. That's cool, to each his own. The uniqueness that is Ridgeline may be its eventual downfall. To date, 30,000 Honda Ridgelines have sold in North America for model year 2017 -- the trucking public as a whole doesn't appreciate Honda's approach to the American icon -- I believe that they're missing out on a revolutionary, evolutionary truck-driving opportunity -- it's that good -- Honda fan or no. In conclusion, personal preference will drive the buying tipping point in this comparison. Both trucks bring something unique to the midsize pickup truck segment -- it's good to have a choice.