The ultimate Acura Racing tow-track combo comes to SEMA Show 2016
For me and other race car driver want to be, 2016 SEMA Show Las Vegas is ground zero for an eye- on preview of Acura's performance year ahead -- a precision race inspired and track tested trio that will blow a collective mind or two, with a custom car trailer to match. And, in this entourage, we find a viable street application or two..
Who doesn't love a color matched race car, trailer and tow vehicle. Hey, let's throw in the TLX-GT race car inspired Acura performance TLX sedan for good measure -- this is Acura's stage at SEMA Show Las Vegas 2016.
We got up close and personal with Acura NSX GT-3 car in Carmel, California. At that time it was announced that our friends at RealTime Racing, and Michael Shank Racing will field multiple car teams in Pirelli World Challenge and 2017 IMSA Weathertech SportsCar Championship. Team driver's will be announced from the Acura stage at 12:
30 pm -- Monday, November 1 in Las Vegas.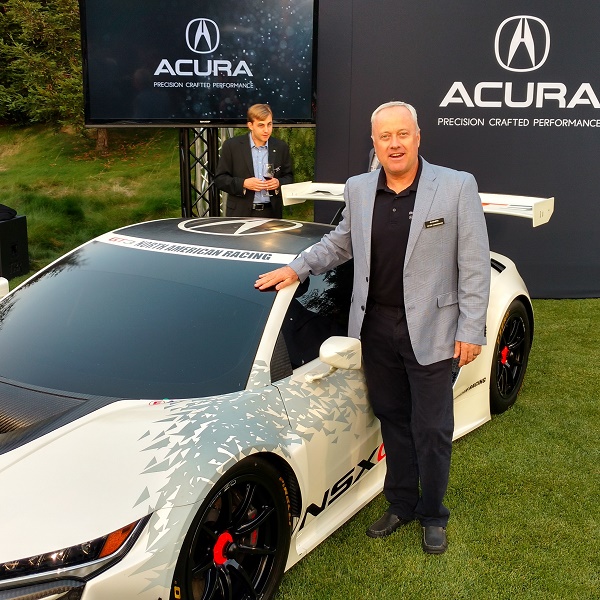 Here's what Acura tells us
Acura's Precision Crafted Performance and motorsports resurgence will dominate its display at the 2016 SEMA Show in Las Vegas, Nov. 1-4. The Acura NSX GT3 race car, which will make its North American racing debut in 2017, will be featured on an NSX-inspired, custom-fabricated trailer, towed by 2017 Acura MDX wrapped in a matching racing livery. The TLX GT Pirelli World Challenge car inspires.
Building on the performance theme, Acura's GT3 racing partners, Real Time Racing and Michael Shank Racing, will announce driver lineups for the 2017 Pirelli World Challenge and 2017 IMSA Weathertech SportsCar Championship on Nov. 1. A 2017 Acura NSX supercar featuring factory-installed features and options as well as a 2017 TLX sedan with the new GT Package will complete the exhibit space.
"SEMA is an opportunity to have some fun with customization concepts, and our approach this year is to showcase Acura's performance direction by literally connecting our GT3 racing program to our production models," said Jon Ikeda, vice president and general manager of Acura.