Reporting on the development of Acura's next big thing was a 3 year process. This week I drive 2019 Acura RDX, Acura's first new SUV model manifestation of what the maker proudly refers to as Precision Crafted Performance engineering. Acura delivers!
Unfortunately due to a schedule overlap I was unable to attend the long awaited press roll out of the first total reinvention of Acura RDX since its market introduction back in 2006, as a 2007 model. No worries. Thanks to Paul Casey and the crew at Kendall Acura of Eugene, Oregon, I find myself sitting behind the wheel of one of the first production 2019 Acura RDX A-Specs delivered to the Pacific Northwest. It fits my 6' 5 inch frame like a glove. 10 minutes earlier I exited the posh confines of a Lexus GX 350 L. It would be the benchmark for this review.
Walking around the much tweaked RDX, I'm captivated by how well balanced the design looks, all the way down to the in-your-face black diamond grill and massive Acura logo centerpiece. Gone is the Acura Beak, replaced by a chunky black diamond grill and centered Acura logo lifted from big sister Acura MDX. There's no mistaking this RDX for an Acura, coming or going.
Our subject of this piece is dressed in a pearl white on black and red leather A-Spec interior. The redesigned seats are Italian leather loafer soft on first seating, and as fine crafted as a Gucci glove. Sporting 20 inch blackout alloy wheels and dual chrome tipped exhaust pipes, Acura's message is loud and clear, RDX is the state of the auto art colliding with race inspired body design design cues. Acura engineering and design score an A+ in this exercise.
2019 Acura RDX stands alone in the premium compact SUV class
Visually, RDX exudes a new found confidence punctuated by a chunky, wide-track body-line most often reserved for luxury European SUVs. Audi, Porsche and BMW design have nothing on Acura's latest statement. With a push of the key less ignition and a dialed in sport-mode, I release Acura's electric toggle activated parking brake and launch the most powerful 2-row SUV in Acura history. I'm just a tad blown away by how quick 2019 Acura RDX launches off the light. quick is an understatement.
And yet when I back off on the gas and ease into a highway cruse cadence, Acura's one and only premium compact 2-row SUV is quiet, comfortable and rough road leveling. Acura's first totally redesigned intuitive touch-pad directed drive environment, sports a well balanced, visually pleasing, and personally customizable instrument aray, a large i-MID, floating center-dash color monitor, premium sound, and Acura NSX inspired 4-drive-mode radial dial and more. For 2019 Active safety features are mostly standard throughout the trim walk. I'll dive into that with detail in a follow up article.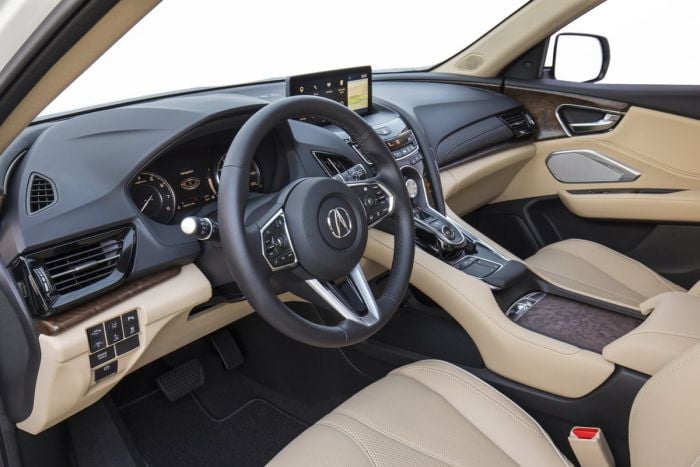 Rain as usual in Eugene, Acura RDX equipped with SH-AWD doesn't skip a beat
On this Saturday morning it's raining in Eugene, a great opportunity to road test Acura's latest application of SH-AWD. (super handling all wheel drive) Dialed up a notch for 2019, RDX now offers a drive option that enables the instantaneous capability of transferring as much as 70% of the engines torque to the rear axle when required, and more specifically to the wheel were traction is most required when traction loss is detected. The inherent primary front-wheel-drive torque steer of the past is gone.
Like I said, 2019 Acura RDX SH-AWD is seamless and non detectable to the driver. The end result of this superior traction technology on dry or wet pavement is a sensation of driving on rails.
No worries, this low displacement turbocharged RDX is epic
By the end of this test drive my hesitancy to exchange Acura's 3.5 L V6 for the Type-R derived 2.0L injected and turbocharged 4 cylinder mechanical marvel dissipates with every push of the accelerator. The low displacement engine produces exceptional torque and horsepower while reducing emissions and fuel consumption.It's reminiscent of my week behind the wheel of Civic Type-R.
Without question, Acura RDX 2-row is one of if not my personal favorite daily drivers found in a compact premium SUV segment presenting some very good competition from China, Europe, Korea and Japan. I recommend a test drive to anyone considering the purchase of a compact or midsize 2-row SUV or crossover.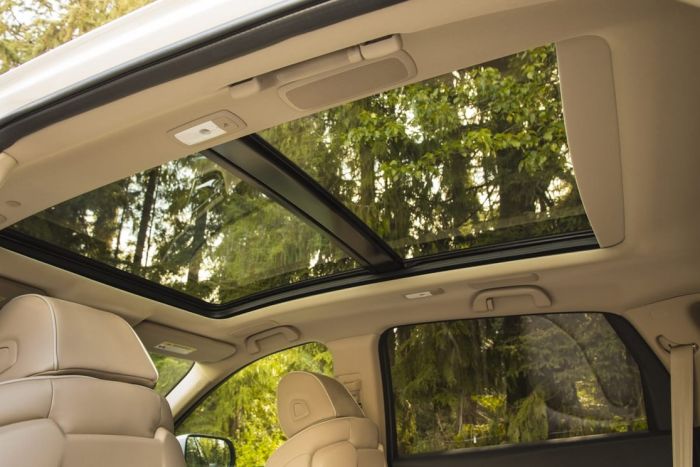 2019 Acura RDX bullet points
2019 Acura RDX is designed in the U.S. and manufactured in East Liberty, Ohio
The RDX drive dynamic is Infinitely adjustable, interior quiet, and rough road stable.
Turbocharged 2.0 L 4 cylinder engine: Producing Absolutely, over the top fantastic! Split personality, smooth performance dynamic personified.
Drive modes: 4. All good. Sport + , hold on!
10 speed transmission: A bit busy at times, although shifts fluidly and without delay.
Adaptive suspension: Fantastic! Rock steady, yet absorbs freeway surface changes and potholes fluidly.
Torque Vectoring AWD : Like riding on rails, Road sticky,
Body styling: All Acura! A bit in your face, exudes a punctuated performance attitude .
Interior layout, fit and finish: Superb, intuitive, and visually compelling. The A-Spec's power adjustable leather seat is extremely comfortable. Arguably the best in class.
Highs: Tons of torque, fantastic suspension, ride dynamic, interior quiet.
Lows: Fuel thirsty, limited vision from row two. The 10 speed transmission tends to be a bit busy.Other than that, perfect!