The latest Award for 2018 Honda Ridgeline will surprise you
Torque News takes a closer look at how 2018 Honda Ridgeline earns top honors in latest Car & Driver Editors' Choice Awards: While a never ending debate ensues among die-hard, ladder-framed pickup truck owners as to what constitutes a true "Pickup Truck," Honda's unique Unibody platform 2018 Ridgeline Pickup continues to rack up consumer and auto-journalist accolades alike.
The latest Honda Ridgeline accolade comes from one if not the oldest auto publications in the game Car & Driver Magazine. But more of interest to this decades-long truck driver is what 2018 Ridgeline brings to the market that separates Honda's only Pickup Truck, from light duty midsize offerings manufactured by Chevy, GMC, Nissan, and Toyota? What's new with Honda Ridgeline for 2019?
We've driven them all, owned a dozen, but return to Honda Ridgeline for refinement of ride
Honda Ridgeline is the only Unibody constructed Pickup Truck remaining in any size segment. Back in the day, Chevy with the Camaro architecture El Camino, and Ford with the Falcon based Ranchero, brought market successful Unibody Pickup Trucks to the compact, midsize, and full size Pickup Truck segments in North America and beyond. The original Ridgeline Pickup came to market looking much like a ¾ scale Chevy Avalanche. That it wasn't.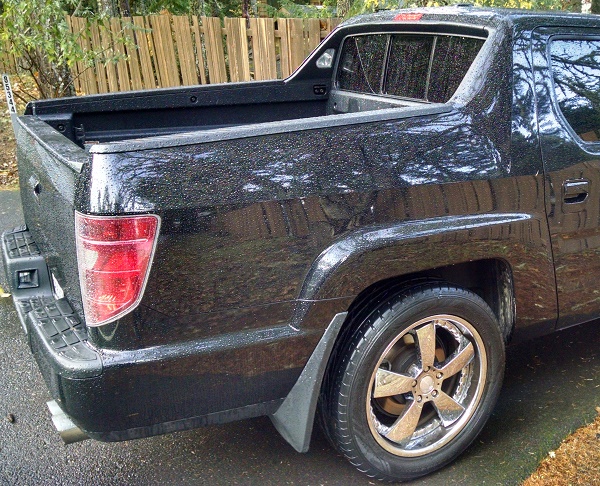 Back in 2004, Ridgeline Pickup was but a unique looking Honda concept vehicle: Much to the delight of the first generation Ridgeline owners, Honda's only Pickup Truck proved viable as a multiple-task work duty midsize Pickup Truck. Although extremely comfortable while traveling on the highway. Furthermore, the benefit of segment topping fuel economy was not lost on early Ridgeline owners who proudly reported driving 200,000 plus trouble free miles in their 3.5Liter V6 powered Ridgelines -- while towing loaded trailers, on and off road, in all weather conditions. We reported on our first Ridgeline encounter here.
The Honda Ridgeline difference
Let's get the business side of this article out of the way. How did our friends at Car and Driver land on 2018 Honda Ridgeline as their single, one and only finalist for "Editors' Choice for Best Midsize Pickup Truck?"
Truthfully, While Toyota Tacoma may be more conventional rear-wheel-drive truck like, Ridgeline features the largest, most comfortable 5-passenger cab found in the midsize truck segment today. A car-like drive dynamic; quiet road-noise isolated ride and drive environment; class leading (non-diesel) fuel efficiency, and a very powerful 3.5 Liter V6 horsepower and torque drive-experience.
The bonus for Ridgeline owners comes in the form of the most versatile tailgate-party ready truck bed, featuring a below deck lockable cooler-trunk, available 110 Volt inverter, a 2-way opening tailgate, and an available truck-bed integrated stereo-speaker system. We drop test Ridgeline's poly-formed truck bed while visiting San Antonio.
There's a true advantage to Honda Ridgeline Unibody rigidity on and off-road
For me, the hook that is Honda Ridgeline comes down to the smoothest, quietest truck ride available in a midsize truck segment. Yes, you can find a midsize truck offering greater towing capacity, higher ground clearance, and greater fuel efficiency via a diesel engine. Yet, none of the competition outshines Honda Ridgeline for total package value, variant-trim options, and car-like on and off road ride comfort.
Honda originally designed Ridgeline for those of us that require a light-duty pickup truck part time. Sure, I like Toyota. Read our Ridgeline, Tacoma comparison.
The true beauty of Ridgeline is its double-duty, multi-task capability. Ridgeline is Honda's answer to the modern El Camino car-truck of last decade. The difference ? Ridgeline is truck-tough, mechanically trouble-free, and looks as good in-town as it does on the job site.
Read our "week in the seat" Honda Ridgeline drive review here. Like this article? Please share.