Admittedly, I'm pretty damn Cowboy when it comes to an American original, the pickup truck. And frankly, Dodge Turbo Diesel guys and gals like myself scoffed just a bit, when Japanese owned Honda ventured into the holy grail of Americana back in 2004 with the introduction of the first generation unibody, front-wheel-primary-drive Ridgeline pickup truck.
After all, Honda's V6 powered one-off came to market in what visually appeared to be a ¾ scale version of G.M.'s less than well received Chevy Avalanche, and yet proved to be a very capable car-truck, offering a smooth ride, adequate horsepower, torque, and at the time of its introduction, segment leading fuel efficiency. I talk a bit about the first time I drove first generation Ridgeline here.
As much as things change…

After a 2 year hiatus from the market, a reinvented 2nd generation Ridgeline emerges, just as unique as the original, with a twist or two -- there's nothing else like 2017 Ridgeline on the market today -- and that makes for a very challenging comparative review.
Singing sheep, hispanic task master, Baja 1000
Our friends at Honda public relations are working this thing baby, and rightfully so. The challenge that American Honda Motors faces with Ridgeline is nothing short of convincing the public that this truck tough, high utility transformer, is not only a viable alternative to a conventional ladder framed light duty extended cab pickup truck, but a smarter choice for those of us that require the utility of a pickup truck part time, if ever. Research shows the powers to be at Honda that this target demographic is huge and growing.
Ridgeline sales top 10,000 in 90 days or so
Off and running would be an understatement for 2017 Honda Ridgeline. Automotive journalist like myself give Ridgeline an enthusiastic thumbs up, as have the thousands of consumers that have taken the opportunity to drive arguably one of if not Honda's greatest achievement to date, the invention of an American icon, the pickup truck.
No, Ridgeline is not a Honda Pilot with a truck bed
Yes, I had to get past that perception as well. While attending the national media roll out of 2017 Honda Ridgeline in San Antonio, Texas, I learned that although Ridgeline shares a manufacturing platform with the all new Honda Pilot, that a high percentage of suspension and driveline components are specific to Ridgeline. For us, the suspension components were spread out in a very comprehensive hands on display, some components, spindles, diffs, tie rods, etc, were no less than 50% larger than Pilot's, tough where it counted, where Ridgeline towed, hauled, and conquered tough terrain. Yes, we did all of the aforementioned in what is arguably the most comfortable and quiet cab in the midsize pickup truck segment.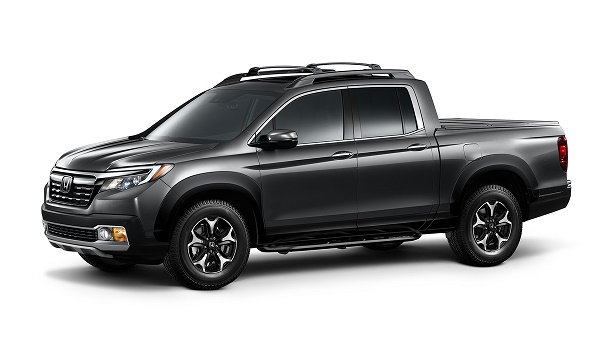 Larger, advanced traction control, more power and greater fuel efficiency
For 2017 Honda Ridgeline comes back to market bigger, better, fuel efficient and more conventional as to truck looks. Gone is the quirky side profile that made Ridgeline unique to a segment of mostly boxy and stubby utility stretch cabs.
Granted, it's still not a "Big 3" contender with the hauling and tow capacity of a heavy ½ or ¾ ton extended cab pickup truck, and doesn't claim to be. Yet, Honda's reentry into the realm of the American icon is exceptional as to interior comfort, maneuverability, ease of parking and access, as well as exceptional class leading fuel efficiency, a unique in bed lockable trunk, available 110 volt AC inverter, bedside resonators and 2-way tailgate.
On the inside one discovers a very comfortable interior rivaling many near premium sedans, with a hook or two. The convertible rear bench folds up to reveal a near-flat-deck cargo hold, perfect for hauling tall items, sport bicycles, a table saw or two, you get it, unparalleled convenience and security.
Coming up: "This Week in The Seat"
Over the Labor Day Weekend I drove 2017 Honda Ridgeline Black Edition down to historic Fort Umpqua in Elk Oregon. Nancy and me had a great time. In fact, this is the first pickup in our near 2 decades together that I had a tough time grabbing some seat time in -- Ms Nancy wouldn't vacate the driver's seat. I'll be spinning a full drive review this week, stay tuned.