2017 Honda Ridgeline's built truck tough off road capable [Video]
In truth, American Honda Motor Company just reinvented the midsize pickup truck segment. Torque News had the opportunity of being one of the first to drive the only unibody pickup truck in North America.
What this means for midsize truck drivers is the opportunity to lease or purchase not only a crew cab pickup truck of high construction quality, unrivaled structural rigidity, and proven off road durability, but a trend setting truck design presenting unparalleled interior quiet, seating comfort and exceptionally fuel efficient engine power and torque characteristics. In effect Honda has reinvented the midsize truck segment.
2017 Honda Ridgeline best in segment
In a direct hands on the wheel comparison to segment sales leaders Chevrolet Colorado and Toyota Tacoma, 2017 Honda Ridgeline readily exceeded both in superior suspension drive and ride dynamics, engine throttle response, off road frame rigidity and interior quiet.
Although Ridgeline does share a manufacturing platform in common with 2016 Pilot, no less than 50% of Ridgeline components are exclusive to Ridgeline. Where this becomes most apparent is in viewing Ridgeline's industrial grade suspension components. Ridgeline is "truck tough."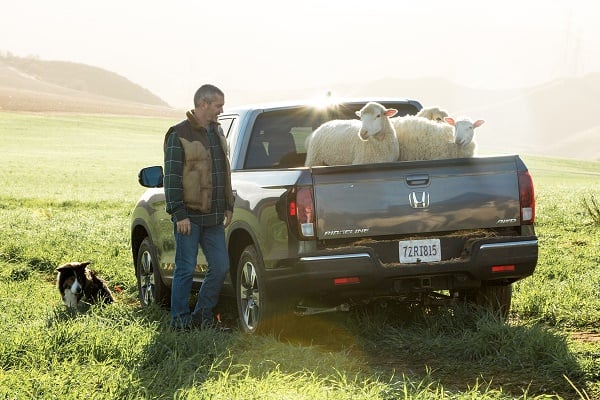 On the highway and city surface streets Ridgeline is as refined and comfortable as Accord Touring
Torque News had the opportunity to drive 2017 Ridgeline 175 miles through the streets, highways and countryside roads of San Antonio, Texas. When driven on pavement, thanks to an all new front and rear suspension, Ridgeline's drive and ride dynamic is comparable to a midsize premium sedan with SUV and light truck overtones -- yet is tough enough to carry 1650 lbs in Ridgeline's reinforced rust-free plastic composite bed -- locable bed trunk included.
Or, tow 5,000 pounds(hitch receiver and brake controller standard) while remaining flat on the road.
Ridgeline's exceptional direct injected SOHC i-VTEC 3.5 Liter V6 engine delivers Drive By Wire ™ on tap seamless power,(280 [email protected] rpm/262 lb-ft [email protected]) with stated fuel economy in our Black Edition AWD (all wheel drive) of 18 City/25 HWY + 4 mpg over the first generation Ridgeline. *I actually recorded an average 23.8 mpg on a combined 4 hour surface street and highway drive run.
For folks that don't require all wheel drive, for the first time in Ridgeline history, they may opt for FWD (front wheel drive.)
Thanks to segment leading balanced styling aerodynamics, improved body sealing, and increased sound insulation, engine and road noise isolation from the cab is so superior that talking at low to normal tones while driving at 70 mph, on a rather beat highway is effortless.
In-fact Ridgeline's cab is so quiet that the only rattle we noted was the key fob resting in its tray and minimal mirror wind buffeting. It's as quiet as this car.
While driven under rigorous high speed dirt and gravel road conditions, Ridgeline's reactive amplitude dampers, independent front and rear suspension, hydraulic bushings, and extremely rigid unibody manufacturing platform, translates into off road handling and ride quality superior to any other offering in the midsize truck segment.
A rear differential like no other in the industry

When opted with Honda's exclusive computer- sensor controlled torque vectoring i-VTM4 AWD system and 6 speed automatic transmission, Honda's mechanically bulletproof normally aspirated V6 outshines many if not all available turbocharged 4 cylinder and V8 gasoline engines on the market today.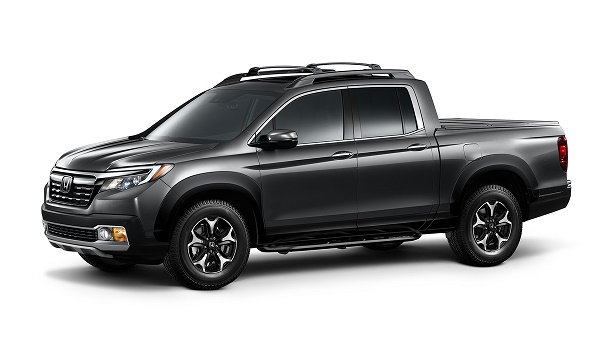 As to traction on various surfaces, dirt, gravel, mud and sand -- we noted zero loss of traction -- even while climbing a 17% grade dirt hill from a standing start.
Honda's Intelligent Traction Management
According to Honda engineering: 4 years of design, research and development was invested in the all new 2017 Ridgeline -- with on and off road testing conducted in North America, Dubai and Russia -- and it shows.
We first shared Honda's ITM when Torque News experienced it in the reinvented Honda Pilot. In short, what we have here is push button "intelligent traction management," a Honda exclusive. The Ridgeline driver has the option of setting traction mode in normal, snow, mud or sand modes --they work very well -- available in both FWD and AWD Ridgeline variants.
Honda holds the price on 2017 Ridgeline while packing it with exceptional standard features
What we discovered in San Antonio is a reinvented Ridgeline that retains the best of the last generation -- while kicking interior quality and comfort to a higher level -- and offering the only truck bed lockable trunk in the industry.
Also, the first facory installed truck bed stereo speaker system;(it's not what you think it is) front row heated, power adjusted seats, an improved dash cluster, a larger static touch screen monitor, i-MID, Apple CarPlay ™, Android Audio,,multiple inputs for personal electronics, expanded active safety options, backup camera, Lane Watch ™ , and much more.
Suggested MSRP and availability

There's way too much to here to cover in one article. So let's get down to it: 2017 Honda Ridgeline comes to market with a base model (Ridgeline RT) msrp of $29,475+ in front wheel drive and $31,275+ in all wheel drive. There is one engine and one transmission common to all trim levels. 2017 Honda Ridgeline comes to market with 7 trim levels priced from MSRP $29,475 to $42,870 for the top of the line Black Edition ™ -- this thing is very cool.
Availability

Although Honda has not announced a specific date of dealership arrival, we do know that production is underway in Lincoln, Alabama.According to our sources at AHMC, you can expect to see a limited number of 2017 Honda Ridgelines arriving at a dealership near you in June.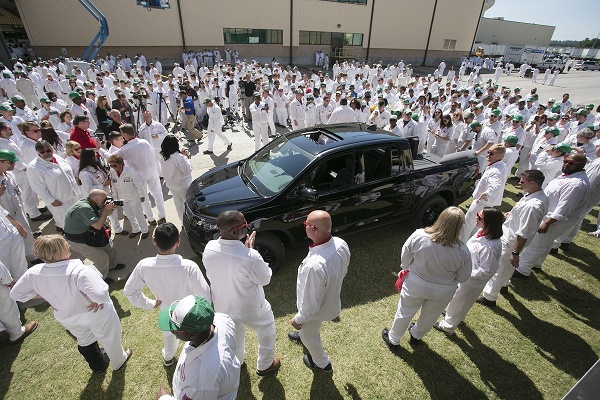 A closing thought or two

Once again Honda presents a vehicle concept unique to Honda. You won't find anything else like Ridgeline in the midsize truck segment, or any pickup truck segment for that matter.
As a lifetime truck owner, this is the first pickup truck platform vehicle that could effectively replace 3 vehicles in my driveway. In essence, 2017 Ridgeline is a very capable utility vehicle exhibiting car ride and comfort characteristics. I like it's drive dynamic and handling capability. Ridgeline presents truck utility, load rating and off road toughness, without sacrifice of ride comfort or passenger safety.
When weighing all the sum of its parts against the MSRP, 2017 Ridgeline is a purchase or lease bargain.
Watch 2017 Ridgeline tow here