2018 Honda Accord Teaser Hints to Clarity Design Characteristics
Last week Honda treated us to a very cool teaser image of the soon to be revealed 2018 Honda Accord. Once again, American Honda will tap the power of social media with a live from Detroit reveal of the next generation Honda Accord -- long the best selling sedan in Honda's lineup. And undoubtedly, like 2017 Honda Civic, the redesigned Accord will be a bit wider, lower, and more aggressive as to design and general performance. Presently, this is my favorite Accord.
While a picture says a thousand words, we do know a fact or two about 2018 Honda Accord
For 2018, Honda drops the iconic V6 from the Accord lineup, opting for a high output 2.0 Liter direct injected 4 cylinder turbocharged gasoline engine, and, a proprietary Honda 10 speed automatic transmission. That's for top trim models, with a Civic derived 1.5 Liter turbocharged mill doing the heavy lifting throughout the balance of the lineup.
Presented with a standard CVT transmission, and I believe, a limited production 6-speed manual transmission, this will be the most powerful, fuel efficient standard trim Accord in the maker's history.
2018 Honda Accord comes out fighting with a very aggress, wider and lower profile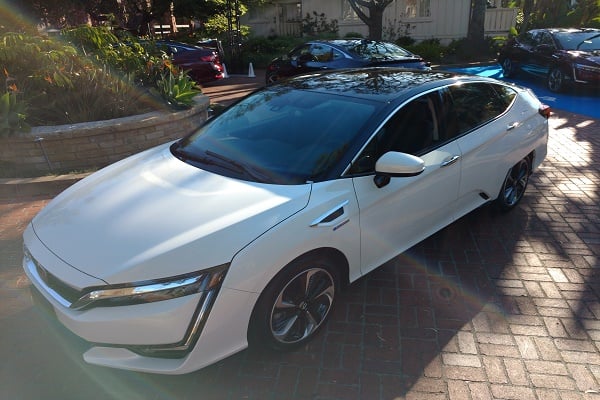 Looking to the teaser image, I see more than a bit of 2017 Honda Clarity injected into the hood and grill styling. And no doubt, as in years past, Accord will take a design cue or two from the best selling compact sedan and coupe in The U.S., 2017 Honda Civic. We further anticipate that 2018 Honda Accord, also available in a hybrid variant for 2018, will be one, if not, the most fuel efficient sedan in the class. We'll see. This week,Toyota lifts the press embargo on the redesigned 2018 Camry. Let's see where the numbers take us.