Last Tuesday we returned our 2018 Acura RLX Sport Hybrid Advance loaner to the press fleet. After spending a week in the seat behind the very smart wheel of Acura's flagship premium sedan, we walked away with an impression or two, mostly positive. We've reviewed Acura RLX Sport Hybrid for 4 model years running.
Although RLX Sport Hybrid is (mostly) mechanically carried over for 2018, it has received a major body design refresh, and an uptick in convenience and safety features -- top of class in several applications. We're scratching our collective heads as to why we don't see more of them on the road. Acura RLX is much more than a redesigned grill and pretty headlights.
2018 Acura RLX Sport Hybrid is in your face Acura Precision Performance personified
RLX is Impressive to say the least, in a massive Acura sort-of-way. We find 2018 Acura RLX to be drive-time-contagious, comfortable, and fuel efficient. Thanks to super handling all wheel drive, and an optioned 2nd generation gasoline/electric motor hybrid drivetrain, the rather full size RLX as equipped, drives and handles like a nimble precision sport sedan while driving in town.
On the open road 2018 Acura RLX in both available trims, non hybrid Technology, with AWS, (all-wheel-steer) and 3 motor hybrid Advance with SH-AWD,( smart-handling all-wheel-drive) settles into premium cruze-car luxury. 2018 Acura RLX Sport Hybrid presents the most comfortable driver's seat in the Acura sedan lineup.
Our latest Acura RLX sport hybrid extended drive faithfully demonstrates Acura's engineering and design directive as first revealed in the 2nd generation NSX supercar. Equipped with torque vectoring SH-AWD, we drove RLX on Western Oregon rural roads, city streets, and highways, noting train-track like handling, and non-slip traction, under all road surface and weather conditions. With a combined horsepower rating of 377, and ample torque, driving RLX can be exhilarating.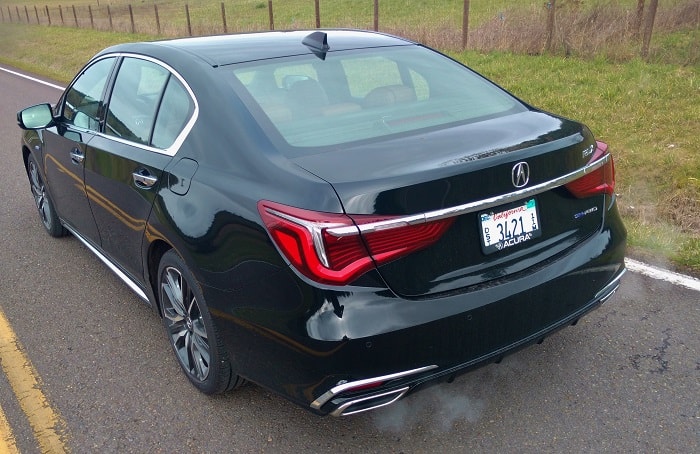 2018 RLX Sport Hybrid is road-sticky and train-rails track steady
Note: I went out of my way to break traction on wet surface streets--RLX held the line, and, was very sticky while driving the back road two-lanes at high speeds. Don't read my wrong here. RLX is not a 600 horsepower sport sedan, put it is playful, when called on to be so. I believe that RLX has been largely underrated by the automotive press. When I look to the total comfort and convenience package that is RLX, as priced, 2018 Acura RLX is a premium bargain in both trim levels. That's correct, there are only 2.
The dealership sales challenge with Acura RLX is the MSRP, it's not expensive enough
That's where the RLX perspective buyer consumer perception comes to play. RLX has a glaring public relations problem that has nothing to do with its body styling, interior finish, or overall drive performance. In speaking with our Acura dealer connections, they tell us that when a well heeled perspective buyer compares Acura RLX to Audi, BMW, Cadillac, Lincoln, Mercedes Benz and Jaguar, RLX has a price advantage. So, why doesn't Acura sell more of them?
For Honda, and more specifically Acura in the U.S., the RLX 5 passenger premium sport-hybrid sedan remains American Honda's 2nd lowest sales volume car; second only to NSX. When experiencing Acura RLX for the first time, you may, or may not, appreciate Acura's split-screen center stack; personal electronic connectivity, or smart-wheel thumb-roller volume control and i-MID settings adjustment.
Some tech-savvy drivers may find RLX to be a bit "old-school." But then again, what RLX lacks in state of the art electronics, it does make up for with premium features -- a fantastic Krell surround sound theater quality stereo system, butter smooth leather interior, theater-like mood lighting, and perhaps the brightest wide-spectrum diamond projector headlights found in the segment today.
2018 Acura RLX is recognizable day and night as an Acura
From the redesigned diamond pentagon grill, short overhangs, new wheel designs, and reworked, chrome trimmed lower cowlings and bodyline, 2018 Acura RLX turns heads; It looks like $80,000, but doesn't cost it.
The overall ride comfort and drive dynamic of RLX is superior to much of the competition in the sum of its packaging. Its spacious interior at times is library quiet. We find little to no fault with RLX.
Here's the public relations problem: With a suggested MSRP of $54,900 (RLX standard) to $61,900 + RLX Sport Hybrid, buyers shopping in the high 6 figures, find RLX to be suspiciously under-priced. For some, it comes down to premium priced, premium car bragging rights. In speaking with a handful of Acura sales executives, RLX doesn't sell in higher volume simply because it's priced too low.
2018 Acura RLX Sport Hybrid presents astounding fuel efficiency, and electric-only take off capabilities. The RLX Sport Hybrid powerband is impressive, with instant-on throttle response, and combined driving fuel efficiency exceeding 26.9 MPG, noted under real world driving conditions. We recommend an RLX test drive to any consumer considering the purchase of a premium-class 5 passenger executive sedan.