2017 Honda Civic Hatchback's a car of many firsts
Such is the case with the manufactured in Swindon 2017 Civic Hatchback. For me, an "old school" gearhead with more than one English car and motorcycle electrical, mechanical horror story to tell, is the first stumbling block to bounce past on my way to the local Honda shop -- to check out the first European Civic to grace these shores in any large numbers, ever... Hey, I'm sure that 10th generation Civic Hatchback will be stellar, "Bonkers" if you will.
First 5 door Civic hatch in the U.S. since the 1980's
The last time U.S. Honda fans had access to a 5 door Civic hatchback was way back in 1991. That was the last year Honda imported the minivan-like Civic EX to the U,S., with the next available Civic hatchback to cross the pond in, correct me if I'm wrong, I want to say 91, as a 3 door hatchback Civic Si, with hatchback variants phased out in the U.S. by 06.'
I do like to the Type R of that era, though tough to find with reasonably low miles on the used car market.
First Turbocharged Civic Hatchback in North America
Or anywhere really. According to Honda, 2017 Honda hatchback will be the first (optional) turbocharged gasoline engine, 5 door hatchback. ever produced by the maker -- it's engine, "made in the U.S.A.. Here's your Honda history lesson for the day.
"World compact architecture"
2017 Honda Civic hatchback shares manufacturing architecture with Civic sedan, coupe and the venerable near future 10th generation Civic Type R. I've spent much seat time in the 2016 Honda Civic turbocharged Touring. It's impressive! And. if any indication of things to come with Civic hatchback, these are exciting times for Honda hatchback fans.
The promise of manually shifted turbo power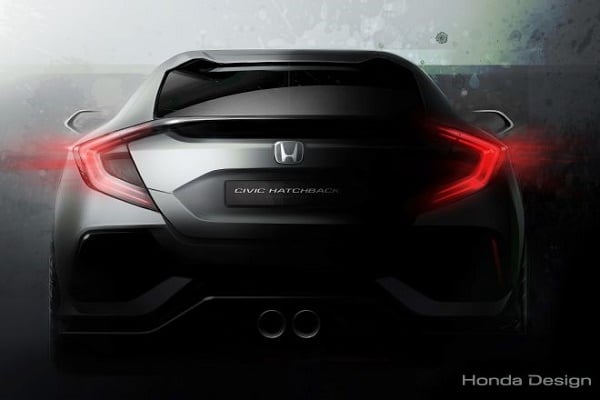 Now doesn't that sound cool! While attending Honda's San Diego area Civic coupe media event, I experienced a turbocharged 6MT equipped Civic coupe. Honda has promised the availability of a 6-speed, close throw manual transmission "throughout" all future Civic trim levels -- That includes the turbocharged option. I'll take my hatchback with that drive configuration please!