2017 Acura NSX GT3 demonstrates 'The Art of the Line'
2017 Acura NSX GT3 demonstrates the "Art of the Line" as coined by your's truly and practiced by Acura design and engineering. For me and many road racing enthusiasts, it's the way that a car's body design and chassis setup translates to the road. And nothing on the road today does it better than this car.
2017 Acura NSX GT3 is an international design and engineering marvel
Although initially developed for competition by Honda's Japan racing arm, and reportedly assembled by partners in Europe then track tested in Europe and Japan, Acura NSX GT3 is powered by a manufactured in Anna Ohio, 75-degree 3.5 Liter twin turbocharged DOHC V6 with many components common to the production NSX.
We're informed by American Honda that torque transfer duty here is mitigated to a race ready 6 speed sequential shift transmission and rear axle.

Designed and (mostly) manufactured at Honda's Performance Manufacturing Center in Marysville, Ohio, NSX GT3 takes the visual essence of the NSX supercar to the world-racing-arena.
No hybrid here
However, GT3 world-racing specifications demand that Acura leave the production hybrid torque vectoring drive configuration on this side of the pond. After driving 2017 Acura NSX on the track, that's a shame.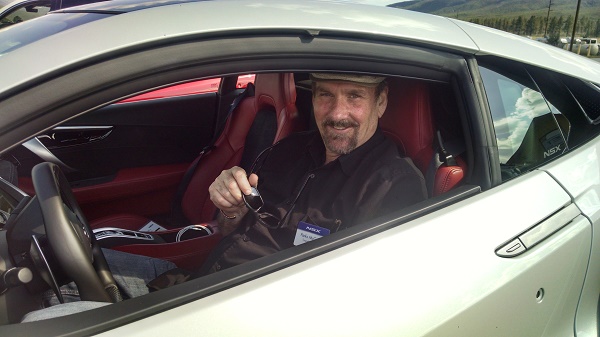 This carbon fiber skinned NSX GT3 car doesn't share the gasoline/ electric hybrid drivetrain of the production 2017 Acura NSX. The GT3 race series, just like Pirelli World Challenge and the Acura TLX GT is rear wheel drive.
No, Acura will not introduce an NSX Type-R
I recall the day that Torque News friend Honda Richmond of "Hondapro Jason" fame pitched the question to HPD's head man Art St Cyr. It's not going to happen Jason. But in the case of GT3 competition and as viewed on the stage of the New York Auto Show this NSX derivative is a very bad-a.. live rear axle, Ferrari slaying track monster. I love the look!

Do we have any specifications?
No, and not likely to be coming anytime soon. I'll assume that the fuel injected turbocharged 3.5 liter V6 produces just a bit south of 600 horsepower and 450 lb-ft torque, or so. The magic here will come from the suspension tuning, extreme low drag coefficient and body effect down force.
I further assume that this NSX has been stripped down to track trim, which equates to a rather high power output to weight ratio. It's most likely manufactured on a custom race-specification safety cage, although after visiting Honda's PMC and witnessing the manufacturing of NSX, the standard specification architecture is very light.
How will this NSX perform in international GT3 competition? That remains to be seen. Enjoy the photos