2 to 3 inches distributed throughout the 'C' segment busting design that is 2016 Honda Civic makes a big lasting impression as to style, comfort and sense of control.
Honda calls the 2016 Civic Sedan design language "Wheels Out." It's something that's been around automotive design for decades. Build the car slightly wider, lower, and visually fatter, by accentuating the fender, body-line interface.
Stuff the fender wells with big-wheel, low profile tires, than drop the roof line just a fraction( .08 inch) sloped to the trunk line. Done! Well not quite, but you get it. 2016 Honda Civic Sedan looks low and wide because it is!

The largest compact sedan in Civic history
It's also the largest , widest and longest Civic Sedan ever built, yet weighs less than the outgoing 9th generation sedan, that's engineering at its finest. 2016 Civic wins "North American Car of the Year" for several reasons, a segment busting 10th generation body design is just one of them. Catch our Honda Week in review here.
looking to Civic's interior we find a few more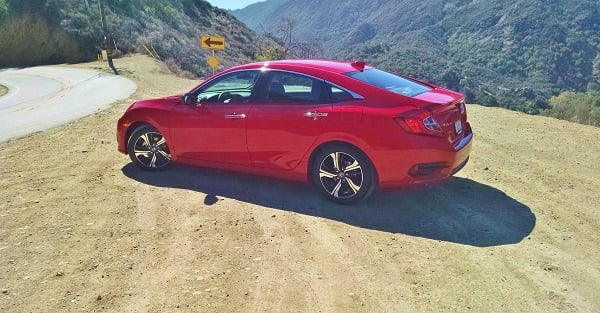 The first time I drove 2016 Civic Touring down Mulholland Drive, I was initially captivated by the new found power and rather seamless torque produced by Honda's Earth Dream ™ turbocharged 1.5 Liter VTEC engine. That was cool, but then it hit me! This was the most comfortable and quietest Civic I had ever driven.
Tall guy fits in the back of Civic

The measurable difference for me at 6 ft, 5 inches tall was the head, hip and legroom discovered in Civic's power adjustable, heated driver's seat. Ergonomics? Very close to perfect. With that said, I did something that most auto review guys and gals generally miss in their initial drive and ride experience. I sat in the back seat.
Here's where that 2 inches comes into play. Honda engineering designed 2.2 additional inches into the 2nd row, right where it was needed, and,lowered the seating position by 1.6 inches, while adding 3 + inches of cargo space to the trunk.
That lower seating position translates to greater human to car interface
Honda Engineering has done a commendable job of translating a sense of "added control" to the driver by placing him or her in a lower, eye's over the road visual driving position. Again, it's just the matter of less than 2 inches, Honda style.