Cybertruck - Best Off-Roading Truck Compared to Gas Trucks
The Tesla Cybertruck is an amazing off-roading vehicle and a great vehicle to have in an apocalypse, according to Joe Rogan.
Joe Rogan asked Elon Musk about the ride height raising and asked about their being a drive train and axles. Elon Musk said there is a differential in gas trucks that is hanging down low from the bottom and that if you drive over a rock, you will break that differential.
Elon goes on to say that the Cybertruck bottom is completely flat and has the best clear height of any vehicle.
Did you know that the Cybertruck and the famous DeLorean were spotted side by side?
That is one thing I like about EVs is that they don't have a complicated engine, and they have a flat bottom of the car that doesn't have any pieces of equipment that can get damaged from rocks and debris underneath.
In fact, the bottom of a Tesla car is what is housing the battery that rests on top of it, giving it a very strong center of gravity.
This 2014 Tesla Model S owner has driven 1.2 million miles in what has to be a world record:https://t.co/iXVi5GiPYY$TSLA @Tesla @torquenewsauto #models #worldrecord #evs #batteries #electricmotors pic.twitter.com/QBon4UvJkO
— Jeremy Noel Johnson (@AGuyOnlineHere) November 16, 2023
The one thing that any electric truck has as a negative against it is the total weight of it due to the battery pack underneath. But, I think that isn't a big enough deal to make it worse at off-roading. Plus, the battery underneath gives it a tremendous center of gravity.
You May Also Be Interested In: A Tesla Model S drove 1.2 million miles. How was this possible?
What About the Rivian Truck?
I found a picture of a Rivian truck doing some off-roading in order to compare with the Cybertruck. Both vehicles have much better ground clearance than their gas car counterparts.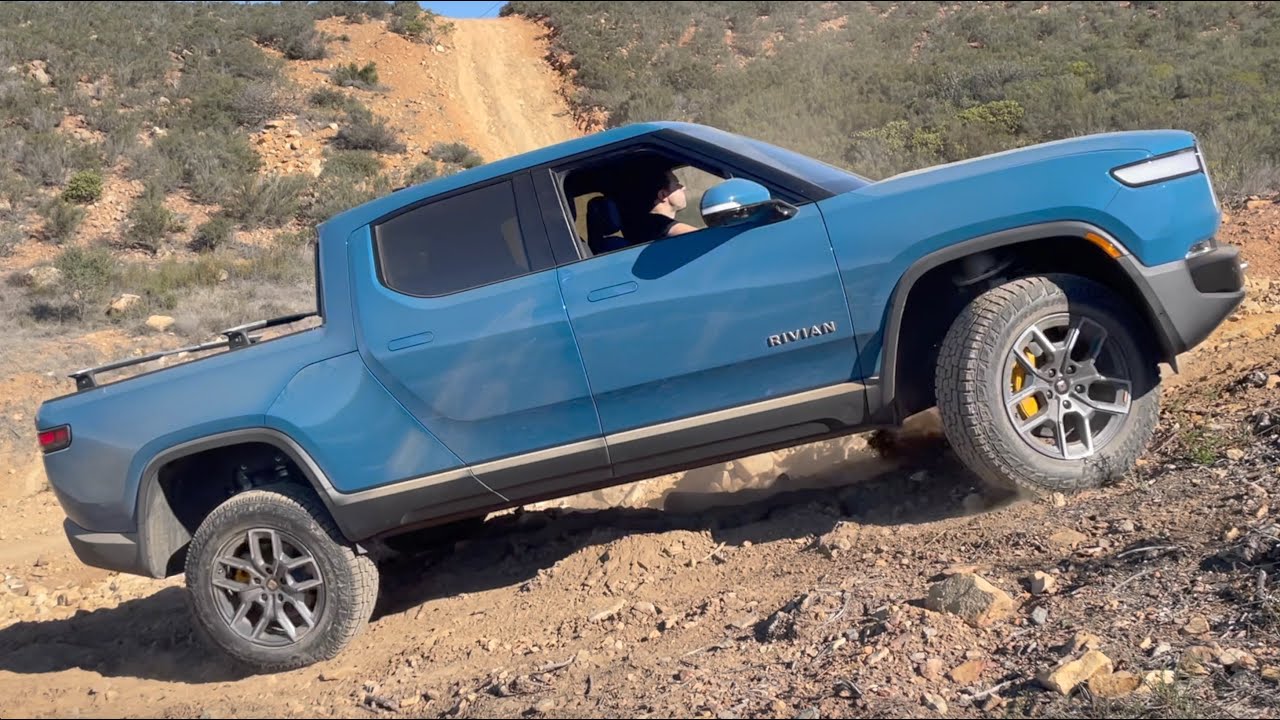 You can look at both pictures and judge for yourself which vehicle you think has the higher ground clearance. If you believe Elon Musk, the Tesla Cybertruck does.
Any well-made electric pickup truck will have a better ground clearance than a gas truck. Beyond that, I think the Cybertruck is the best choice, and I am looking forward to seeing it in action soon when the delivery event occurs on November 30th.
The Tesla Cybertruck range was accidentally leaked with the latest screenshots of it charging:https://t.co/0W0wEKOyqC$TSLA @Tesla @torquenewsauto #cybertruck #evs #range pic.twitter.com/igmL0kTRJg
— Jeremy Noel Johnson (@AGuyOnlineHere) November 15, 2023
Tesla is likely to have done a lot of off-roading testing with the Cybertruck. Tesla is well-known for taking its vehicles and testing them in a variety of harsh conditions to make sure they perform well.
That's the verdict here. The Tesla Cybertruck is the best off-roading vehicle compared to any gas truck due to the much higher ground clearance. When compared to the Rivian - you'll have to judge for yourself.
Be sure to come back for further Tesla news on the Cybertruck and other Tesla vehicles and developments, and have a wonderful day!
In Other Tesla News: Joe Rogan talks with The Rock about the Cybertruck.
What do you think about the Cybertruck being a better off-roading vehicle than any gas truck? Do you believe this?
Elon explains to Joe why Cybertruck is the best off-road truck. pic.twitter.com/Ewep2JSzwm
— Tesla Synopsis (@TeslaSynopsis) November 18, 2023
Share this article with friends and family and on social media! Thank you so much for your support!
Hi! My name is Jeremy Johnson, and I am a Tesla investor and supporter. I first invested in Tesla in 2017 after years of following Elon Musk and admiring his work ethic and intelligence. Since then, I've become a Tesla bull, covering anything about Tesla I can find, while also dabbling in other electric vehicle companies like Aptera. I cover Tesla and EV developments at Torque News. You can follow me on X.COM or LinkedIn to stay in touch and follow my Tesla news coverage. Image Credit, Tesla, Screenshot