Project Endeavor
A Smart Cities World news team recently reported that live trials in the UK are currently in progress using Oxbotica's autonomy software to navigate a fleet of specially adapted Ford Mondeos to operate across a five-mile area in varied traffic and weather conditions in some selected European cities.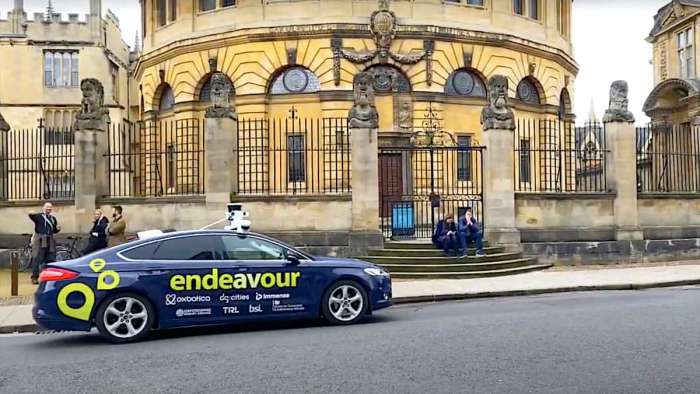 Earlier, we had reported on how Oxbotica's autonomy software was being tested on a Ford Ranger retrofitted with their FSD platform for off-road testing.
Thus far, successful deployment in Oxford has already been initiated, with trials in Birmingham scheduled next in July, followed by an expected final trials demonstration to showcase the program in Greenwich in August 2021.
The trials are part of a Project Endeavor autonomous driving program designed to accelerate and scale the adoption of autonomous vehicle services across the UK to serve both public and private transportation needs.
"Project Endeavour is a one-of-a-kind research project that is allowing us to learn about the challenges of deploying autonomous vehicles in multiple cities across the UK – a key part of being able to deploy services safely and at scale," said Dr Graeme Smith, senior vice president, Oxbotica, and director of Project Endeavour.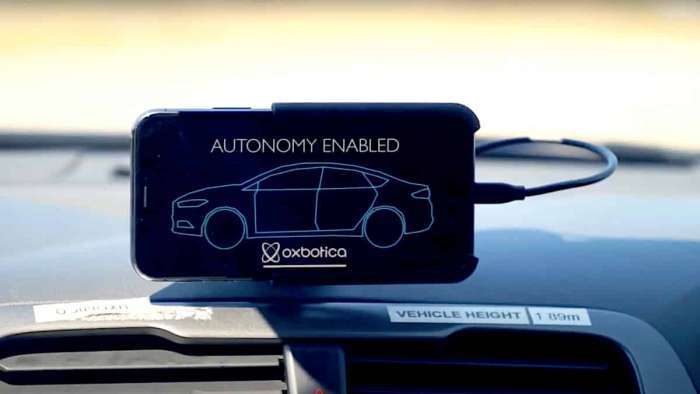 He added: "This stage of the mobility project is a new step for us, as Birmingham hosts our fleet of autonomous vehicles for the first time in real-life environments, and there has been a huge amount of enthusiasm from the local authority in the UK's second largest city ahead of the deployment."
Here Is A YouTube Video Describing Project Endeavor---The UK's First Multi-City AV Demonstration:
Vehicles are fitted with lidar, radar and stereo cameras
According to the news report, The vehicles are fitted with lidar, radar and stereo cameras and integrated with Oxbotica's autonomy software platform. They are capable of level four autonomous driving and will operate in a five-mile area around Lea Hall station, between Birmingham International Airport and the city centre. During the trials, a professionally-trained safety driver will be in the vehicle, capable of resuming control, if necessary.
How Does Tesla FSD Compare?
As we discussed earlier, Tesla has recently dropped its use of radar and is moving toward a "pure vision" system that---according to Musk---will be a "quantum leap" on the current Autopilot available for most of the public.
But just what will this quantum leap look like, and when it will happen? Can we expect to see this with the promised version Beta 9 release, or will it be just a few added tweaks or minor functionalities? All of which are are questions anxious Tesla owners are waiting to be answered after yet another missed deadline.
Currently, Tesla is at level 2---a full 2 levels lower than the Oxbotica Project Endeavour trials of Level 4 being performed today.
As a reminder, there are five levels of automation under standards created by SAE International. Level 2 means two primary functions---like adaptive cruise and lane keeping---that are automated, but still have a human driver behind the wheel ready and alert at all times. Level 2 is typically referred to as an "advanced driver assistance" level of functionality. At Level 2, the vehicle can control both steering and accelerating/decelerating; however, automation falls short of self-driving because a human sits in the driver's seat and can take control of the car at any time.
And while Tesla's Autopilot and its more capable FSD have been considered to be the most advanced systems available to consumers, other automakers have started to catch up and the European Oxbotica trials may hint at having a leg-up over Tesla with their level 4 tests. Furthermore, Tesla has had some problems with Autopilot including this odd problem some Tesla owners experience.
Level 4 is described as where the vehicle can intervene if things go wrong or if there is a system failure and does not require human interaction. However, a human still has the option to manually override. Currently, Level 4 automation is allowed only under specific conditions and roadways.
Level 5 is the Holy Grail of FSD. A Level 5 vehicle does not require human attention at all; may or may not even have steering wheels or acceleration/braking pedals; and, will be able to go anywhere and do anything that an experienced human driver can do.
But what all of this means is not clear. In fact, some argue that SAE levels are useless toward providing a meaningful metric to measure self-driving ability; That the category levels serve more to measure the manufacturer's ability to cover themselves from lawsuits than it does about safety and whether FSD will result in less accidents than "meat-based" neural processing and response i.e. human error.
Best Guesses?
Probably the best guess is that not if, but when, Tesla does release its next FSD version, it will be a leap from Level 2 to at least level 4---and possibly even Level 5. Historically, Tesla likes to hold its cards close to its chest and build momentum in interest and sales with big reveals rather than dole out progress reports as development progresses.
That said, what are your thoughts about Tesla and its FSD future? Are you tired of waiting or holding your breath in quiet anticipation for the next paradigm change in automotive history? Let us know what you think in the comments section below.
Coming Up Next: Here is what Tesla's Director of AI reveals about Autopilot and FSD research.
Timothy Boyer is Torque News Tesla and EV reporter based in Cincinnati. Experienced with early car restorations, he regularly restores older vehicles with engine modifications for improved performance. Follow Tim on Twitter at @TimBoyerWrites for daily Tesla and electric vehicle news.