Cybertruck vs. Hummer EV: Survey Shows a Clear Preference
The CarGurus Electric Vehicle Sentiment Survey surveyed 1,097 vehicle owners about their feelings about electric vehicles. Participants took the survey online.
In response to the question, "Would you consider these electric trucks in particular?" 31% of people (about 340) would consider the Tesla Cybertruck, while only 16% of people (about 176) would consider the GMC Hummer EV. The Ford F-150 EV was also asked about - 28% of people (about 307) would consider it.
More worryingly for General Motors, 64% of people (about 702) said that they would not consider the Hummer EV, compared to only 45% of people (about 494) not considering the Cybertruck.
The survey continued that 40% of people who are likely to adopt electric vehicles would consider the Tesla Cybertruck, while only 17% would consider the GMC Hummer EV.
These numbers do not reflect well on the upcoming GMC Hummer EV. Notably, the launch edition of the Hummer EV, called "Edition 1," will cost over $110,000. The base Hummer EV, called the EV2, will not come until spring of 2024 but will cost about $80,000. Tesla projects that the base Cybertruck will start around $40,000.
There are more possible reasons for its poor performance in the survey including brand perception; Hummers of the past were considered by many to be ostentatious and obnoxious. Despite General Motors' complete overhaul of the Hummer brand (most notably, of course, by making it electric), the potential consumers polled by CarGurus much prefer the Tesla Cybertruck.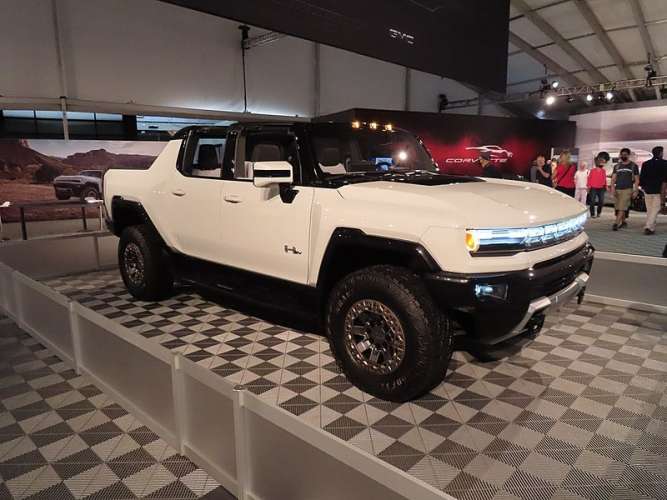 The Tesla Cybertruck has a distinct advantage in terms of uniqueness. No other pickup truck has ever looked like what Elon Musk unveiled at the Tesla Design Studio in Los Angeles in November of 2019. Its polygonal, razor-sharp styling is a complete rejection of standard truck conventions.
MotorTrend predicts that the Hummer EV will have better off-roading capabilities than the Cybertruck. The Hummer EV has the interesting "CrabWalk" feature and 15.9 inches of ground clearance.
Acceleration is a huge benefit in electric vehicles, and the Hummer EV and Cybertruck are no exception. General Motors says that the Hummer EV will go from 0 to 60 mph in only three seconds. Tesla says that the Cybertruck can go from 0 to 60 mph in 2.9 seconds.
Clearly, General Motors and Tesla have promised very capable, innovative and impressive trucks. Unfortunately for General Motors, its Hummer EV is simply not as desirable as the Tesla Cybertruck.
Check out how General Motors' Chevrolet Trax also falls behind its competition.
Samuel Kricsfeld has a degree in journalism from the University of Kansas and reports news about General Motors at Torque News. You can follow him on Twitter, LinkedIn and Instagram for daily GM news.