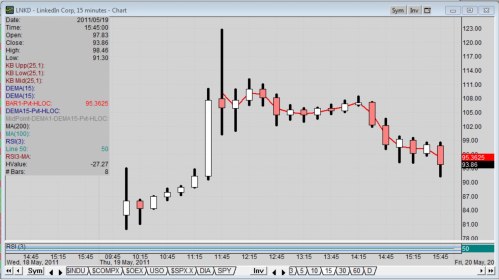 Stock Chart of the Day: LinkedIn (NYSE: LNKD) IPO trades with full volatility and a 93.86 close
Please
SHARE
with friends and include TorqueNews in
Google Alerts
for tomorrow's interesting stories.
You may want to save this chart for your records of what an IPO day can look like. Even CNBC reported there was a lot of energy on the floor of the New York Stock Exchange from the LinkedIn IPO. Question was, how would LinkedIn stock close today? Well, now we know.
The 15-minute charts shows the trading day of LNKD in all its glory and volatility. A morning snapshot of the stock price taken and reported earlier gave LinkedIn (NYSE: LNKD) a market cap of over $8 billion; the new high raised that to nearly $9 billion but only for while.
Witht an extreme day high and an established low minutes after the open, LinkedIn stock has a wide trading range on its very first day. With the low established at $80, the stock soared to $122.69 as a new high, then tumbled thereafter in the afternoon to $103 area. LNKD finally closed at $97.86.
Of course, every IPO has no stock price history to define price action, so this reporter had to use a 1 minute chart this morning just to get a better picture of IPO day volatility. The first 3 candles showed the initial high as 92.99 and the low at 80. Only the low remained, as the high was blown past less than an hour later. Strangely, it closed near that high of the first 15 minutes by the end of the day.
The Automotive Industry Connection

Lest you think LinkedIn has little to do with automobiles, think again. LinkedIn relates well to automotive professionals at every level. Aside from engineering and manufacturing organizations like SAE and SME, LinkedIn is becoming THE professional networking site for automotive professionals, because it includes professionals from every corner of business including the supplier base.
In this case, CAD designers can connect with other CAD designers; and engineers can relate to other engineers. And now with the advent of designing engineers, the arena is filled with both designers and engineers; plus they have a place to connect on a professional level outside of the workplace.
For the record, this reporter was first connected to LinkedIn about 3 years ago when I early retired form the auto industry. Now I receive requests from past associates, like many of my friends from Mexico whom I worked at the GM Studio, as well as new associates to reconnect or make new introductions.
Now that I write about automotive, the requests for connection are increasing. Some people I know; some I do not. Point is, LinkedIn has great potential for all professionals to get connected on a professional level without the Facebook socialite aura.
How to track an IPO stock

As I did with the GM IPO, I use shorter timeframes like 5 minute and 15-minute charts until the day chart starts generating some moving average.
Pages
Please
SHARE
with friends and include TorqueNews in
Google Alerts
for tomorrow's interesting stories.