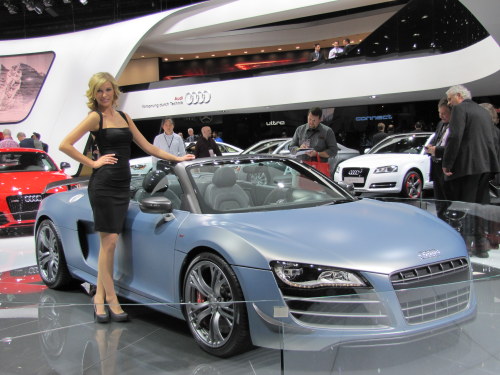 Audi and R8 GT Spyder defines class at NAIAS 2012
Yes, the Audi R8 GT Spyder and model were both classy at NAIAS 2012. I'm not a fan of this new trend to paint cars with flat or matte finishes, but I could be convinced with the Audi R8 GT Spyder; even in light blue.
Before the beautiful model adorned the car during NAIAS 2012 Press Preview Day 2, the Audi R8 GT Spyder caught my eye on Day 1. Fact is, the entire Audi display always catches my eye. Based on winning the EyesOn Design for two years in a row, that is reason enough to declare Audi by far the best class act at the North American International Auto Show, in my opinion.
Exterior Features
The Audi xenon plus headlights with signature LED daytime running lights not only add a distinct look to the vehicle, they also improve visibility while using half of the energy of conventional bulbs.
Although not shown, the fully automatic, electro-hydraulic soft top features a heated glass window and thermal insulation fully suitable for winter use. The thick roof fabric and joining technique between the hood and outer fabric provide superior interior acoustics and exterior sound damping as well as LED map lights.
Notice the 19" 10-spoke-Y-design aluminum alloy wheels with summer performance tires, although there is a difference depending on the engine choice. Looking like a progressive design, Audi says these standard wheels are exclusive to the R8.
Not immediately noticed, the exterior mirrors are power-folding, auto-dimming, power-adjustable, heated and complete with integrated LED turn signals in body color. These exterior mirrors with automatic dimming recognize glaringly bright headlight beams behind the car and darken the mirror glass automatically. In addition to being electronically adjustable, the power-folding feature helps protect the mirrors by collapsing them inward to fit in tight spaces.
Interior
The R8 Spyder 5.2, for example, features exclusively designed thermal resistant leather, which ensures seat temperature no greater than 68º F even in direct sunlight. I know, I know; you're wondering: Can they really do that?
The sport seats offer greater lateral support, thanks to more prominent side bolsters. The seat functions include electronic lumbar support and integrated head restraints. With standard Silk Nappa leather, the sport seats add a distinctive performance-oriented look and feel.
Two Engine Offerings
Audi reports the soul of the R8 Spyder 4.2 is the adrenaline inducing 430 hp 4.2 FSI V8 engine. At the heart of the R8 Spyder 5.2, though, is the soul stirring 525 hp 5.2 FSI V10 engine. The V10 screams to an astronomical 8700 rpm and propels the R8 Spyder 5.2 to 60 mph in only 4.0 seconds on the way up to a top track speed of 194 mph.
Engineered Structure
Notice how the advance toward lighter bodies is coming more from Europe than America. The Audi R8, for example, is built with the revolutionary Audi Space Frame (ASF®) chassis, a technology which Audi invented, and has spent more than a decade mastering. The framework of an ASF body consists of extruded aluminum sections and pressure castings.
For the record, the aluminum chassis and sheet metal are touted to be just as strong as steel, but lighter to boost performance and efficiency. According to Audi's website, the frame carries the sheet aluminum elements, such as the roof panel, which helps withstand loads on the body. The elements of ASF are varied in shape and cross-section, depending on the tasks they have to perform. Like the bones of a human skeleton, they combine optimal function with low weight. The result of ASF technology is a frame that is lightweight yet extremely strong, which delivers high torsional rigidity and optimal performance.
My Feature Video
There are other vehicles at the Audi display. For a sampling of what I viewed during Press Preview, check out the gallery of photos below the main image above. By the way, price starts at $127,700.
_______________________________________________
About the Reporter: After 39 years in the auto industry as a design engineer, Frank Sherosky now trades stocks, futures and writes articles, books and ebooks like, "Perfecting Corporate Character," "Awaken Your Speculator Mind", and "Millennial World Order" via authorfrank.com. He may be contacted here by email: FrankS@TorqueNews.com and followed in Twitter under @Authorfranks
Please
SHARE
with friends and include TorqueNews in
Google Alerts
for tomorrow's interesting stories.