Subaru and Subaru Tecnica International (STI) have done it again. The Subaru motorsports team has now won their 6th SP3 class title and second-consecutive Nurburgring 24-hour race victory. They finished the grueling race this morning first place in class.
This was Subaru's 12th Nurburgring 24-hour race challenge since 2008, their 6th class title and their fourth win in five years. The grueling race was held at the Nurburgring in the Eifel region of Rhineland-Palatinate, Germany this past weekend.
Drivers Carlo van Dam (Netherlands), Tim Schrick (Germany), Hideki Yamauchi (Japan) and Takuto Iguchi (Japan) drove the Subaru STI race car to victory. Subaru says the race was good from start to finish with no real problems according to reports from Germany.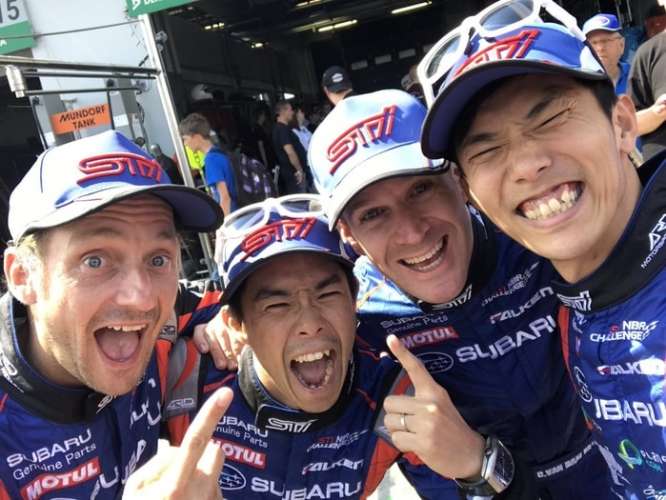 This year's 24-hour race was much different from last year when it was rainy and cold. The team had warmer temperatures and no rain made for a fast pace. The team finished in 19th place overall.
The victory is a testament to the Subaru WRX STI's all-wheel-drive performance on circuits such as the Nurburgring, also known as the "Green Hell", which is one of the most challenging and dangerous tracks in the world. Congratulations to Subaru and Subaru Technica International for winning their 6th Nurburgring 24-hour race and second-consecutive.
You Might Also Like: Speed Brings Subaru WRX STI Across ARX Finish Line In 1st Place
Leave your comments below, share the article with friends and tweet it out to your followers!
Bookmark my Subaru page and be sure to follow the latest Subaru WRX STI reports on Facebook, Twitter, Instagram, Subaru Report. Tweet your Subaru news tips to us @WRX_STI_News and we'll give you a shout out! Be sure to check back tomorrow for more Subaru news and updates!
Photo credit: Subaru Motorsports