Subaru is the smallest Japanese automaker but they are producing what consumers want. Consumers with active lifestyles want a crossover they can use for commenting during the week, and have a vehicle with off-road capability for the weekends. Subaru has an underdog in the Crosstrek that wins big with the new-generation model. It's a compact crossover you'll want to get dirty.
This week we drive the top trim 2018 Subaru Crosstrek 2.0i Limited model.
What's new for 2018?
The Subaru Crosstrek is completely remodeled for 2018. It's 95 percent new with only a few fasteners and bolts carrying over from the first-generation model. That's significant because it means consumers get a new small crossover with impressive upgrades.
Crosstrek now comes standard with a new raised Stablex suspension, still offers the same 8.7-in of ground clearance for versatility in both off-road and city driving, and gets new 17-inch wheels changing the stance of the crossover. Crosstrek also gets new Torque Vectoring from the WRX/STI performance models for improved driving dynamics. The outside appearance of the Crosstrek gets sportier with the addition of a new standard gloss black rear roof spoiler.
The new Global Platform that underpins the new 2018 Crosstrek is Subaru's biggest advancement in their automobiles since they developed the driver-assist EyeSight safety system. The new architecture underpinning the new-generation 2018 Crosstrek improves crash energy absorption by 40 percent over the outgoing model keeping occupants safer in the event of a crash.
Crosstrek can even survive an impact by a heavier SUV weighing 2.5 tons at 66 mph. After an impact, the two vehicle's A and B-pillars will retain their integrity protecting the occupants. Subaru's new-generation all-wheel-drive Crosstrek is the safest compact crossover the Japanese automaker has ever built.
Features and options
The 2018 Subaru Crosstrek 2.0i Limited ($26,295) features black leather heated front seats with orange stitching on seats, door armrests and instrument panel. Limited trims include upgraded Multi-Function display and individual wheel display TPMS indicators.
Other features include standard CVT with X-MODE with Hill Descent Control, SUBARU Starlink 8.0-inch Multimedia Plus system, 18-in. machine-finished alloy wheels, keyless access with push-button start and pin code access, 6-way power driver's seat and new steering responsive headlights which can illuminate curves as the vehicle steers into them.
Limited trims include automatic LED low and high beam height adjustment control. Blind spot detection with lane change assist and rear cross traffic alert are also standard. Other standard features include a rear vision camera, fog lights, all-weather package, welcome lighting, roof rails and exterior mirrors with integrated turn signals.
This tester came with the optional EyeSight driver-assist safety technology package ($3,445) featuring Pre-Collision Braking Control and Adaptive Cruise Control. The package also includes Rear Vehicle Detection offering reversing assistance to enhance all-around preventive safety. A moonroof, navigation and Harmon Kardon premium auto were also included. Total MSRP including destination and delivery: $30,655.
Interior highlights
Inside, the new 2018 Crosstrek gets more refinement with improved materials, more comfortable seats, a new 8.0-inch touch-screen display for the infotainment system, a new smaller-diameter steering wheel, and larger cabin and cargo carrying ability. Our Limited tester came with an all black leather interior with yellow stitching, and comfy heated front seats we used liberally this week. We did wonder why Subaru doesn't offer a heated steering wheel in the Limited trim.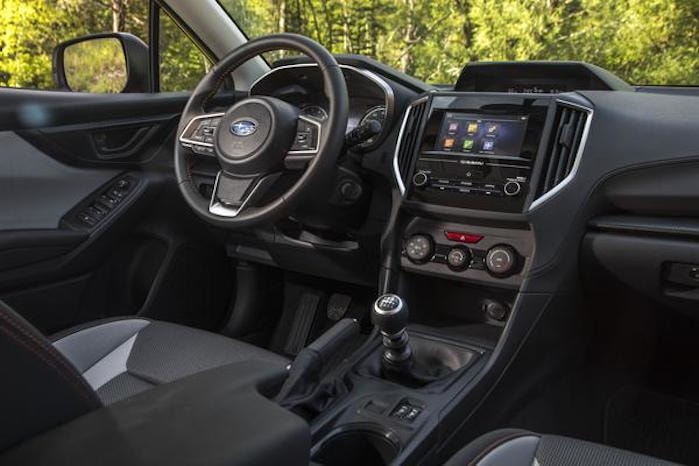 The upgraded cabin feels more spacious over the outgoing model because the wheelbase is 1.2-inch longer, and the body is 0.9-inch wider. We especially liked the new center display showing miles per gallon, time, outside temperature, and how many miles until empty. All controls are easy to use and understand unlike many new models today.
The back seat is roomy and there's plenty of legroom for two adults to ride comfortably all day. Subaru engineers redesigned the rear taillights, and the rear liftgate opening is four inches wider allowing for easier cargo loading and the area behind the rear seat gets larger for greater utility. Overall, the new Crosstrek cabin is a more comfortable place to spend time.
Engine and fuel mileage specs
All 2018 Crosstreks get the new-generation 2.0-liter 4-cylinder Boxer engine with direct fuel injection and other enhancements to boost both performance and drivability. The Crosstrek's FB20 2.0-liter engine has been radically transformed. The Subaru power plant gets 80 percent new components, it gets a 26lb. reduction in weight, more horsepower and torque, (now 152-hp vs. 148 before) a strengthened block that's 10 percent lighter, and it's mounted 10mm lower with a lower center of gravity for improved balance and stability. It comes mated to a Lineartronic Continuously Variable Transmission (CVT) with steering wheel paddle shifters.
EPA/DOT fuel mileage estimates come in at 27/33 city/highway mpg and 29 combined mpg with the CVT automatic transmission.
Driving dynamics
We could tell right away after getting underway, the cabin feels tighter and quieter than the first-generation model. The biggest key to the Crosstrek's improved ride is the new Subaru Global Platform it rides on with improved rigidity. The new architecture enhances NVH (Noise, Vibration, and Harshness), handling and safety. Subaru says engineers increased the use of higher strength steel to pull off the improvements.
During our drive this week, we were able to experience Crosstrek's improvements that translate to quicker, more responsive steering and stability and we felt it on the open road and driving in city traffic. On the highway, the Crosstrek is super quick to respond to steering wheel inputs. It took awhile to get used to, but once we did, we liked the changes.
The all-new Crosstrek also gets a suspension upgrades with the rear stabilizer now attached directly to the body that reduces body roll by 50 percent over the outgoing model. We tossed the compact crossover around tight mountain curves and the vehicle remained composed, stable, and had minimal body lean. We hit the brakes hard to avoid a deer that jumped out in front of us and could feel the crossover's improved stopping performance.
We were able to experience the Crosstrek's new X-Mode designed to enhance the Crosstrek's capability in low-friction environments. We took it on a short off-road course near Morrison, with lots of steep inclines. We drove the vehicle to the top, stopped, pushed the X-Mode button and let the crossover roll down the steep decline without touching the brakes. Crosstrek also comes with 8.7-inches of ground clearance and never bottomed-out as we took it over some large rocks.
In the city, the new Crosstrek is a capable commuter with excellent visibility, and it's a good size for urban dwellers. The newly-remodeled CVT automatic is also a bright spot for the vehicle. It's one of the better CVTs out there. It doesn't wind uptight and sound like a jet engine taking off. We also used the EyeSight's Pre-Collision Braking Control and Adaptive Cruise Control in stop-and-go traffic, and never touched the brakes once.
Conclusion
Subaru is the smallest Japanese automaker but they are producing what consumers want. The top trim 2018 Subaru Crosstrek is a smart model for those wanting more luxury, with the ability to get away from civilization. Urban dwellers will find it a cable commuter with lots of utility and fuel-efficiency. Adventurous consumers will find the Crosstrek more than capable of serious off-road use of the weekends. It's a compact crossover you'll want to get dirty.
Photo credit: Subaru CA