BMW M2 Makes First Appearance as MotoGP Safety Car
The new M2 is BMW M Division's highlight as it makes its way to various tracks around the globe. The BMW M2 made its first appearance as the MotoGP Safety Car at the 2016 MotoGP World Championship last weekend. The 2016 MotoGP season kicked off at the Qatar Grand Prix at the "Losail International Circuit" in Doha. The M2 was a hit just like it's made its appearance at car shows.
At car shows, the M2 has only appeared in its Long Beach Blue exterior color. The M2 MotoGP Safety Car stands out with its new race livery and a slew of M Performance Parts, including the lowered thread chassis and exhaust with flap system.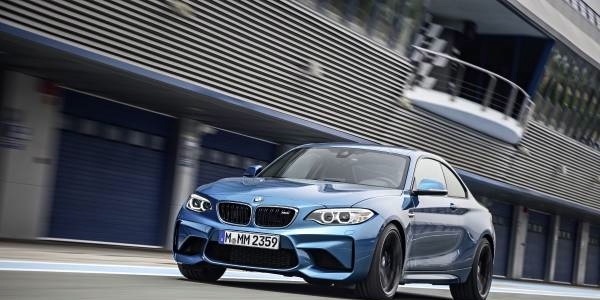 In the BMW M factory in Garching, the production car was modified, optimized and prepared by hand for its new role in MotoGP. It also gets a number of mandatory safety features for its role as a safety car. The high-performance coupe also gets gold wheels, a gold roll cage, new front air foil, light bar and special tail lights. The back seat has been removed to make way for the roll bar, and performance Recaro seats installed up front.
M2 is one of six vehicles
The new M2 wasn't the only M vehicle at the track. The fleet of official MotoGP vehicles also includes the BMW M4 Coupe with water injection and the BMW M3. The BMW X5 M and the BMW M550d xDrive Touring will be used as medical cars. BMW M Division will provide the safety officer with a BMW M5. Two BMW S 1000 RRs, which BMW Motorrad provides as safety bikes, round out the 2016 safety vehicle fleet from BMW.
The BMW M2 Coupe BMW M2 makes its first appearance as the MotoGP Safety Car at the 2016 MotoGP World Championship. It's the ideal M performance car to keep things safe at the tracks. It's a hit everywhere it goes.
Source: BMW
Photo used with permission from BMW Group
Updated on May 11, 2018.