Subaru has just revealed the 2019 Subaru WRX STI "Diamond Edition 30" with 349 horsepower and it's heading for Subaru's smallest market, South Africa. Subaru's largest market, North America gets left out again. This is the second limited edition STI with higher horsepower Subaru Corp has released in the past month.
The Japan-only 2019 Subaru WRX STI TC380 unleashes 380hp and only 50 examples will be built for the Japan market. Subaru will only manufacture 30 examples of the Diamond Edition WRX STI for South African. Subaru says this hotter STI, built to celebrated Subaru Techica International's 30 year anniversary, will launch from 0-62 mph in 5.03 seconds (seven-tenths quicker than the standard model).
This Diamond Edition STI follows another South African WRX STI limited edition model, when 14 years ago, in celebration of 15 years of STI, Subaru SA launched the Subaru WRX STi STImulating Edition. Only 15 units were built and they remain sought after limited edition models. The Stimulating Edition included a Prodrive performance exhaust system as well as an ECM Upgrade.
More power and performance upgrades
The Diamond Edition STI 30 is powered by the same 2.5-liter turbocharged Boxer engine as its U.S. counterparts, but STI cranked up the power to 249hp and 342 lb-ft of torque. Subaru It comes mated to the same 6-speed manual gearbox, and the Diamond Edition gets additional engine bracing, and special Brembo brakes with six-pot calipers up front and two-pot calipers at the rear. Yellow calipers can be seen inside the 19-inch Dark Gunmetalic alloy wheels wrapped in 245/35 R19 rubber.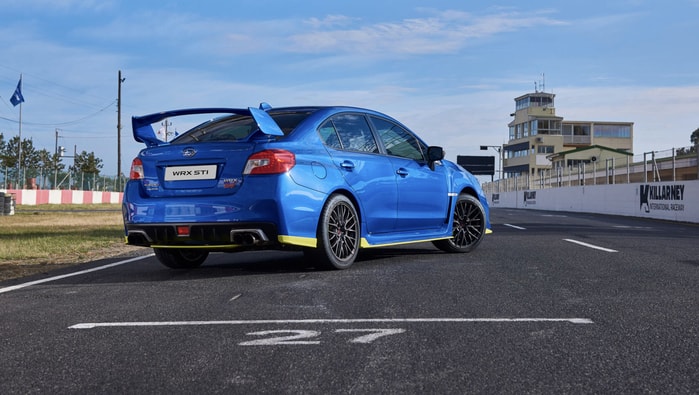 The special edition STI 30 features spacers on all four wheels, adding 20 mm of width, a special "High Viz" body kit with yellow striping, and gloss-black 30 "Diamond Edition" badging on the rear wing. Inside the Diamond Edition gets a plaque commemorating each numbered model. The STI comes in Pure Red, WR Rally Blue, Dark Grey and Crystal White Pearl exterior paint.
Subaru South Africa says it took 18 months to develop the car, with the process including "substantial durability and wear testing, oil testing and dyno tuning". The 2019 Subaru WRX STI Diamond Edition 30 was tested at altitude at Gerotek's 1410m test facility in South Africa. It's the fastest, most powerful STI ever built for South Africa and only 30 lucky owners will get one. Performance fans in the U.S. can only look and not touch.
Watch WRX STI Diamond Edition 30 video.
Leave your comments below, share the article with friends and tweet it out to your followers!
Follow more Subaru WRX STI news on Facebook, Twitter and Instagram
Photo credit: Subaru South Africa