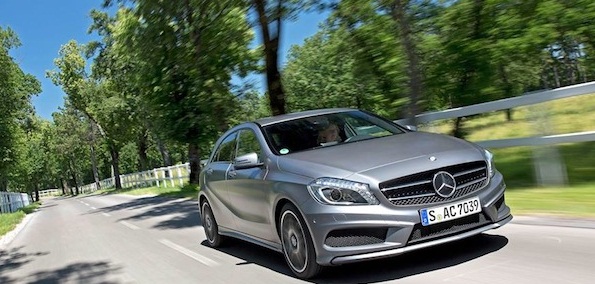 2014 Mercedes CLA-Class is world's most highly connected car
The 2014 Mercedes CLA-Class and A-Class are the world's most highly connected cars and up for the "Connected Car" award, Vote now and win a new A-Class. Mercedes calls it an award for the future. The "Connected Car" award by Germany's Auto Bild and Computer Bild is all about the smartest and best networked cars. Mercedes-Benz is nominated in each of the eight categories.
The new Mercedes-Benz CLA-Class was designed for a new generation of buyers who are highly connected through todays technology. Mercedes was brilliant in just how much high-tech gadgetry they put in to the new four-door coupe. This is what the millennial buyers they are going after want and Mercedes has delivered. If you are trying to get a new generation of buyers to consider buying your cars, you better give them the technology they grew up using.
Mercedes knows these younger buyers use their new iPhones for everything, and they want it their cars. The new CLA-Class and A-Class premium compact cars are loaded with connectivity. Mercedes has been nominated for the Connected Car Award: Phone category. How does the new CLA-Class and A-Class deliver?
Mercedes calls it their "Drive Kit Plus" and the "digital drive style" app (free on iTunes). The Mercedes technology is coupled to the iPhone 4 and 4S with the onboard system. Calls can then be accepted or rejected with buttons on the steering wheel. The CLA and A-Class audio system (plus microphone) serves as a speakerphone.
Volume control and call lists and contacts can be controlled with the controller and also the iPhone 4S via the voice talent "Siri". For Mercedes A-Class and the CLA, Drive Kit Plus can be ordered directly and installed from the factory. This factory installed technology is why the new CLA and A-Class premium compacts will be so popular will millennial buyers. It's also available on other Mercedes series cars, but only as a retrofit solution.
You can vote on the 2014 Mercedes-Benz CLA-Class and A-Class cars for the Connected Car Award 2013 and also have a chance to win a Mercedes A 200. Who wants to join Mercedes-Benz and stay connected? Vote here and win a new A-class.
Please
SHARE
with friends and include TorqueNews in
Google Alerts
for tomorrow's interesting stories.