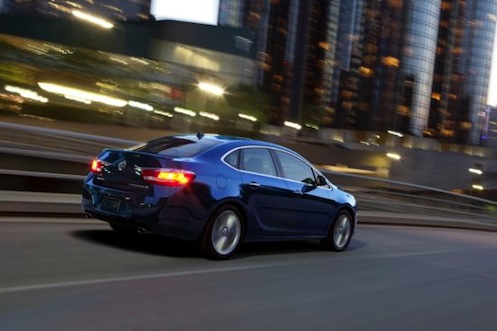 Buick brings a hot new 2013 Verano Turbo
Buick is getting into the performance ballgame and has announced that the 2013 Verano will come with an all-new performance turbocharged engine that will be producing 250 horsepower and 260 lb. ft. of torque. GM's new engine called the Ecotec, will be a turbocharged 2.0-liter engine using the latest direct-injection technology. In addition to the hot new Ecotec turbo, Buick will be offering a six-speed standard transmission for a little extra excitement.
The hot new turbo sedan from Buick will have an estimated 0-60 time of 6.2 seconds making it on par with the new Ford Focus ST turbo that has 252 horsepower. Buick says the performance will be the same with the six-speed manual as the automatic with six gears. The announcement of the new 2013 Buick Verano Turbo is the most excitement we've had out of Buick in a long time. The brand certainly hasn't been associated with performance in the past.
Small turbocharged engines are the future
The hot new turbocharged Verano shows the direction that automakers are moving. We will continue to see these small four-cylinder turbocharged engines coming out in more vehicles. According to IHS Automotive, use of four-cylinder engines in North American vehicles will grow 74 percent from 6.9 million to 12.2 million units over the next 10 years. And many of the engines will use turbo's to pump out higher performance and better fuel-efficiency. All of this is good news for those who like performance.
In order for manufacturers to meet the new fuel-mileage numbers, they will have to downsize their powertrains and use smaller turbocharged engines without sacrificing any performance. But the advantage of using a turbocharger allows the smaller engines to produce some very good performance numbers.
"Buick's engine strategy continues to be driven by intelligent performance," said Tony DiSalle, vice president of Buick Marketing. "Four-cylinder engines, turbocharging and eAssist are all the right solutions for today's market. With these advanced technologies, Buicks are more efficient without sacrificing their smooth, quiet character."
The fuel crisis has forced automakers to come up with new engine technology that is not only fuel-efficient, but performance oriented as well. While the turbocharger is not new, when combined with direct-injection and continuously variable valve timing (CVVT), a 2.0-liter engine can produce some fun numbers. Look for automakers to come out with more new performance cars like the 2013 Ford Focus ST turbo in the near future.
Other Turbo extras
The Turbo model will come with all the standard features, including all of the optional goodies found in the Leather and Convenience packages of the standard Verano. With heated leather seats, the premium nine-speaker Bose audio system and Buick's IntelliLink infotainment system, the Verano Turbo will be well appointed. The Turbo will get extras like aluminum pedals , a rear spoiler, and a Turbo badge to distinguish the car from the standard model.
Buick has not revealed pricing yet on the new Verano Turbo, but should be announced closer to the start of production later this year. Look for the new hot sedan to be in showrooms sometime in early 2013.
A new offering from Buick like the 2013 Verano with a hot new turbocharged engine and six-speed manual transmission could transform the brands image from dull and boring, to fun and exciting overnight.
Please
SHARE
with friends and include TorqueNews in
Google Alerts
for tomorrow's interesting stories.