The 2022 Mitsubishi Eclipse Cross is a two-row, five-passenger crossover SUV. Extensively redesigned for the 2022 model year, this crossover SUV offers a lot of value in a segment defined by great offerings. We tested the Eclipse Cross this week, and what we discovered is that this model compares very well to one of the strongest competitors in this segment, the Subaru Crosstrek. Let's take a look at what makes the Eclipse Cross so good and why we feel a shopper considering a Subaru Crosstrek Limited might want to give this Mitsubishi a close look before signing on the dotted line at a local Subaru dealership.
What Did We Test and What Did It Cost?
We tested the 2022 Mitsubishi Eclipse Cross SEL 1.5T S-AWC. This is the all-wheel drive version of the new Eclipse Cross with every possible feature and accessory. The SEL Touring Package added important content. For example, roof rails, heated front and rear seats, heated steering wheel, head-up display, power moonroof and power shade, adaptive cruise control, and active safety systems we consider important in any vehicle. Also included were $1,785 worth of plastic cladding, hood badges, bumper protectors, floor mats, and a touch-up pen kit. The Eclipse Cross we tested had an as-tested price including destination fees of $34,075. We priced out a Subaru Crosstrek Limited and found the price with similar equipment to be $32,288. Both of these vehicles can be had for a bit less if you can find one in stock without the added accessories.
2022 Mitsubishi Eclipse Cross SEL 1.5T S-AWC - How Big Is It?
The Eclipse Cross is a bit smaller than a Subaru Forester or Honda CR-V. It offers 97 cubic feet of passenger volume and 50 cubic feet of cargo behind its front seats. By comparison, the Crosstrek has 97.5 cubic feet of passenger space and 55 cubic feet of cargo volume. Size-wise, these two vehicles are as close as any two crossovers can be.
2022 Mitsubishi Eclipse Cross SEL 1.5T S-AWC - How Does It Drive?
The Eclipse Cross is very pleasant to drive in every situation. We drove in the city, on the highway, on rural mountain roads, and on some back-country dirt roads. In every case, the Eclipse Cross was fun to be behind the wheel of.
The 1.5-liter turbocharged engine is a joy. If you pin the throttle, the Eclipse Cross is quick, and can easily merge into traffic or pass in a safe manner. However, it does not match the quickest vehicles in this segment like the Mazda CX-30. The CVT transmission was fine, but not remarkable. We liked the variable drive modes which include snow and gravel as well as an ECO mode that seemed to have a pretty noticeable improvement on fuel economy at the expense of throttle response.
Handling is great. The Eclipse Cross is softly sprung and moves around a bit over bumps. We liked it, many sports car fans will not. If you want the sports car in this segment it's the CX-30, but it costs more. We think the Eclipse Cross will appeal more to those who really want a small SUV, rather than a tall hatchback car.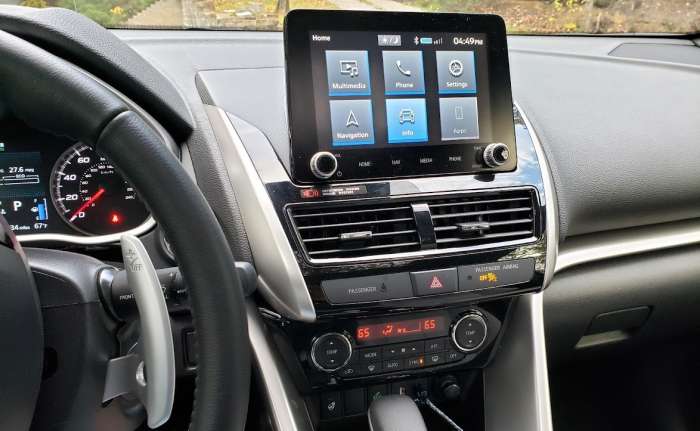 Interior, Infotainment, and Accessories
We found the interior of the Eclipse Cross to be very user-friendly. The front seats are power-actuated and very comfortable. We liked the manual switches for the heated seats and the heated steering wheel. The head-up display was a nice touch, but it's the old-style pop-up glass that does not offer much info beyond your speed.
The infotainment system was super-easy to use, and it integrated our Android phone seamlessly. The audio was excellent. One nice feature was the power-operated screen over the moonroof. We'd say that Mitsubishi did a great job inside. Everything makes sense.
We found the LED headlights to be outstanding in the Eclipse Cross. The low beams are augmented by super-bright driving lights that illuminate the sides of the roads at low speeds and the high beams were subjectively among the best we have ever tested. IIHS rates the headlights in the Eclipse Cross Poor, not for their effectiveness, but rather glare to oncoming drivers.
2022 Mitsubishi Eclipse Cross SEL 1.5T S-AWC - What's Missing?
If there was a Sport Mode in the 2022 Mitsubishi Eclipse Cross, we missed it, but we did use the paddle shifters on a mountain road and found them to work very well. There was no hill descent control that we could find, and that is an important feature we look for in any top-trim crossover SUV. Our SEL also did not have a power liftgate, but we didn't miss it.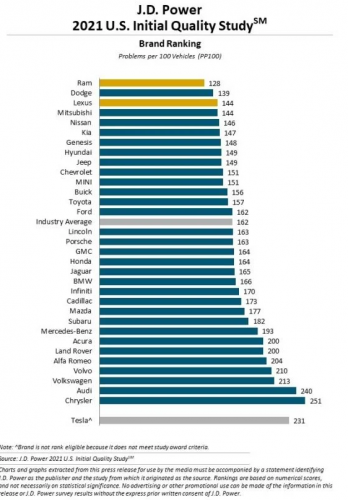 2022 Mitsubishi Eclipse Cross SEL 1.5T S-AWC - Warranty, Reliability, Fuel Economy, Value
Mitsubishi offers a five-year bumper-to-bumper and 10-year powertrain warranty. That is twice as long as the warranty Subaru offers. Consumer Reports predicts the '22 Eclipse Cross will earn a ⅗ reliability rating, the same rating that the Crosstrek has thus far earned in its 2018, 2019, 2020 model years but a bit lower than the ⅘ the 2021 model year has earned. In the latest J.D. Power Initial Quality Survey, Mitsubishi was number one among crossover brands in a tie with Lexus. By contrast, Subaru falls well below the industry average.
The EPA estimates that the 2022 Mitsubishi Eclipse Cross SEL 1.5T S-AWC will have an annual fuel cost of $1,950 and the Subaru Crosstrek of $1,700. Given today's high costs of gasoline, this is a pretty close match.
2022 Mitsubishi Eclipse Cross SEL 1.5T S-AWC - Conclusion
Those looking for a compact SUV Crossover with a great warranty, lots of features, and an intuitive set of controls will find it in the 2022 Mitsubishi Eclipse Cross SEL 1.5T S-AWC. We would suggest to any shopper starting with a Subaru Crosstrek, that in this time of vehicle shortages, the Eclipse Cross is a great alternative to consider.
John Goreham is a long-time New England Motor Press Association member and recovering engineer. John's interest in EVs goes back to 1990 when he designed the thermal control system for an EV battery as part of an academic team. After earning his mechanical engineering degree, John completed a marketing program at Northeastern University and worked with automotive component manufacturers, in the semiconductor industry, and in biotech. In addition to Torque News, John's work has appeared in print in dozens of American news outlets and he provides reviews to many vehicle shopping sites. You can follow John on TikTok @ToknCars, on Twitter, and view his credentials at Linkedin
Re-Publication. If you wish to re-use this content, please contact Torque News for terms and conditions.