The Toyota GR Supra just added a stick-shift option. This rear-drive sports coupe is a perfect example of a car that many owners would prefer to have a manual transmission. Don't take our word for it. Here's what Toyota said about its decision to add the stick shift to this rear-drive sports coupe; "Toyota GAZOO Racing sports car customers and fans have spoken, and we've listened."
Related Story: Suddenly Toyota Has 3 Stick Shift Sports Cars
Toyota listened to fans of the GR86 rear-drive sports coupe too. That car gets a stick shift. So, wouldn't Lexus sports coupe fans also want a stick shift option for the RC series? After all, it is very similar in many ways to both the GR Supra and GR86.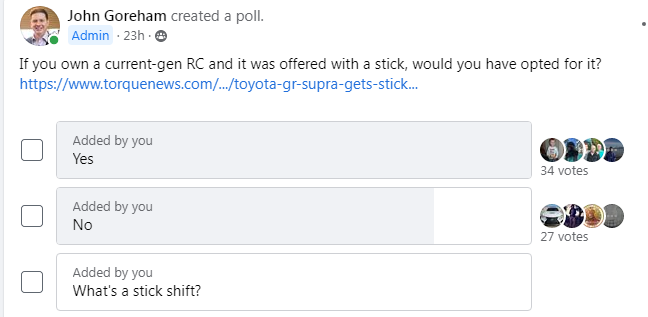 To find out how Lexus owners of RC coupes would feel about a stick shift option, we conducted an informal poll at the Lexus RC Club on Facebook. The club has about 8,000 active members. We asked the club members if they would have purchased a stick shift manual transmission if that option had been available when they purchased their Lexus RC.
Related Story: Lexus RC F's most amazing feature is the transmission
Although the poll has only been up for about a day, it has trended more than 50% "Yes" for a stick shift option since it was posted. Feel free to click the link above, join the group and vote yourself.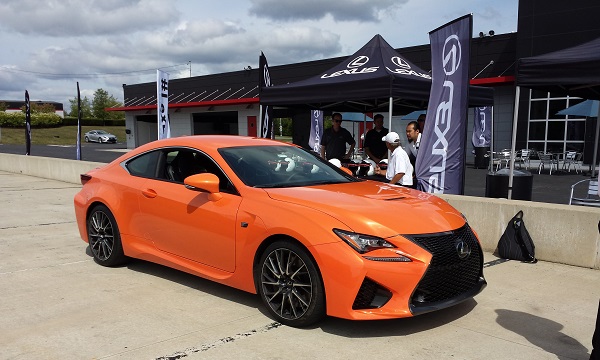 The Lexus RC is a rear-drive or all-wheel drive sports car. Toyota offers a stick shift in its two rear-drive sports coupes, the GR Supra and GR86, and it offers a stick in the new GR Corolla, which is an all-wheel drive sports car. Heck, even the Corolla sedan and Tacoma truck have stick shift options, but not the Lexus RC. Odd, don't you think?
Tell us in the comments below if you think a stick shift should be offered in a sports coupe.
Image of three pedals courtesy of Toyota. Lexus RC Poll image by John Goreham. Lexus RC coupe at racetrack image by John Goreham.
John Goreham is a long-time New England Motor Press Association member and recovering engineer. John's interest in EVs goes back to 1990 when he designed the thermal control system for an EV battery as part of an academic team. After earning his mechanical engineering degree, John completed a marketing program at Northeastern University and worked with automotive component manufacturers, in the semiconductor industry, and in biotech. In addition to Torque News, John's work has appeared in print in dozens of American news outlets and he provides reviews to many vehicle shopping sites. You can follow John on TikTok @ToknCars, on Twitter, and view his credentials at Linkedin
Re-Publication. If you wish to re-use this content, please contact Torque News for terms and conditions.