The New England Motor Press Association (NEMPA) takes winter vehicle testing seriously. Well, as seriously as we take anything. Given our location in the snowbelt of the Atlantic Northeast, we have plowable snow as many as seven months per year here. Knowing this is the case, manufacturers tend to send us some unusual trims of SUVs. These are trims you are not going to find on a dealer lot anywhere south of the Mason-Dixon line.
Most of the models we will highlight here come with snow tires already fitted. That's right, we said snow tires. Tires that have the three-peak mountain snowflake (3PMSF) symbol that the tire industry uses to denote a tire that hs been tested and found to pass the severe snow duty testing requirements. This is the very same symbol that you will find on the side of a dedicated winter tire like a Bridgestone Blizzak. The tires on these vehicles are a little different than winter tires though. They are not loud, don't wear quickly, and you can use them all year long. We know. We have tested two different brands' all-weather tires and found them to be outstanding in all four seasons. Unlike "all-season tires," which are not great in winter conditions.
Of course, every vehicle on our list is all-wheel drive. AWD is superior to four-wheel drive in winter driving. Have you ever tried steering a four-wheel drive vehicle locked in 4H or 4L? If so, you know what we mean. If not, let's just say they are reluctant to do the simple act of turning. We also look for Snow Modes on the drive selector, heated seats and steering wheels, and spare tires. After all, a "mobility kit" frozen solid in your trunk won't help get you home if you suffer a torn sidewall from a monstah pothole in a blizzard.
Here are the best SUVs for winter conditions heading into the 2022-2023 winter driving season.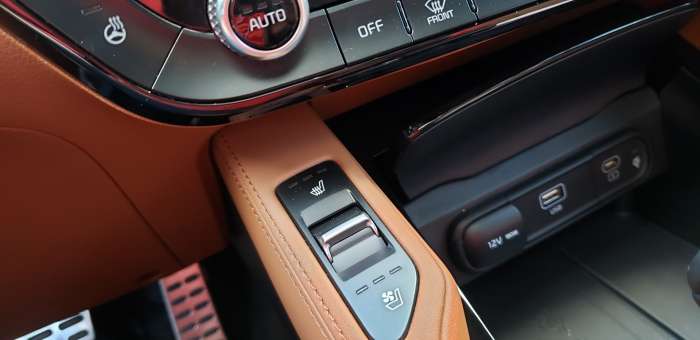 Kia Telluride X-Pro
The Kia Telluride is a very popular three-row SUV. On top of the usual content, Kia adds all-terrain tires with a meaty sidewall and "Traction Plus" technology specifically designed for wet roads. Not exactly snow tires, but a big step in the right direction.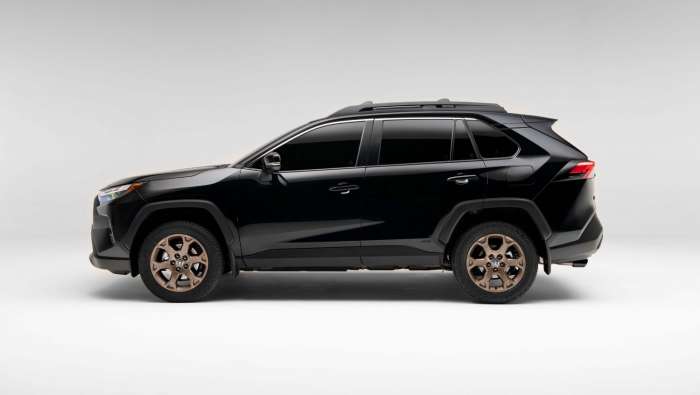 Toyota RAV4 Hybrid Woodlands Edition
Those looking for the best SUV for winter with a 40 MPG Combined fuel economy rating need look no further. The RAV4 Hybrid is already a very capable SUV in winter with its novel electronic rear drive system that augments the hybrid front drive system. To the Woodland Edition, Toyota adds special shocks, all-weather floor mats, and snow-rated trail tires to the equipment list.
Mazda CX-50 Meridian Edition
The CX-50 is a Subaru Outback for Mazda shoppers. Hey, imitation is the highest compliment, right? What you can get on the CX-50 Meridian that you cannot on an Outback is a set of Falken Widlpeak A/T Trail snow-rated tires. There is no dedicated Snow mode, but the Trail Mode is designed for all weather conditions.
Ford Bronco Sport Badlands
If you check off every options list on the Ford Bronco Sport, you end up with a Badlands equipped with snow-rated Falken all-terrain tires. With its Goes Over All Terrain drive selector switch and a full-size spare in the boot, the Bronco Sport Badlands is ready for any adventure. This model has the distinction of being the only one we tested and got stuck during winter testing. When we stepped out and realized we were miles into the woods on an unpaved logging road with an ice base, we realized that we had found its limit. And it was very impressive! We made it out without damage to the vehicle, only to our ego.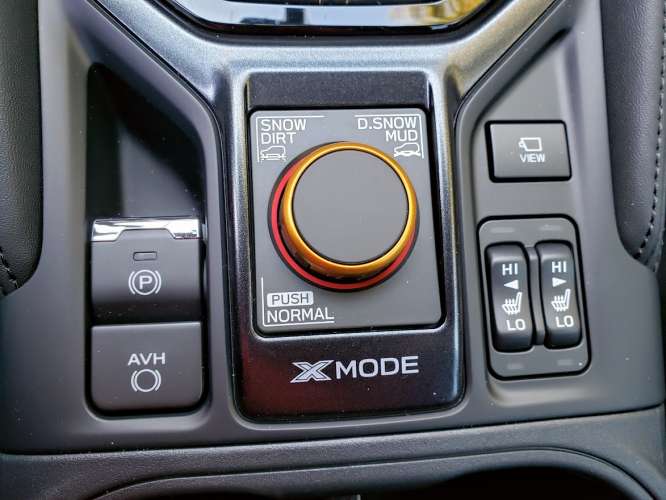 Subaru Forester Wilderness
Industry-recognized Subaru expert Denis Flierl sings the Forester's praises at Torque News daily. Your author drives one. Ask any new Englander which brand is number one in the snow, and it will be the same answer; Subaru. The Forester Wilderness adds even more ground clearance, skidplates, and of course, a full-size spare and snow-rated tires to its crazy long list of winter gear. If you want an SUV with not one but TWO snow modes, head to your Subaru dealer.
This list is not intended to discount the many excellent SUVs on the market today that do a fine job in mild winter driving. We just felt that these are models and trims that the manufacturers went the extra mile on to bring you a vehicle that you can drive off the showroom floor and directly to your snowed-in ski cabin without making a single change to the vehicle. If you own one, please tell us about your adventures in the comments section below.
Image of Ford Bronco Sport in snow by John Goreham. Image of heated seats in 2023 Kia Telluride X-Pro by John Goreham. Image of 3PMS symbol by John Goreham. Image of Toyota RAV4 Hybrid Woodlands by Toyota. Image of Subaru X Mode by John Goreham.
John Goreham is a long-time New England Motor Press Association member and recovering engineer. John's interest in EVs goes back to 1990 when he designed the thermal control system for an EV battery as part of an academic team. After earning his mechanical engineering degree, John completed a marketing program at Northeastern University and worked with automotive component manufacturers, in the semiconductor industry, and in biotech. In addition to Torque News, John's work has appeared in print in dozens of American news outlets and he provides reviews to many vehicle shopping sites. You can follow John on TikTok @ToknCars, on Twitter, and view his credentials at Linkedin
Re-Publication. If you wish to re-use this content, please contact Torque News for terms and conditions.