Everyone loves the Kia Telluride three-row SUV. It is perfectly sized to fit in your garage but still offers plenty of room for seven passengers. It's a looker. If you like the classic shape of an SUV with modern accents and trim, this is your SUV. However, what we found in our testing during some very cold New England testing, is that the X-Pro trim of the Telluride was designed especially for winter adventures.
Here are six ways Kia made smart design decisions to enable the Telluride X-Pro driver to tame winter.
Kia Telluride X-Pro - Trail-Rated Traction+ Tires
The Telluride X-Pro comes equipped with tires that are rated for trail duty. The Continental Terrain Contact tires with Traction+ Technology are designed to offer superior wet-road traction. Kia also sized the tires to have a meaty sidewall so that when covering unpaved trails, the tires won't be susceptible to damage. It is refreshing to see more and more automakers making wise choices and offering an alternative to the ridiculous oversized ultra-low profile tires that had become the norm.
Kia Telluride X-Pro - Locking AWD
Of course, the Telluride X-Pro has all-wheel drive. This is the best drivetrain possible, even superior to four-wheel drive for snow duty. What Kia did that is special is the company added a lock button, so the driver can ensure that the AWD system is not starting off in two-wheel drive until slip is detected. We like a manual locking AWD system for snow.
Kia Telluride X-Pro - Snow Mode
Kia equips its Telluride X-Pro with a dedicated Snow Mode. This will manage wheelspin, throttle, and transmission settings so that the best possible traction on snow is achieved.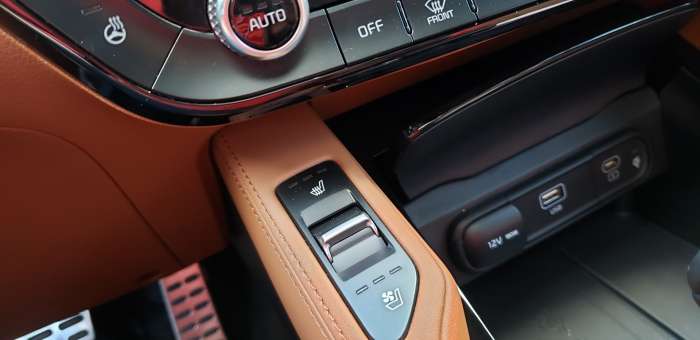 Kia Telluride X-Pro - Heated Seats and Steering Wheel
Comfort matters in winter. You won't need gloves or a jacket when you set off for your drive to the ski resort in the Kia Telluride X-Pro. A heated steering wheel and three-position heated seats mean you will be toasty.
Kia Telluride X-Pro - Easy-to-Use Roof Racks For Skis and Snowboards
Every true SUV has a roof rack system, and Kia's Telluride X-Pro offers a very functional set that can be sued with any aftermarket snowboard or ski rack you wish to employ.
Kia TellurideX-Pro - Spare Tire
Nothing can disrupt a ski adventure worse than a flat tire. Liquid tire repair and inflator kits are a joke when temps are below freezing. For that reason, Kia includes a spare tire under the Telluride. This will give you the ability to get to a tire store or back home and keep on driving.
Tell us in the comments below if you find the Kia Telluride X-Pro to be as winter ready as your needs might warrant.
Images of 2023 Kia Telluride X-Pro by John Goreham.
John Goreham is a long-time New England Motor Press Association member and recovering engineer. John's interest in EVs goes back to 1990 when he designed the thermal control system for an EV battery as part of an academic team. After earning his mechanical engineering degree, John completed a marketing program at Northeastern University and worked with automotive component manufacturers, in the semiconductor industry, and in biotech. In addition to Torque News, John's work has appeared in print in dozens of American news outlets and he provides reviews to many vehicle shopping sites. You can follow John on TikTok @ToknCars, on Twitter, and view his credentials at Linkedin
Re-Publication. If you wish to re-use this content, please contact Torque News for terms and conditions.