Energy prices are near all-time highs during a time of very high inflation. Not only does your dollar buy less, but your fuel bill is also heading higher and higher as the winter heating season approaches. Luckily, most modern vehicles have an Eco mode that can help save you money on gas or electricity. It is simple to use and will show real-world results if you can stick with it.
Other names for Eco Mode are Econ Mode and Economy Mode.
What Is Eco Mode?
Your car is driven in part by a computer network that decides how responsive your car is and how much energy it uses to move you down the road. Nearly every modern vehicle, even very affordable ones and electric cars too, come with selectable drive modes. Typically, they are Sport, Snow, Gravel, and Eco Mode. Some models also have additional Sport modes and even Comfort Modes. Each changes your car's personality and abilities in some way. Eco Mode is designed to save you fuel.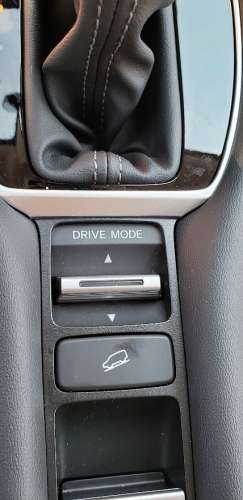 Where Do I Find My Car's Eco Mode?
Look for your car's drive mode selector. It is usually on the center console, like in our image above of a 2023 Honda HR-V. Sometimes the Eco mode switch is on the lower left-hand panel of your dashboard. If you can't find one, ask Google if your make and model had an Eco Mode, consult your owner's manual, or call your dealer.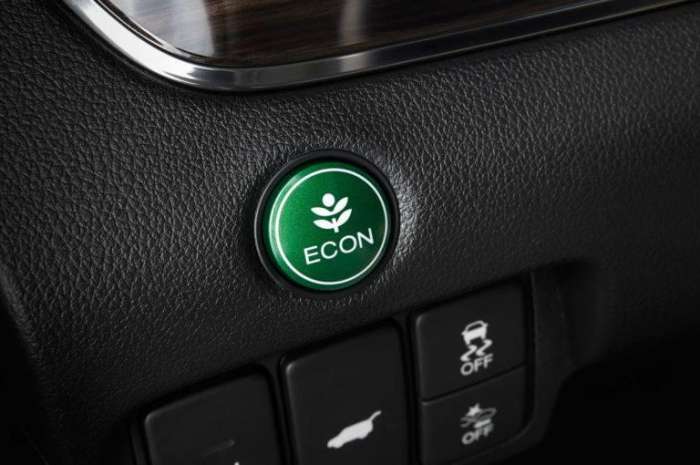 How Does Eco Mode Work?
Eco Modes in cars all do a few things in common, and some go a step further. All limit "throttle response." Even EVs, which technically have no "throttle." By making your off-the-line power a bit less you save energy. In cars that have transmissions, the Eco Mode will try to use a "taller" gear whenever possible. This helps to save energy as well.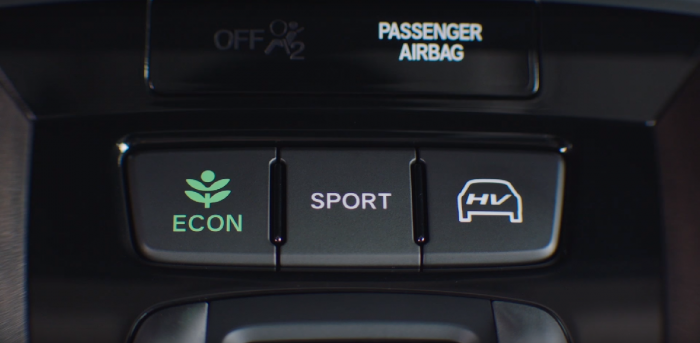 Some vehicles will also take control of your heating and air conditioning system. By limiting the time the compressor for the AC runs, or in an EV, by limiting the amount and type of heating provided, energy is saved. You likely won't notice this much since the cars are smart enough to condition the driver's area most and steal the comfort from the other seating positions.
What Kind of Fuel Economy Savings Can Eco Mode Provide?
In our testing, the fuel economy change is between 5% and 10%. You can monitor the performance of Eco Mode using your two trip odometers. Before you begin, drive your car in Normal Mode and record this info in trip B. In your trip A menu, clear the data and start over when you begin to use Eco mode. Over time, you will see that A has a better fuel economy average. Your manual can explain how your trip A and trip B data can be used.
What Are the Downsides To Eco Mode?
Eco Mode works its magic by reducing your car's responsiveness and performance. This may sound bad, but it isn't that bad in practice. Many cars we test feel better and more enjoyable in Eco Mode than other cars do in Normal Mode. The amount of reduced enjoyment varies by make and model. You may feel a bit less acceleration power when starting off or when you want to pass. If you are an attentive driver, you can always toggle back to Normal or Sport if you are in the mood to feel the car's top performance and burn some energy.
Although nothing is free when it comes to energy, many drivers feel that a slight difference in a car's performance is worth the added fuel economy. Tell us what you think in the comments below.
Top of page Eco Mode image by John Goreham. Drive mode image by John Goreham. Other images courtesy of Honda.
John Goreham is a long-time New England Motor Press Association member and recovering engineer. John's interest in EVs goes back to 1990 when he designed the thermal control system for an EV battery as part of an academic team. After earning his mechanical engineering degree, John completed a marketing program at Northeastern University and worked with automotive component manufacturers, in the semiconductor industry, and in biotech. In addition to Torque News, John's work has appeared in print in dozens of American news outlets and he provides reviews to many vehicle shopping sites. You can follow John on TikTok @ToknCars, on Twitter, and view his credentials at Linkedin
Re-Publication. If you wish to re-use this content, please contact Torque News for terms and conditions.