If you own a Mazda CX-30 or a CX-5, you may have noticed that your vehicle is equipped with a button on the lower part of the dash to the left of your wheel, showing the vehicle going up a bumpy road. Mazda calls that the Off-Road Mode Switch. Why isn't it built into the toggle switch for Sport Mode located on the center console near the shifter? Who knows? During a recent test of the Mazda CX-30, I happened to find myself traveling over roads that looked a lot like the little cartoon, so I tried the switch.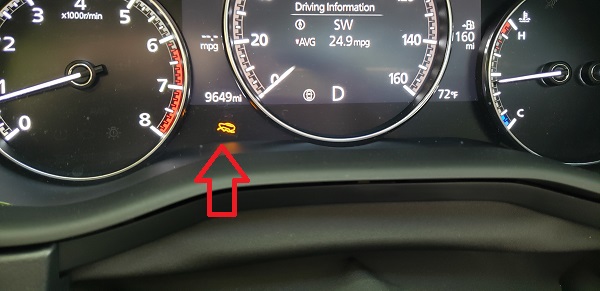 Unlike Sport Mode, it was not easy for me to detect any changes to the feel of the vehicle. I tried turning it on and off a few times, and still could not sense any meaningful difference. So I reached out to my contacts at Mazda and asked them to shed some light on the Off-Road Mode. 
According to Mazda, the Off-Road Mode switch activates what Mazda also calls an "off-road traction assist feature." The Mazda marketing blurb about this feature says the feature can "...potentially help the driver when adventuring on uneven terrain. When the diagonal wheels lose traction, off-road traction assist will stop reducing the engine torque and increase the brake force on the wheels without traction. This transfers power to the wheels still on the ground to help allow the vehicle to regain traction and continue the drive. G-Vectoring Control Plus and front-wheel drive are standard, while Mazda's predictive i-Activ all-wheel drive is available on all trim levels."
Coincidental to owning a CX-5 and testing Mazdas regularly, I also own a Bronco Sport Badlands. In the Bronco Sport, I have actually covered terrain so rough that I lifted a wheel. As I did in my Forester with A/T tires before the Bronco Sport. However, would I do that type of driving in a Mazda with $90 touring tires? Not willingly. Maybe you would!
I do drive the Mazda we own in sand and on some loose gravel, as well as over ice and snow. Sometimes on steep hills. So, I would love to have any mode that helps in those scenarios. My Mazda contact said that this mode may very well help. She clarified that the system works to free tires that may be stuck in snow, sand, mud, etc., by triggering the brakes to minimize tire slip and reroute power to the optimal tire to free the vehicle. The idea is that if a wheel is spinning, you grab that brake rotor to make it stop, and the power is then distributed to a wheel that may have traction. Sort of like how the various special traction modes in Fords, Toyotas, and Subarus work.
She went on to add that the system allows for more aggressive intervention than normal traction or stability control and isn't designed for regular/dry road use. It is just for low-speed use. The general idea being that when the surface situation is very "technical," if I may borrow a mountain biking term, one would use the mode so that you had every chance of not getting stuck or of getting unstuck if need be. 
Finally, during our communications, the Mazda employee made a statement that I agree with 100%. She said, "Philosophically, Mazda doesn't believe in overly complicated displays that can distract the driver from driving." What I like about this is that Mazda's vehicles are not marketed as mud-whomping, rock-crawling, berm-jumping off-road beasts. They are designed to get you where you are going and to feel like a natural extension of the driver. Seven drive modes with buttons, levers, thumbwheels, and knobs to turn are not the Mazda way. Which I personally support. If I wanted all that jazz, I'd buy a Jeep Wrangler.
So there you have it. A simple button, explained in painful detail. Our plan is to ask owners in the online clubs if they ever found the off-road button helpful. 
Images of Mazda CX-30 by John Goreham.
John Goreham is an experienced New England Motor Press Association member and expert vehicle tester. John completed an engineering program with a focus on electric vehicles, followed by two decades of work in high-tech, biopharma, and the automotive supply chain before becoming a news contributor. In addition to his eleven years of work at Torque News, John has published thousands of articles and reviews at American news outlets. He is known for offering unfiltered opinions on vehicle topics. You can follow John on Twitter, and connect with him at Linkedin.