Among the many cars in our Torque news family fleet is a much-loved Mazda CX-5. A Torque news guest writer, and the wife of your author, is the primary driver. Because we like to know what a vehicle costs to maintain, we have kept meticulous records to track the costs of keeping this top-trim 2018 Mazda CX-5 properly maintained.
Miles 0 - 26,500 Miles - $360 And No Surprises
Our Mazda CX-5 was reliable in every sense of the word, from new until its 26,500-mile service. Our Mazda dealer changed the oil, rotated the tires, and performed the necessary inspections when the vehicle notified us it was due for service. Our total cost during this period was $375. This total cost includes a cabin air filter element and an engine air filter element we bought on Amazon and changed ourselves.
Related Story: 30K Service Rip-Off - Why A Mazda CX-5's 30K Service Can Cost Half What A Similar Crossover's Does
Mazda CX-5 30K Service - $ 258.13 - Pleasantly Surprised
The first "major" service the CX-5 needs is at 30K miles. We had ours done at 28,700 miles. It amounts to an oil change, tire rotation, and a longer-than-usual list of checks. The dealer also performed a four-wheel alignment of the vehicle. One reason the cost was a bit lower than expected was that we had already changed the cabin and engine air filter elements. So the dealer didn't need to do so. It was at this service that we were really glad our dealer offered loaner cars. It made the experience very simple logistically.
Related Story: Never Let Your Dealer Change The Cabin Air Filter In Your Mazda CX-5 - Replace In 3 Easy Steps
Mazda CX-5 33,791 Mile Service - $228.19 - Some Unusual Service Costs
Our Mazda needed routine service 5K miles after its 30K service. Plus, we also needed a state inspection sticker, new wiper blades, and our BlueTooth system required an update, for which we were charged $41.70 by the dealer. That was something we didn't like paying for, given that the car was still under its new-car warranty. However, the dealer applied a coupon and washed the car for us, so it was not really much of a cost to us.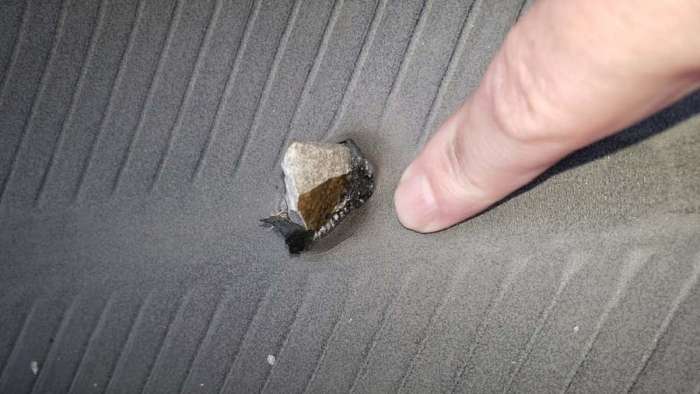 Mazda CX-5 34,605 Miles- New Tires - $1,139
Our Mazda is a top-trim Grand Touring and has 19" wheels. The vehicle suffered damage to one of the tires at 34,605 miles. A stone actually pierced the tire tread and then stayed in! My wife was able to drive it home and then to the repair shop with the stone still in it. Amazing.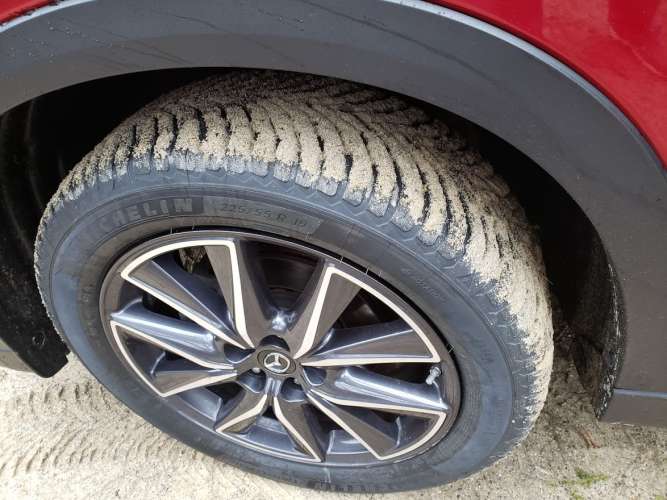 At this point, the tires were more than halfway worn, and we felt it was time to get new tires since we do a lot of winter driving. We opted for Michelin CrossClimate2 tires. You can read a full review of the tires here. Although the tires were supplied by Michelin, we are applying a cost of $1,139, which is the price from Tire Rack plus what we paid to have them mounted and balanced.
Mazda CX-5 38,277 Miles- Replacement Tire - $279.56
Less than 4,000 miles after getting the new tires, we suffered a puncture near the outer tread. It was a slow leak, but we opted to replace the tire at this point. Our local shop sourced the tire, mounted and balanced it, and checked to ensure its tread wear was within the limits set by Mazda, so we didn't suffer any differential damage down the road.
Mazda CX-5 39,024 New Rear Brakes $488.72
While having our Mazda's tire replaced, my trusted local mechanic pointed out that the rear brakes were close to fully worn. We opted to have the shop replace them at a price we felt was very fair, $488.72. Our Mazda dealer reports had shown the rear brake wear was close to replacement time at a prior visit as well, so we felt it was due.
A Sad Note
At this point in our ownership of the Mazda, our trusted local mechanic and the third-generation Jim Lucas of Advanced Automotive in Metro Boston passed away in the prime of his life. I wrote a tribute to him at another publication. This left us without a backup for our dealer. This is one reason you will see that we lean on the dealer for much of the remaining services we had performed. We moved our home shortly after this sad event, and we have not found a good local mechanic yet despite trying.
Mazda 34K - 50K Routine Service $289
From 34K to 52K, we had the oil changed and the tires rotated by our dealer. We also had a state inspection, and we changed the cabin and engine air filters ourselves, having bought parts on Amazon. Our cost for this period was $289.
We also paid a local detailer $100 for a hand wax and interior cleaning during this stretch. What a difference!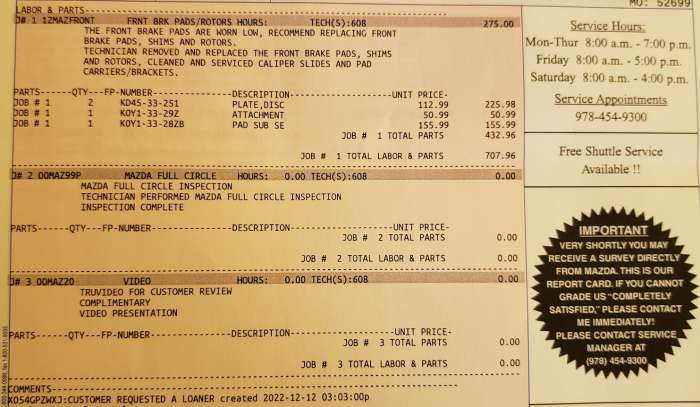 Mazda CX-5 Front Brakes $735
During our 52K visit, the dealer mentioned to us that the front brakes were in need of being changed. We tried to have a local shop do the work, but they failed. You can read a story about that here. We ended up having the dealer do the work for a total cost of $735.
Mazda CX-5 Total Maintenence Cost Fom New to 52K Miles = $3,877.60
At the approximately 50,000-mile mark, our Mazda CX-5 is still one of our all-time favorite vehicles. It has been free from any hassles, and it has not required any unexpected repairs. By contrast, the BMW X3 it replaced was a constant pain in the neck and left my wife stranded when it was relatively new. We also own a Toyota Highlander and a Subaru Forester. Both have required unexpected repairs during the time we have owned the Mazda.
Related Topics:
Here Are the Real-World Maintenance Costs of a Honda Accord Over 100K Miles
Maint. and Repair Costs of 2007 Toyota Highlander at 120K Miles - Surprises Continue
Conclusion - Mazda's CX-5 Is a Very Low Cost of Ownership Vehicle
Thus far, we feel the cost of ownership of the CX-5 has been very good in comparison to other vehicles we have tracked the costs for. You can see links to them above. One commonality between the CX-5 and all of the cars we have calculated maintenance costs for is that tire and brake-related costs make up more than 70% of the cost of maintenance. Here, a hybrid powertrain would help. In addition to saving hundreds per year in fuel costs, regenerative braking prolongs the life of brakes considerably.
Tell us what you think about the maintenance costs of our Mazda CX-5. Do you feel they are fair? How do you think a Tesla Model Y would have compared at this point in its ownership?
Image of vehicle service area courtesy of Mazda. All others by John Goreham.
John Goreham is an experienced New England Motor Press Association member and expert vehicle tester. John completed an engineering program with a focus on electric vehicles, followed by two decades of work in high-tech, biopharma, and the automotive supply chain before becoming a news contributor. In addition to his ten years of work at Torque News, John has published thousands of articles and reviews at American news outlets. He is known for offering unfiltered opinions on vehicle topics. You can follow John on Twitter, and TikTok @ToknCars, and view his credentials at Linkedin