The Bronco Sport is an SUV designed by Ford to be extra useful to those who enjoy biking. While many vehicles its size will work for bikers, the Bronco Sport has some unique attributes that go beyond what most smaller SUVs offer.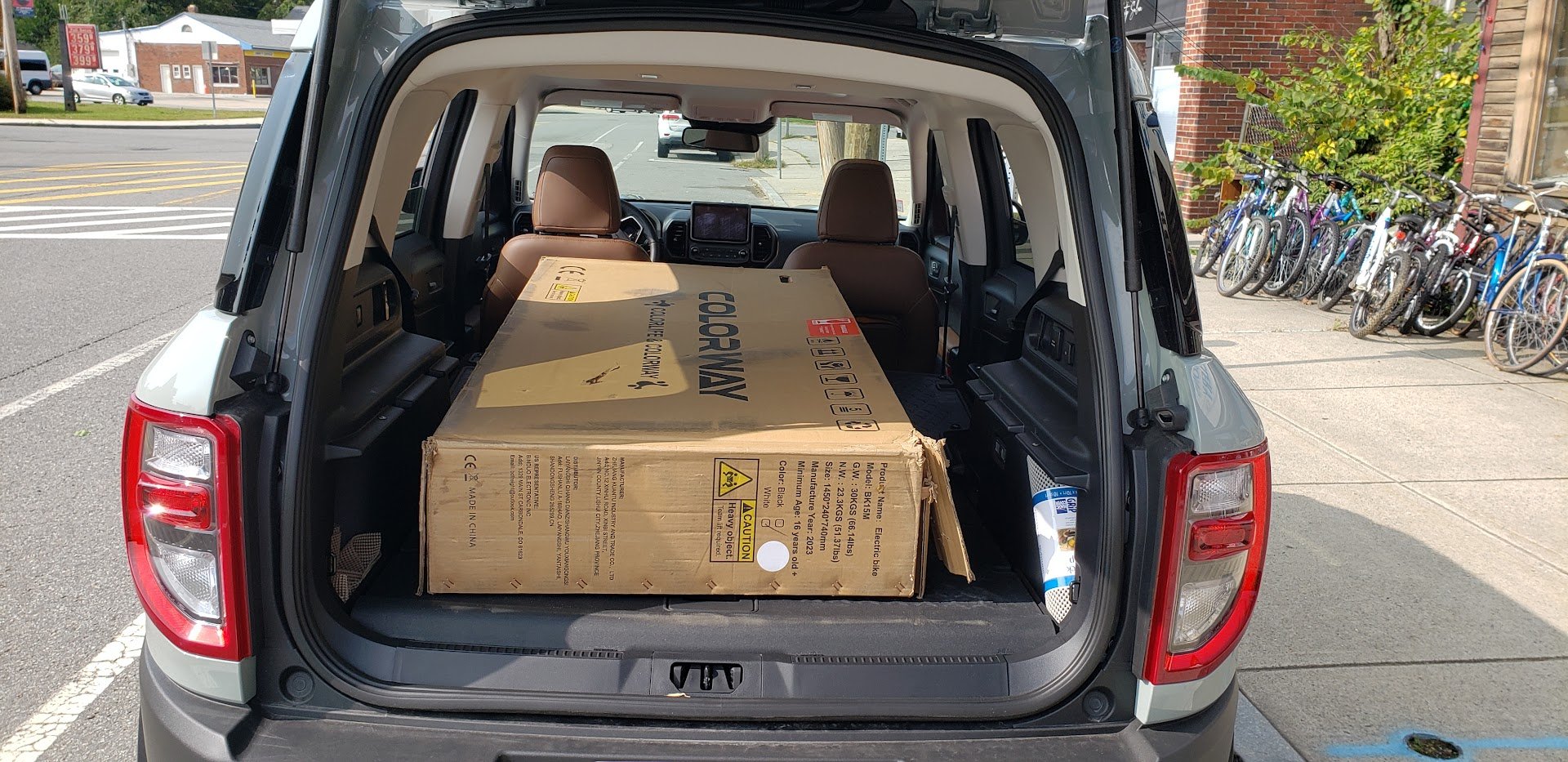 Ford Bronco Sport For Bikers - Cargo Space
One aspect of the Bronco Sport that is great for bikers is its inside cargo space. The space is basically a cube. Although the Bronco Sport has a relatively short wheelbase, its interior cargo space is over five feet long (deep). Matching the length of many bikes. The roof and rectangular rear hatch opening are also unusually tall at 32 inches floor to ceiling. More than the span of handlebars. This makes it possible to store a bike inside flat. 
I didn't realize just how large the Bronco Sport's cargo area was until I had to transport a new bike in its shipping box. The box was too big for a compact crossover we had on hand, so the Bronco Sport got to show off its abilities. 
Ford Bronco Sport For Bikers - Inside Storage
One unique ability we have not seen advertised by a prior automaker was the option to mount two bikes inside the cargo area standing up with the front tires removed. Many bikers do transport their bikes with the front tires off, and I've seen quite a few pickups with this setup. 
The Interior Bike Rack, as Ford calls it, is available on Big Bend, Heritage, Badlands, Freewheeling, and Outer Banks trims. Ford charges $280 for this dealer-installed option. Although I have not personally tested it, this looks like a great feature for anyone who plans to go on biking trips.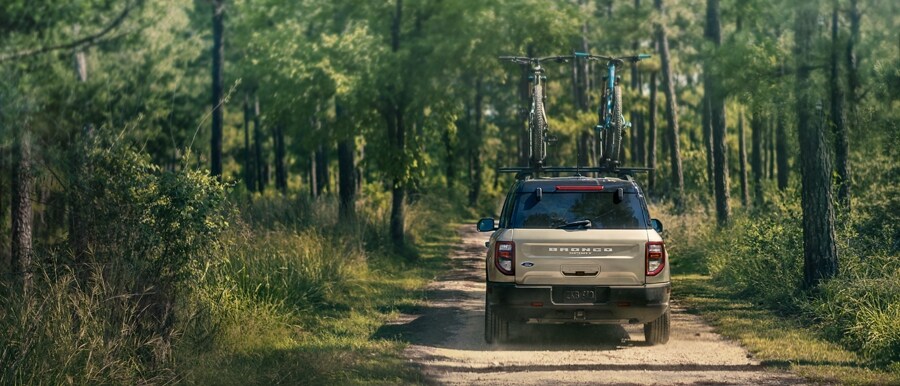 Ford Bronco Sport For Bikers - Real Roof-Top Storage Options
One great thing about the Bronco Sport SUV is that you don't have to take it with a massive all-glass roof. You can either opt for no moonroof, or you can opt to have the moonroof but still use the rear of the roof as a cargo mount. The Bronco Sport has stout roof rack rails on all trims. You can add cross bars from Ford for $400 or buy them aftermarket when you get your bike rack. The upside of roof-top bike carriers is that they leave the cargo space and hatch area free for other uses.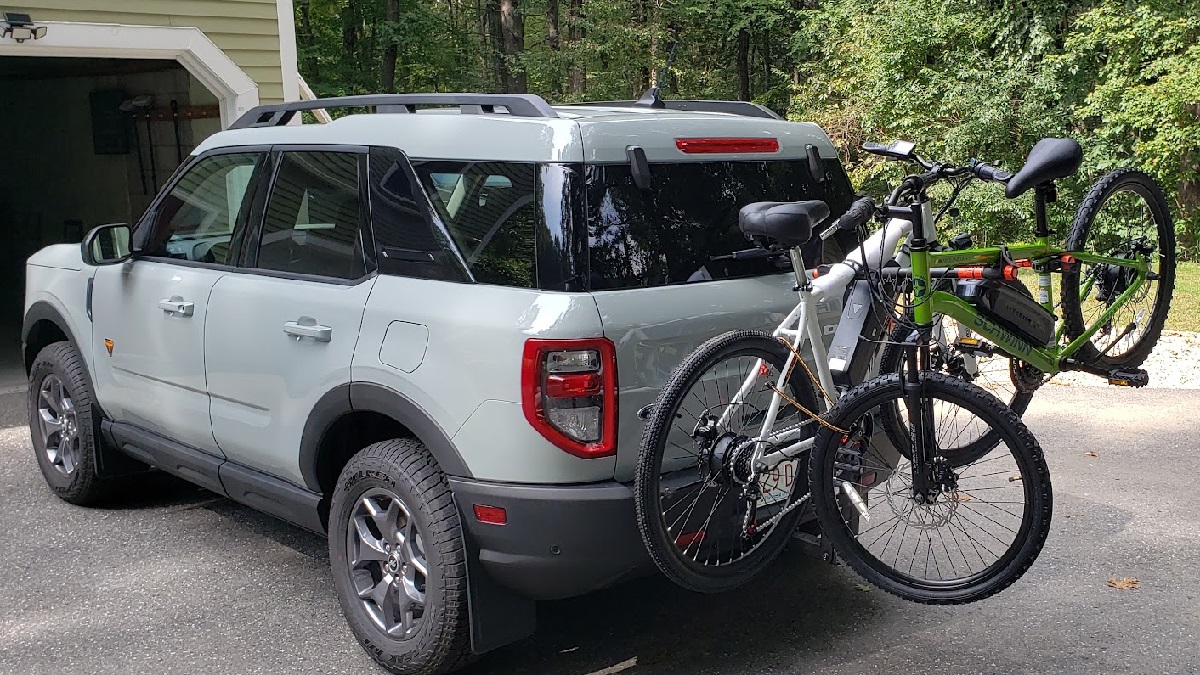 Ford Bronco Sport For Bikers - Trailer Hitch Bike Carriers
My personal favorite way to haul bikes has always been to use the trailer hitch to mount a bike carrier. The $690 Class 2 trailer hitch package gives you everything you need to tow, but it also provides the perfect location for your bike rack to attach to. This is by far the easiest way to haul more than two bikes at once, which is why I started using it long ago. The downside is that your bikes can be bumped in traffic or when parked. However, if you are taking your kids biking, this is the way to go. We hauled two e-bikes with the heavy steel rack we own, and the Bronco Sport didn't miss a beat. By contrast, our old 2007 Highlander would have a much lighter settering feel when the bike rack was in use. 
Ford Bronco Sport For Bikers - Trailhead & Mud Features
Biking off-pavement means accessing trails. While some are right on the paved road or paved parking lot, others start pretty far down a muddy dirt trail. If you own a Bronco Sport, you love those muddy trails! 
Muddy mountain bikes are a thing of beauty, but muddy cargo area carpets and floors, not so much. That's why it's great to own a Bronco Sport with its rubberized floor wells and cargo area. Easy to clean, or just leave dirty for a few weeks if you plan more adventures. Need to grab your helmet inside the cargo area? No need to lift the hatch. Just pop the rear glass and reach inside. If you have valuables, why not stash them under the rear seat in the hidden storage compartment? 
Vehicles like the Ford Maverick pickup and Ford Bronco Sport SUV are outstanding biker rides. They both offer great features that make heading out on a biking adventure fun.
 
John Goreham is an experienced New England Motor Press Association member and expert vehicle tester. John completed an engineering program with a focus on electric vehicles, followed by two decades of work in high-tech, biopharma, and the automotive supply chain before becoming a news contributor. In addition to his eleven years of work at Torque News, John has published thousands of articles and reviews at American news outlets. He is known for offering unfiltered opinions on vehicle topics. You can follow John on Twitter, and connect with him at Linkedin.
Images of interior bike storage and roof-mounted bikes courtesy of Ford. Other images by the author.