Maserati makes some of the world's most inspiring and exciting vehicles. Its newest supercar, the MC20 Cielo checks off every box on our list of what a supercar should have, starting with a cool name.
Related Story - What Are Supercars Like In the Real World?
Cielo means 'sky' in Italian, derived from the Latin caelum. The name is appropriate because this is a glass-topped convertible. The roof is glass and can be lowered in just 12 seconds. When up, the electrochromic (smart glass) can instantly be transformed from clear to opaque at the touch of a button on the central screen, courtesy of Polymer-Dispersed Liquid Crystal (PDLC) technology. First box checked - it is a convertible.
Related Story: Fiat 124 Spider vs. Alfa Romeo 4C Spider On-Track – Which Is Better?
The butterfly doors are also amazing and open up not out. Let's face it, if your supercar's doors are not novel in some way you are missing out. Who wants a special car with boring doors? Boring people. Second box checked - cool
doors.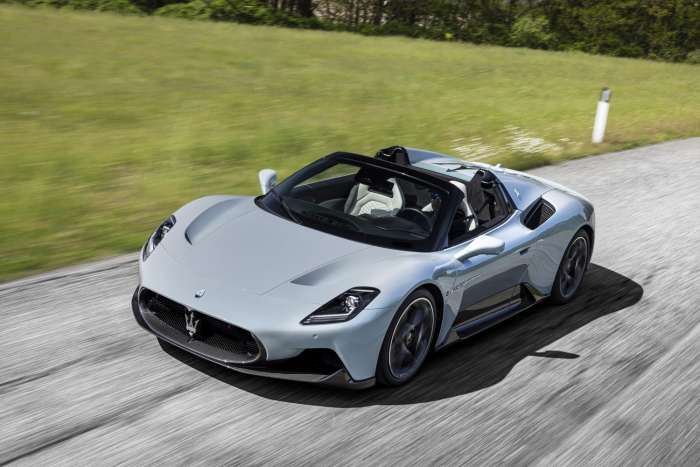 Next, the V6 engine. We know, it's not electric and it's not a V8, but will 600 hp qualify this lightweight car for supercar status. Of course. Third box checked - it has crazy horsepower.
One last box. If your car has a back seat it is not a supercar. It's a nanny car. Third box checked - it holds just you and a friend, so it is not perfectly impractical for daily chores.
A lot of companies now produce supercars, but not many of them are Italian and few of them have the gravitas that the Maserati brand brings. Say it a few times. Maserati. Maserati. Maserati. It sounds beautiful. It is satisfying to say. You know you want an Italian supercar when you speak the word.
We wish we could say we would be bringing you a full review soon, but we can't be certain. We can promise you that if we do find ourselves with some seat time you will be the first to know.
Related Story: Maserati Announces Track-Only MC20 With 740 Horsepower
MC20 Cielo images courtesy of Maserati.
John Goreham is a long-time New England Motor Press Association member and recovering engineer. John's interest in EVs goes back to 1990 when he designed the thermal control system for an EV battery as part of an academic team. After earning his mechanical engineering degree, John completed a marketing program at Northeastern University and worked with automotive component manufacturers, in the semiconductor industry, and in biotech. In addition to Torque News, John's work has appeared in print in dozens of American news outlets and he provides reviews to many vehicle shopping sites. You can follow John on TikTok @ToknCars, on Twitter, and view his credentials at Linkedin
Re-Publication. If you wish to re-use this content, please contact Torque News for terms and conditions.