Alfa Romeo recently visited the headquarters of the New England Motor Press Association (NEMPA) to unveil its beautiful new Tonale crossover SUV. The Tonale is a global vehicle that will be built in Italy. The U.S. version will be notable because it only comes as a plugin-in hybrid-electric (PHEV). Tonale is pronounced Tow-Nah-Lay.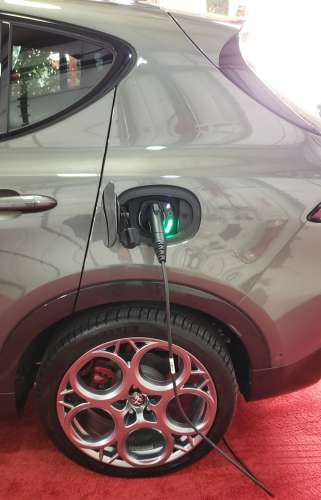 Related Story: Truth Unplugged - Data Helps Disprove Critics' Main Complaint About Plug-In Hybrids

Vincent Noirbent, VP of Brand and Product Planning, Alfa Romeo North America, Lisa Barrow, Eastern U.S. Public Relations Manager for Stellantis, and Nick Cappa, Stellantis Technology PR Manager, were on hand to preview the new Tonale. The press reaction was overwhelmingly positive. Content Creators from Car and Driver, Car Gurus, Torque News, Car Talk, and many other publications were on hand to touch, feel, and photograph the all-new Tonale.
Mr. Noirbent provided a detailed overview of the new Alfa Romeo Tonale. The new Tonale is the first C-sized SUV from Alfa Romeo. It is about the size of a Lexus NX or Hyundai Kona. Mr. Noirbent emphasized that the Tonale offers Italian styling that remains faithful to the Alfa Romeo brand, and promises exhilarating driving dynamics from a rapid-response Frequency Damping Suspension (FDS) system.
Some Alfa Romeo Tonale fast facts include:
- 285 hp!
- PHEV-only for North America
- 30 miles+ of EPA-estimated EV range is predicted.
- Every Tonale features an electric rear drive and a Hybrid front drive. Thus, it is AWD.
- Infotainment is Alfa's version of Uconnect 5, which is a big plus.
- The fit and finish and perceived quality of the Tonale is best in class.
- Deliveries begin spring of 2023.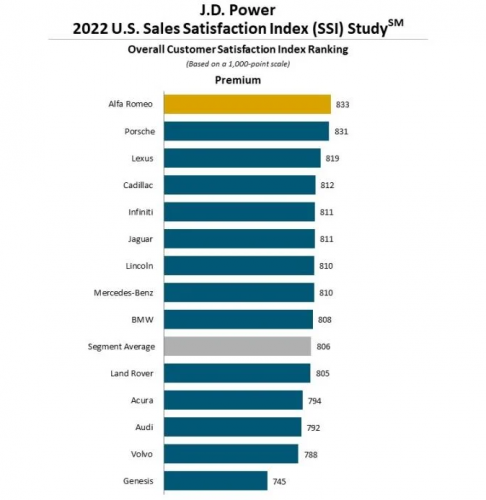 Alfa Romeo's mission within the Stellantis brand family is to provide a premium product and outstanding ownership experience to its owner. One indication that Alfa Romeo is succeeding in its mission is that in its most recent 2022 U.S. Sales Satisfaction Index (SSI) Study, J.D. Power ranked Alfa Romeo number one in the industry. Ahead of number two Porsche, number three Lexus, Mercedes-Benz which was about average, and last-place Genesis.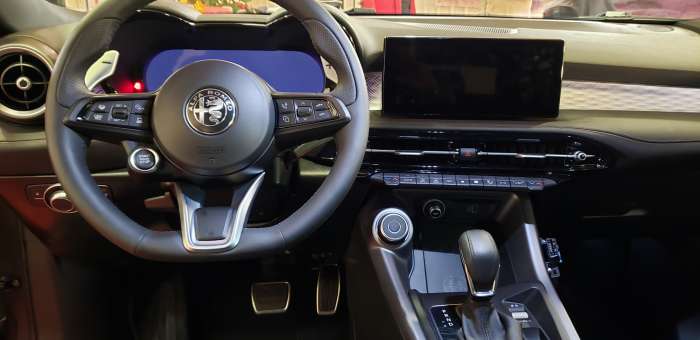 In our walk-around of the new Tonale, the major impression was of the styling. Tonale appears to this reviewer's eyes to be the best-looking five-passenger crossover SUV in the U.S. market. The interior is not ostentatious but rather a bit Spartan. The signature Alfa Romeo wheel styling looks very nice on this SUV.
Related Story: 5 Plug-in Hybrid EV Myths Battery-Electric Purists Wish Were True
The vehicle that Alfa Romeo brought to the NEMPA HQ was a pre-production test mule, so there may be some differences when it appears this spring. We took note that there was no spare tire and the test tires were not run-flats.
Size-wise, the Tonale seems to have about the same dimensions inside as a Toyota Corolla Cross or Lexus NX. That is a very popular size today and Tonale offers ample adult front occupant space and rear passenger room for children. The cargo area was typical of the class, which is to say, adequate for almost any need.
Watch Torque News for an upcoming review of the new Alfa Romeo Tonale to hear our driving impressions.
Images of 2023 Alfa Romeo Tonale SUV by John Goreham. Chart courtesy of J.D. Power.
John Goreham is a long-time New England Motor Press Association member and recovering engineer. John's interest in EVs goes back to 1990 when he designed the thermal control system for an EV battery as part of an academic team. After earning his mechanical engineering degree, John completed a marketing program at Northeastern University and worked with automotive component manufacturers, in the semiconductor industry, and in biotech. In addition to Torque News, John's work has appeared in print in dozens of American news outlets and he provides reviews to many vehicle shopping sites. You can follow John on TikTok @ToknCars, on Twitter, and view his credentials at Linkedin
Re-Publication. If you wish to re-use this content, please contact Torque News for terms and conditions.