The all-new 2023 Mazda CX-50 is a five-passenger crossover vehicle intended to lure buyers who might otherwise be considering a Toyota RAV4 or a Subaru Outback. You may be asking, "but isn't that exactly what the CX-5 is?" Sort of, but the new 2023 CX-50 has its own unique vibe and seems likely to be an addition to the line, not a near-term replacement for the CX-5.
The biggest surprise for many shoppers will be to learn that the CX-50 is a smidge smaller than the existing CX-5 inside. Not larger. Just as the Subaru Outback is smaller inside than the Forester. The lower roofline is likely the reason for the minor differences in volume for both brands' models. Like the Subaru Forester and Outback, the CX-5 has a shorter wheelbase than the CX-50 and it is a bit taller.
2023 Mazda CX-50 - What Is It?
The all-new CX-50 is a crossover, but it has a shape that seems targeted directly at one popular model in a very large field of models. That would be the Subaru Outback. In person, the CX-50 almost looks like a wagon. Sort of the way that the Outback has for a long time. It looks low, wide, and has interesting haunches at each wheel location. Almost like an old Corvette had that Coke bottle look. None of this is obvious in the images.

2023 Mazda CX-50 - What Does It Cost?
The CX-50 starts at about $28K. We tested the 2023 CX-50 Turbo with the Premium Plus Package and special paint. The total price including destination charges is $43,170.
2023 Mazda CX-50 - What Powers It?
The CX-50, like all Mazda crossovers, comes only with all-wheel drive. The CX-50 features both Sport and also Off-Road Modes. The engines are your choice of a 2.5-liter four-cylinder gas engine, or a 2.5-liter turbocharged gas engine. Our tester had the turbo. Mazda is one of the last holdouts in the industry using a geared transmission. It is so much better and more satisfying to drive than a CVT like that in a Subaru, it is hard to overstate.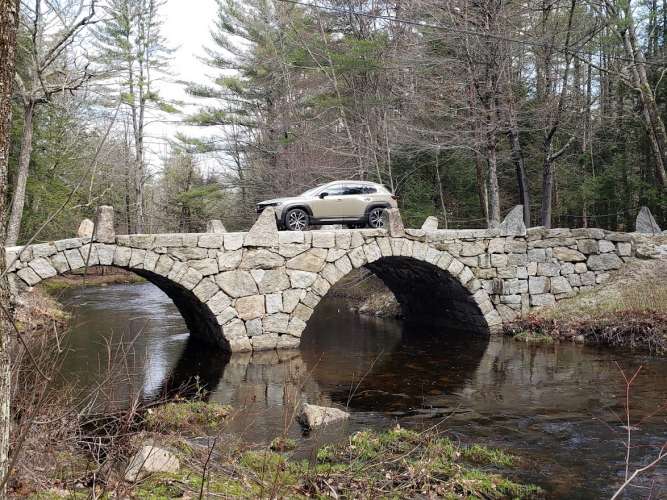 2023 Mazda CX-50 - The Drive
Our CX-50 featured (or is burdened with) 20" wheels wearing 45-series grand touring tires. On-road, these provide a smooth, quiet ride. The handling is excellent. Any shopper who is looking for a fun-to-drive crossover should start with Mazda. Brake feel was perfect for a vehicle of this type.
The turbocharged engine is a perfect fit for this crossover if you want a gas-only engine. Its torque is outstanding and power delivery smooth and plentiful. The contrast with the non-turbo we've driven in other Mazda crossovers is noticeable on hills, when turning from a stop into traffic, when passing, and when merging on the highway. Basically, always. The fuel economy penalty is very minor. The EPA says it is a $200 per year difference in cost. Well worth it. The CX-50 can accept regular fuel.
On the highway, the CX-50 feels refined, smooth, and capable. You need to watch your speeds or you will find yourself doing 85 thinking it is 65 MPH. On-center feel is perfect. The CX-50 provides a confident feeling of security.
We drove the CX-50 on some twisty (paved) mountain roads. This crossover is brilliant. Just right. You will love to drive this car on long road trips.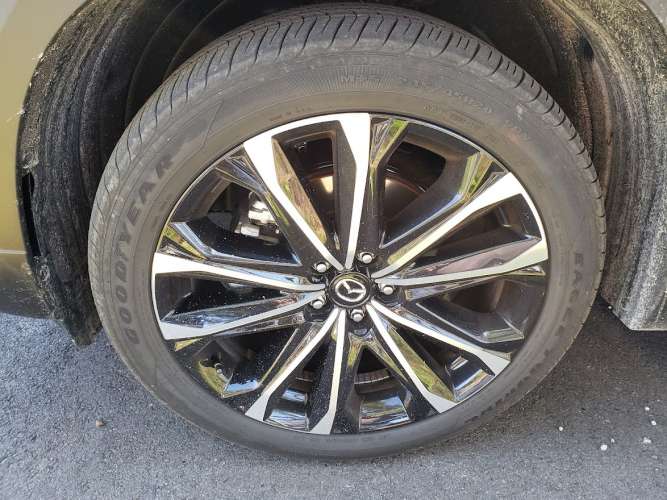 We also drove the CX-50 past where the pavement ends on some dirt roads that were not well-groomed. Here the 20-inch tires ruin the fun. Any bump, washboard, or depression feels harsh. You end up slowing way down for fear of breaking a tire or the car. The exact opposite of an "off-road-oriented" crossover like a Forester or Outback Wilderness edition.
However, Mazda is planning an adventure-style Meridian edition (Turbo only) with more reasonably sized and shaped Falken WildPeak A/T Trail tires that may remedy this. We engaged Off-Road mode on some washed-out gravel hills, but it didn't seem to make a noticeable difference. The CX-50's AWD system is great at maintaining traction in Normal Mode.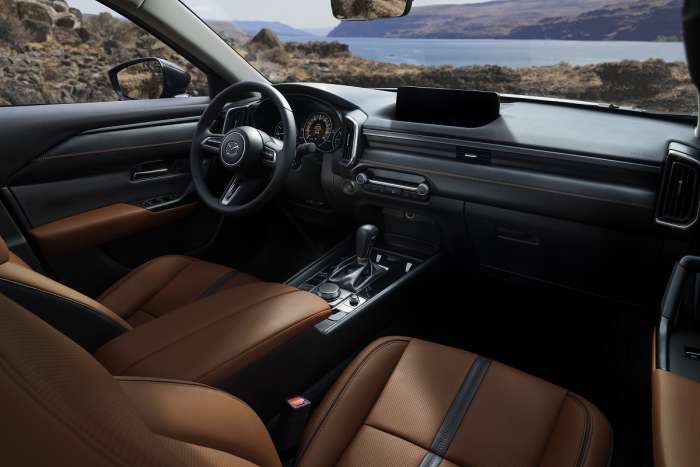 2023 Mazda CX-50 - Interior, Infotainment, Features
Our CX-50 test vehicle came equipped with both heated and ventilated power front seats. We liked them better than the seats in a CX-5 we compared the CX-50 with. The interior is classic Mazda. As good as Lexus or Acura in every way based on our subjective analysis.
Mazda's infotainment system remains a bit unusual. We like the low-mounted volume knob and dislike the rotary knob/mouse/remote interface. The now larger Mazda infotainment screen accepts touch inputs most of the time, but it is too far away to make them safely when moving. Android Auto and Apple Car Play are now wireless, but in our testing with a Samsung Galaxy S9, using the cord worked better.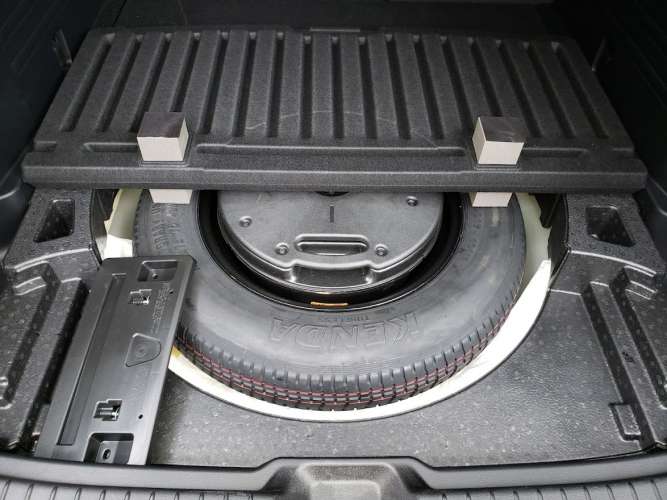 Features of note include a heated steering wheel, compact spare tire, panoramic moonroof, fantastic head-up display, and amazing adaptive LED headlights that turn when the car turns.
If we can offer one "complaint," it is that the center console's clamshell opening is not an improvement over the standard rear-hinged design almost all vehicles use. It requires two buttons to be pressed and then you sort of lift up your arm. It's awkward. Given this was our only complaint, the CX-50 is darn near perfect inside.
2023 Mazda CX-50 - Conclusion
Reading the story, could you tell that the author is a fan of Mazda? Or that he has a CX-5 in the family fleet? Well, with that bias revealed, let's say that the CX-50 is a big hit in the making. The U.S.-built crossover seems like a genius way to mimic the Subaru model of having two crossovers of differing styles that can serve the same (massive) buyer population. The CX-5 has been outselling both the Forester and Outback for the better part of a year now. Adding the CX-50 with its sleeker, more wagonish styling seems like a genius move. We usually compare the premium feel of Mazda's crossovers to those from Lexus and Acura, and we may soon start adding in Volvo as well.
The one thing missing from the CX-50 line is an electrified powertrain. The rumor (started by Mazda) is that a hybrid and plug-in hybrid may soon join the team. If so, the CX-50 will be able to lure shoppers who are spooked by gas prices and those who recognize that electrification adds to the fun.
Postscript: Will the CX-50 replace the CX-5? Maybe someday. However, with the CX-5 being Mazda's top-seller by a country mile, and with the CX-5 and CX-50 so perfectly mirroring Subaru's winning formula, it seems more likely that they will both be kept. They use different factories, and if Mazda wants to increase its volume of sales keeping both will be the smarter move. Mazda's official statement is that both will remain Mazda models.
2023 Mazda CX-50 interior image by Mazda. All others by the author.
John Goreham is a long-time New England Motor Press Association member and recovering engineer. John's interest in EVs goes back to 1990 when he designed the thermal control system for an EV battery as part of an academic team. After earning his mechanical engineering degree, John completed a marketing program at Northeastern University and worked with automotive component manufacturers, in the semiconductor industry, and in biotech. In addition to Torque News, John's work has appeared in print in dozens of American news outlets and he provides reviews to many vehicle shopping sites. You can follow John on TikTok @ToknCars, on Twitter, and view his credentials at Linkedin
Re-Publication. If you wish to re-use this content, please contact Torque News for terms and conditions.