2022 Acura MDX SH-AWD Advance Review- Sublime Satisfaction
The Acura MDX has a new platform for 2022, and the driving experience has set a new bar for excellence in our minds. There are many benefits to a great vehicle platform, but rather than talk about stiffness, rigidity, and double wishbones, all of which deserve mention, we will focus on why we feel the MDX is so special when you drive it.
Unusual for our test weeks, a holiday added a bonus day to our time with the MDX and we drove it in downtown Boston traffic, all over metro Boston's inner and outer 'burbs, and we then took it on a long highway drive to the mountains and tried the MDX on some lonely mountain roads and even dirt roads. In every situation, the MDX impressed us. Here is our review with the usual headings. What is unusual is how positive every opinion is.
Related Story: New Study Names Acura MDX Best Used Vehicle Under $20,000
2022 Acura MDX SH-AWD Advance - What Is It? What's It Cost?
The MDX is a three-row, seven-passenger premium crossover. The SH-AWD stands for "Super Handling All-Wheel Drive." Advance is the trim package, and it is one of four flavors the MDX is available in, the top trim is one way to say it. The MDX is built in East Liberty, Ohio using a transmission and engine also built in America.
The '22 MDX starts at around $48K. Our test vehicle had a price including destination charges of $62,175. While this is certainly a lot of money, the MDX is a lot of vehicle, and if your budget isn't this large we would point you to the Honda dealer nearest you. However, in our opinion, the MDX earns every penny of its $62K. We feel it is a better value than the "luxury" vehicles this size which cost much more and offer a lot less. For example, how many "luxury brands" offer a 70K powertrain warranty and have Acura's reputation for quality?
2022 Acura MDX SH-AWD Advance - How Does It Feel When Driven?
The MDX is so satisfying to drive it is hard to imagine how it could be better. Of course, we've said exactly that about other past Acura vehicles, and somehow the brand continues to push the bar higher with each new generation.
Let's start in the driveway. Acura's steering technology is magic. The MDX can be steered with a light touch when you are in a confined space and even at single-digit speeds the vehicle is special. It made us wonder if that light, quick steering would feel odd when speeds increased. That was a silly concern.
Head off, and the buttery-smooth V6 engine offers you what you really want. Seamless, abundant power. The kind of power that makes you forget about the engine in a good way. You never need to push the MDX. In normal driving, it doesn't break a sweat.
In corners, the MDX turns without any tippy sensation. This is a crossover that feels like a large premium car, not a brute 'ute. The steering is perfect in every corner and at every speed. Although the MDX is a vehicle of generous proportions, you forget that when you drive along. It feels smaller than it is.
The roads in New England are still at their worst after a winter of frost heaves and plow damage. The MDX Advance has 20" rims, but the sidewall of the tires is more than able to handle the broken streets. Acura didn't spoil the ride with super-low-profile tires. Comfort is outstanding on any surface. Even dirt roads didn't upset the suspension of the MDX in our testing.
On the Highway, the MDX is sublime. Acura's lane-keeping assist is as good as any we have tried, and the adaptive cruise control is smooth and smart. Your role in the MDX on the highway becomes one of either active participant or ready supervisor - it's your decision.
The MDX was so quiet on the highway we could detect zero engine noise. We test EVs regularly now, and the MDX's low sound levels match any we have driven, including the Mustang Mach-E.
There are four drive modes from which to choose. Normal, Comfort, Sport, and Snow. We liked Comfort the best. It seemed to match the MDX's vibe and it doesn't reduce the engine's power. Our ten-year-old could not keep her eyes open when she was in back. Five minutes on the road and she went into a sort of blissful light sleep. Our front passengers simply said, "We should get one of these."
2022 Acura MDX SH-AWD Advance - Practicality
Shoppers of three-row crossovers expect practicality, and the MDX delivers. The spare tire is up under the rear, so there is no cargo volume sacrifice. Under the floor is a nifty area for your emergency supplies, and the cargo space is very large behind the rear seats. We dropped the third row and slid six Adirondack chairs into the cargo space without any difficulty. The rear cargo opening is both tall and wide. We didn't try it, but it appeared that we might be able to fit one of our smaller kayaks into the MDX with the two rear rows folded.
So, the MDX is a spacious crossover. Yet, we parallel parked it in Boston's Fenway area (actually called Kenmore Square) in one swing. No curb bump, no back and forth shimmy to squeeze it in. The MDX fits in a normal length and width city parking space without difficulty. More importantly, if you have a normal-size garage it will fit.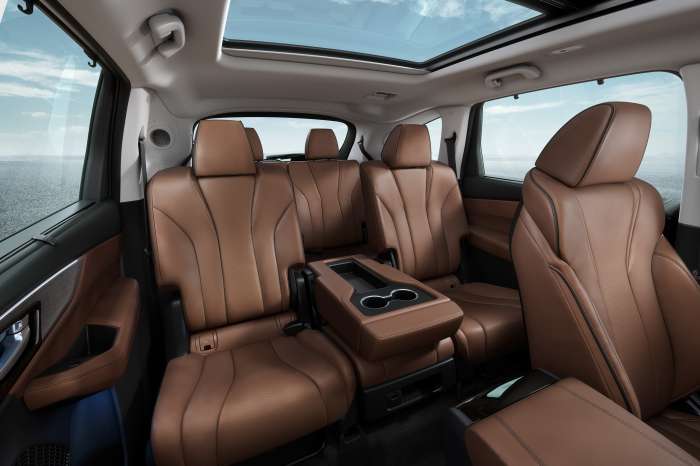 The MDX is arranged as a "six plus one." The third row is relatively roomy for two. The middle row is a very roomy 2-passenger space, or the center cup holder/console folds up to add a seventh seat. We feel this is ideal. Sure, an eighth-seat is always welcome, but not at the cost of a massive footprint and shoulder-to-shoulder seating.
2022 Acura MDX SH-AWD Advance - Infotainment
Acura's new MDX has one of the largest, clearest, and best-populated head-up displays we've tested. This keeps your eyes facing up and forward on the road. We used the thumb controls on the steering wheel to make our selections and the Google Voice Assistant works perfectly via the wireless Android Auto interface.
We rocked Pandora on the 16-speaker ELS Audio system and were amazed at how outstanding the audio Acura offers is today. It is the match of the best systems in the world. You really have to hear this audio system to grasp how much better than "premium" it is.
The main screen is large and clear, but out of the driver's reach. Acura offers a touch-pad interface perfectly positioned to where your hand rests on the nifty wrist pad. The center console armrest and this pad pair up to give you the perfect fit. Those who prefer a remote interface will find Acura's to be intuitive. Those who prefer to simply touch the screen will find it does not accept your input that way. The volume knob is to the right of this pad and easy for the passenger to reach as well as the driver. Acura separates out the HVAC and heated seat controls so you don't have to peck in the menus of the main screen to access them.
2022 Acura MDX SH-AWD Advance - Wish List
If we had one wish list item it would be a green powertrain option in the MDX. 21 MPG may be acceptable today, but in five years we doubt many buyers will feel it is. A plug-in hybrid along the lines of the Honda Clarity's design would be our preference. Acura does have a battery-electric vehicle coming. We expect to see it by 2024. Lexus and Tesla have choices today in this segment with meaningful fuel cost and environmental impact advantages over the MDX. However, none of them match the MDX in driving satisfaction.
2022 Acura MDX SH-AWD Advance - The Verdict
We feel Acura's MDX has now separated itself from the Lexus RX line in a meaningful way. There is also less similarity to the Honda Pilot. The two don't even share the same platform right now. Acura has elevated the MDX to a place its peers have not yet gone.
Shoppers seeking a deeply satisfying to drive three-row crossover with impressive practicality should start with Acura's new 2022 MDX Advance. Audiophiles looking for a vehicle in this segment should simply pick a color.
Note: The writer doesn't own any Acura products, does not invest in automotive stocks, has never attended an Acura launch event or "junket," and doesn't even have an Acura ball cap. Torque News does not accept advertisements from manufacturers (the ads you may see are generated by your browser). Any opinion offered is strictly based on our testing of Acura's products.
John Goreham is a long-time New England Motor Press Association member and recovering engineer. Following his engineering program, John also completed a marketing program at Northeastern University and worked with automotive component manufacturers. In addition to Torque News, John's work has appeared in print in dozens of American newspapers and he provides reviews to many vehicle shopping sites. You can follow John on Twitter, and view his credentials at Linkedin