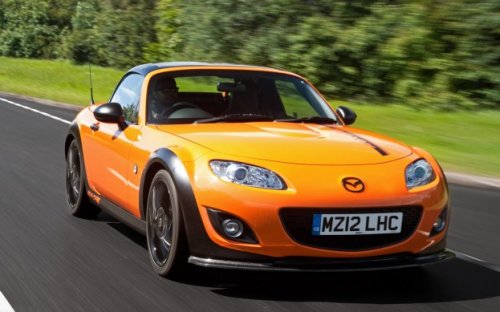 Mazda MX-5 GT Concept going to Goodwood this weekend
Please
SHARE
with friends and include TorqueNews in
Google Alerts
for tomorrow's interesting stories.
Mazda has announced that they will be attending the Goodwood Festival of Speed this weekend and will have a special Gran Tourismo concept car based on the 2012 Mazda MX-5 Miata.
The MX-5 GT is a tweaked version of the standard 2.0-liter inline four cylinder Miata with a six speed manual transmission. Jota Sport has added a stiffer, adjustable suspension, slick race tires, a sport exhaust, and tuning to the stock engine to push it to 205 horsepower.
Please include TorqueNews in
Google Alerts
to receive tomorrow's stories and
SHARE
this with friends if it was interesting.
Several exterior visual upgrades include the two center-exit exhaust sticking out below the larger rear diffuser, body color roll hoops, an aero kit and spoiler in carbon black including side skirts and a front splitter. A bright orange paint job on the metal panels set off by black hardtop and wheels finishes the racy look of this GT. Inside, Recaro seats and bigger bolsters are fitted along with several carbon fiber trim pieces to lighten the load.
The MX-5 GT will take the Goodwood run this weekend, making the famous hill climb in the First Glance category with other concepts. Interestingly, it will race another Jota Sport version of the MX-5, this one a GT4 - the world's fastest Miata with a 3 second 0-60mph time.
Mazda says that the GT Concept is just that, a concept, but that they will gauge customer reaction "..to a high performance version of the iconic sportscar." Similar to what was said about the Yusho concept that debuted in the UK last month. This is the fourth MX-5 concept to appear in the last year, all of which were basically hopped-up versions of the little roadster. This makes it apparent that the company plans some kind of racing-style production model before the line gets its changeup in 2014-15.
This would make marketing sense in the run up to the next release of the Miata. If Mazda keeps up this kind of pace with the Miata MX-5's publicity, that launch in a couple of years might become a pretty huge deal.
http://www.autoblog.com/2012/06/25/mazda-to-debut-mx-5-miata-gt-concept-looking-for-feedback/
Please
SHARE
with friends and include TorqueNews in
Google Alerts
for tomorrow's interesting stories.