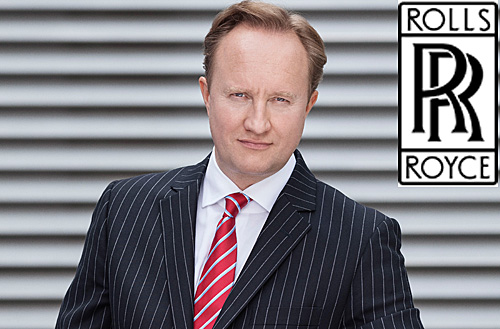 New Design Chief Tapped at Rolls-Royce
Taylor, who assumes his new role as of July 1, will report to Adrian van Hooydonk, Senior Vice President BMW Group Design. Cameron had been design director since 1999. Taylor came to Rolls-Royce in April 2011 after a career at Jaguar, where he did design work on two stunning models: the new XJ and XK.
According to the Rolls-Royce press release, "After his design studies in the United Kingdom, Taylor initially gathered experience in several international design roles. The 44 year-old Briton spent 10 years as an executive designer in the British car industry, acting as head of design for two model series at Jaguar. He joined the Rolls-Royce design team in April 2011 as Head of Exterior Design."
While the appointment of Taylor was pre-ordained with his hiring in 2011, Rolls-Royce will miss the talents of Cameron. He joined the BMW Group in 1992 and held leading design roles for several models, including the 3 Series model range, the Z8 and the Range Rover. In 1999 he was appointed to lead the new Rolls Royce design team, resulting in the launch of Phantom in 2003 and all subsequent Phantom and Ghost family models.
What's somewhat interesting is this statement in the press release, "Whilst Ian retires from his design role he will remain within the BMW Group until the onset of his retirement age in April 2013, dedicating his time to Rolls-Royce global heritage matters as Brand Ambassador within BMW Group Classic led by Karl Baumer." It appears that Cameron's retirement as design chief may not entirely have been of his doing.
Torsten Müller-Ötvös, CEO of Rolls-Royce Motor Cars, said, "I would like to thank Ian Cameron for his contribution to the resurgence of the Rolls-Royce marque. His legendary design capabilities combined with his passion for the company's distinguished heritage have made him an integral part of the success of Rolls-Royce Motor Cars since the brand was acquired by the BMW Group. As his successor, Giles Taylor has a deep knowledge of emotive brands in the luxury segment and a proven track record, and is the perfect choice to lead the Rolls-Royce design team to future success."
Adrian van Hooydonk, Senior Vice President BMW Group Design, said, "On behalf of BMW Group Design, I would like to extend my gratitude and appreciation for Ian's years of leadership and contribution to the Rolls-Royce brand. His deep understanding of Rolls-Royce values and history has proven invaluable.
Giles Taylor brings with him exceptional design skills and a comprehensive understanding of British values and heritage that are so crucial to Rolls-Royce; I have no doubt that he will successfully continue to develop the outstanding design ethos so successfully created by Ian Cameron and his team."
Cameron, who takes on the new non-design role, said, "I feel very privileged to have led the design team for the renaissance of this most prestigious company and I am delighted to continue my relationship with Rolls-Royce in my new role as Brand Ambassador."
Please
SHARE
with friends and include TorqueNews in
Google Alerts
for tomorrow's interesting stories.