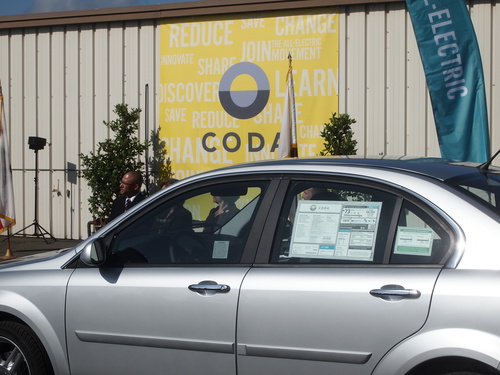 UQM writes off Coda, piling on doubts of Coda's survival
Please
SHARE
with friends and include TorqueNews in
Google Alerts
for tomorrow's interesting stories.
The prospects for beleaguered electric automaker Coda Automotive just went from bad to worse on news that drivetrain supplier UQM has essentially written Coda off. UQM is a Colorado-based maker and supplier of electric and plug-in hybrid drive train systems. According to an SEC filing dated Thursday, Coda has racked up a large debt with UQM and paid nothing towards that debt.
Coda Automotive used UQM's PowerPhase Pro 100 as the basis of the drive train in the company's electric car. Coda's engineers had designed an additional control system to coordinate several systems in the car, including the UQM PowerPhase drive train.
According to the UQM filing with the SEC, the company entered into a 10 year supply agreement with Coda in 2009. The company began deliveries of PowerPhase drive trains in October 2011, and Coda Automotive launched sales in March 2012. Coda Automotive has been tight lipped about actual sales of their electric car, and at a company press event in September company management attempted to reframe the March launch as a "public beta". The August recall (for misinstalled air bags) affected 78 cars, telling us that sales of the Coda electric car had been very slow.
What UQM discloses is that following the March 2012 product launch, Coda's production and delivery of cars to customers "has been at a significantly reduced rate versus initial CODA forecasts" and therefore UQM had "suspended production for CODA and have not shipped any production propulsion systems to CODA." UQM notes that earlier this year Coda had announced they were seeking additional investment "to fund their ongoing operations," but this was unsuccessful and the company is "significantly delinquent in the payment of amounts due to [UQM]." While Coda had paid $1,454,176 to UQM in 2011, they paid $0 during 2012. To top it off, Coda laid off 50 employees in early December 2012, and furloughed a significant amount of the company in early January 2013.
UQM has seen what we might metaphorically describe as "the writing on the wall" and determined "there is substantial uncertainty regarding CODA's ability to honor their obligations to us under the Supply Agreement."
Pages
Please
SHARE
with friends and include TorqueNews in
Google Alerts
for tomorrow's interesting stories.