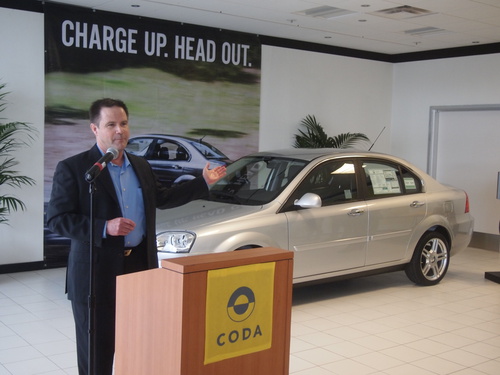 Coda Automotive delivers first electric cars to customers in San Diego, LA and Silicon Valley
Please
SHARE
with friends and include TorqueNews in
Google Alerts
for tomorrow's interesting stories.
As promised, Coda Automotive today delivered the first of the company's electric cars to paying customers. The milestone was marked in a trio of ceremonies, at Coda dealerships in San Diego and San Jose, as well as the Coda Experience Center in Century City.
Coda Automotive is a start-up automobile manufacturer focusing on electric cars. The company was founded a few years ago, and has developed the Coda electric car and, through a sister company, Coda Energy, has developed electrical energy storage systems based on the battery pack technology developed for Coda Automotive's electric car.
The company's electric car is assembled in Benicia CA using parts from several countries, including an engineless chassis manufactured for Coda by a Chinese automaker. Earlier this week Coda assembled its first production electric cars at the Benicia facility. Its style is that of a typical family sedan, other than the lack of a tailpipe and gasoline engine. As an electric car, Coda's specifications are well above those of the Nissan Leaf and Ford Focus Electric, offering a longer driving range due to the larger battery pack, and a faster recharge due to the 6.6 kilowatt on-board charger. The driving range is EPA certified at 88 miles, but Coda claims a driving range of up to 125 miles, depending on driving habits. The company will soon offer a second model with a larger battery pack, and longer driving range.
The first customer delivery in Silicon Valley happened at the newly opened Coda Silicon Valley dealership owned and operated by the Del Grande Dealer Group (DGDG). DGDG is a large automobile dealership chain in Silicon Valley which already sells the Nissan LEAF through its Nissan Sunnyvale dealership. Shaun Del Grande, DGDG's President, explained that last summer DGDG management got the idea to move into selling electric cars. After a couple months of research they settled on Coda Automotive, after meeting with Coda's management and test driving the car. Coda announced DGDG's selection as the first Northern California dealer in January during the Silicon Valley Autoshow. The Coda Silicon Valley showroom is located on the Stevens Creek Road Automall, at the intersection of Stevens Creek and Keily.
Pages
Please
SHARE
with friends and include TorqueNews in
Google Alerts
for tomorrow's interesting stories.