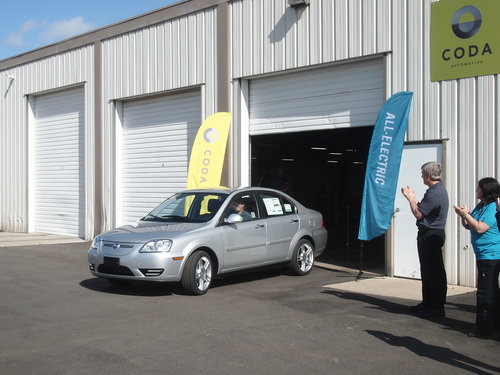 Coda Automotive rolls first electric car off the assembly line, customer deliveries beginning soon
Please
SHARE
with friends and include TorqueNews in
Google Alerts
for tomorrow's interesting stories.
Today, in Benicia CA, the first Coda electric Sedan rolled off the assembly line, and on Friday the company expects to make first customer deliveries with one event in San Diego, another in Los Angeles, and the third in the newly opened dealer show-room in San Jose. It represents, for electric car maker Coda, the end of the beginning of the company's plan to sell electric cars for the mass market.
Coda is a start-up automobile manufacturer, based in Southern California, and focused on designing electric cars. The company began on a quest 5 years (or so) ago with the goal of an electric car in every garage, and ending the age of gasoline. Today's achievement was a small step toward that big goal today by reaching the milestone of beginning actual production, as had been promised recently. The milestone was marked with a ceremony including "Mac" Heller, the Chairman of Coda, and several government representatives from the city of Benicia, Solano County, and the California State Government.
The company's all electric Sedan is the result of a partnership with companies around the world. The drive train comes from UQM, based in Colorado, the battery pack comes from a joint venture the company has in China, and the car body comes from a large Chinese automaker. The partly assembled car is shipped to an assembly facility in Benicia (near San Francisco) operated by AMPORTS where a team of AMPORTS and Coda technicians performs final assembly and testing.
The location is ripe with symbolic meaning. The company's name, Coda, is a musical term representing a transition from one scale to another scale. Coda, the company, hopes their efforts result in a transition from one form of transportation to another. Benicia, the city, is surrounded by oil terminals and oil refineries, making it a curious location to assemble electric cars, except that the Benicia city government prides itself on a long record of sustainability efforts.
Coda chose this location because of key infrastructure elements. Benicia has its own deep water port, and the Port of Oakland is nearby. The Benicia port is used not just by oil tankers, but also automobile deliveries, and there is a significant automobile processing facility nearby. Coda's partner, AMPORTS, has significant experience with processing and customizing cars.
One of the questions surrounding Coda is the breakdown of the country of origin for the components, and just how much of the car is made in China. The EPA label says 12% of the content of the Coda Sedan is American/Canadian, 70% comes from China, 6% comes from Mexico, 4% from Japan, 4% from Thailand, and 2% from Germany.
Pages
Please
SHARE
with friends and include TorqueNews in
Google Alerts
for tomorrow's interesting stories.