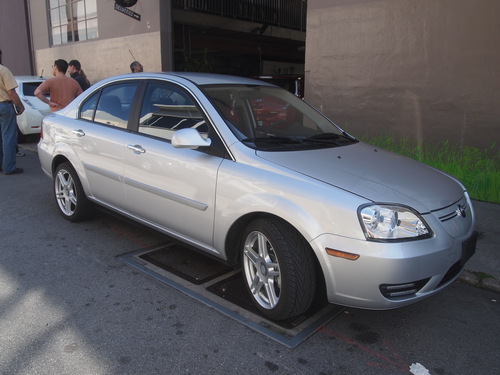 Coda Automotive customer deliveries of electric car in March, and a brief test drive
Coda Automotive is in the final stretch before beginning first customer deliveries of the company's all electric sedan. Over the weekend a Coda team came to the Golden Gate Electric Auto Association (GGEVA) meeting to show the car and offer test drives to a crowd of electric car enthusiasts from all over the SF Bay Area. It was a repeat visit for Coda, from one two years earlier to the same group, and demonstrated just how far Coda's engineers have come in the Coda Sedan's fit and finish and development.
Before offering test drives there was a presentation by Coda's new VP of Sales, Marketing and After-sales, Thomas Hausch. He is yet another industry veteran hired by Coda as the company steps into the role of selling real cars to customers.
The Coda Sedan is partly manufactured by a Chinese automobile manufacturer, and is shipped partially assembled to a facility in Benicia, CA, near San Francisco, for final assembly. It is roughly the size of a standard size sedan, with an outline that is completely compatible with what we think of as a normal car. However, under the hood and under the passenger compartment is an electric drive train with no hint anywhere of the gasoline tank or engine or anything else we might think is a normal car. If cars like this become normal, we will collectively have to rethink what a normal car is, but lets not get ahead of ourselves.
The Sedan comes with a 31 kilowatt-hour battery pack offering a 125 mile range on the UDDS test cycle, for an MSRP of $37,250. It is also available with a 36 kilowatt-hour battery pack, a 150 mile range, and an MSRP of $39,500. In both cases the cost of the Coda Sedan is comparable with the Nissan Leaf, Ford Focus Electric and Chevy Volt, while offering a much longer electric range.
The Sedan has an outstanding value proposition in comparison with other electric cars. It's electric range is the longest of any non-luxury battery electric vehicle. This is further than the comparably priced Nissan Leaf (80-100 miles versus 125+), and a bit shorter than the much more expensive Tesla Model S. It has "best-in-class charging capability", meaning the Coda's on-board charger is 6.6 kilowatts for 25 miles gained per hour of charging, versus the 3.3 kilowatt charger on the Leaf. It has "best in class torque and horsepower", with a 100 kilowatt (134 horsepower) electric drive offering 221 ft-lb's of torque. The 10 year, 100,000 mile battery warranty is also "best in class", as is the 14.1 cubic feet of trunk space. Its price (MSRP) per mile of electric range is a "best in class" $292/mile versus $352/mile for the Nissan Leaf, $392/mile for the Ford Focus Electric, and a whopping $428/mile for the Mitsubishi i-Miev. The various ad
Hausch also presented two tables comparing cost of ownership of the Coda Sedan against the Toyota Prius and Toyota Corolla. In both cases the Coda Sedan was shown to be cheaper to own, but this depends on which way the price of gasoline goes. The cost of ownership model comes from Edmunds, and accounts for the depreciation (the difference between purchase price and residual value after 5 years), taxes and fees, financing costs, fuel costs, insurance, maintenance, and repairs. Because the Coda Sedan is more expensive than either the Prius or Corolla, the depreciation and financing costs are higher, however this is more than made up for in fuel, maintenance and repair costs. With $4/gallon gasoline, according to Coda's figures, the five year ownership cost for a Toyota Prius Liftback IV is $43,268, while for the Coda Sedan it is $40,038. For the Toyota Corolla LE, and $5.50/gallon gasoline, the totals come out to $41,177 for the Corolla and $40,038 for the Coda. But, wait, you're going to say gasoline doesn't cost $5.50/gallon. Yes, the national average gas price is much less than that, today. Some parts of California are currently, today, paying over $5 per gallon for gasoline. Gasoline prices are far more volatile than are electricity prices, and electric car owners are immune to gasoline price shocks such as the one currently unfolding around us. See also Why electric cars are cheaper to drive than gasoline cars.
Enough about all that, what about the car?
First off, the fit and finish are excellent and it looks really nice. The prototype Coda brought two years ago was drab and humdrum by comparison, and clearly Coda's designers have spent the last two years focusing on details. It's a five seater sedan, however reports from those who sat in the rear seat said it was a bit cramped. The drivers seat was comfortable with controls where you expect them. Except, that is, for the gear shifter. Instead of a shift lever to select between Park, Reverse and Drive, one turns a knob. The knob is straight-forward to use, but is different than normal and will require a bit of an accommodation period. Coda's knob makes more sense than the one in the Leaf.
Pages
Please
SHARE
with friends and include TorqueNews in
Google Alerts
for tomorrow's interesting stories.