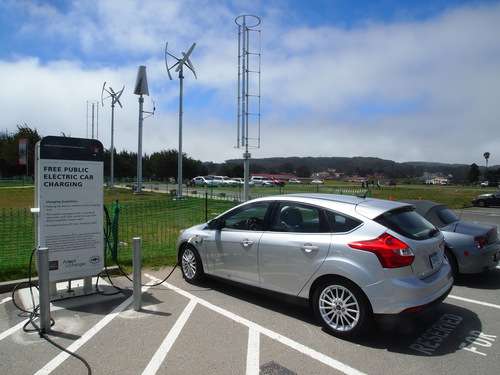 How to drive past electric car range limits for long range trips
A couple weeks ago Consumers Reports bought a Ford Focus Electric for testing that will result in a future review of that car. Getting it to their office meant a 100 mile journey from Westchester County, NY to their offices in Connecticut. Along the way they had a little misadventure in planning long range trips with electric cars that illustrates a common misconception about electric cars. That they can only be driven around town, because the short electric only range is useless for road trips. At first blush an electric car with a 76 miles driving range might look useless to reach a destination 300 miles away, or even 100 miles away, but with some planning it can be done.
The Consumer Reports blog entry says they'd picked up the car in Rye, NY, and stationed "a tow vehicle and trailer at about the half way point" on the way back to the company's testing grounds. Their website doesn't clearly say where the testing grounds are, but according to Google Maps the location is in East Haddam Connecticut. The preferred route to there from Rye, NY, is 110 miles, on I-95 and I-91.
There have been several news items referring to CR's trip as proof that electric cars are a failure, because Consumer Reports had to tow their new Ford Focus Electric to their office. As we'll see, this is more about the failure of Consumer Reports' staffers in understanding how to take a longish trip with an electric car. This a teaching moment opportunity, demonstrating how we can take longer trips using an electric car.
The first step to driving a long trip with an electric car is to understand the range of your car. How far you can go in one charge, and the effect of mountains on the range, is only partly captured by the EPA range estimate. It's best to spend a while driving your car, recording the energy used to go different places, to gain a better understanding of its capabilities.
Because it was a newly purchased Ford Focus Electric, CR's staffers couldn't do that. The best they could do is trust the EPA range estimates and then be really conservative about the distance they'll drive in each segment of the journey. Which leads to the next step.
Divide your journey into segments based on the distance you're comfortable driving. The goal is to avoid getting stuck on the side of the road with a dead battery. How far can you drive and leave yourself enough charge in the battery pack in case there is a problem? For the Ford Focus Electric, each leg of the journey should be 50-60 miles. While the rated driving range is 76 miles, being conservative on the length of each leg helps to avoid running the battery down to dead, and gives some leeway in case plans have to change.
Next use an application like ReCargo to browse the charging stations along the route you'll be driving. There are several smart phone applications that show the charging station networks, and ReCargo is one, and another useful app is PlugShare. These applications do not help with route planning, so it is useful to map each leg of the trip in an a regular map application. You have to look for charging stations within the driving distance for each leg of the journey. It's useful to have alternate locations in case one of the charging stations is down or occupied. We want each leg of the trip shorter than the total driving range, just in case you have to seek out an alternate location. It's not helpful if your car is on its last electron, only to arrive at the charging station to find that it's broken. Some of the charging station app's allow you to query charging station status ahead of time.
For the trip CR's staffers took with their Ford Focus Electric, there are several charging stations along the route. These include the Summer Street Garage in Stamford, the Yankee Doodle and Maritime Parking Garages in Norwalk, a Whole Foods near Fairfield, several parking garages in New Haven. Unfortunately the list of charging stations grows sparse after that point, but the Hartford Amtrak station has a public charging station. Therefore, the CR staffers could have driven directly from Rye, NY to West Haven (47 miles), charged, then from there to Hartford, charged, and then on to their office, with no need for a tow vehicle. The charging session in West Haven should be a full recharge, and because the Ford Focus Electric has a 6.6 kilowatt charger the charge time would have been close to two hours. The charging session in Hartford should be just enough to have the range to get to CR's office, so an hour of charging should be sufficient.
The rule of thumb for electric cars with 6.6 kilowatt chargers, is that each hour of charging adds 22-25 miles of driving range.
For a slightly tougher request, let's consider someone living in Kansas City, MO, visiting relatives in Wichita, KS. According to Google Maps the distance is 200 miles, and according to the ReCargo application there are public charging stations in Olathe, Lawrence, Topeka, Emporia, El Dorado, and Wichita. The distance between each of these is short enough to allow an electric car to make the journey, hopping from station to station along the way. Unfortunately getting much further west in Kansas than Wichita or Salina is not terribly doable, because of the lack of charging stations.
Pages