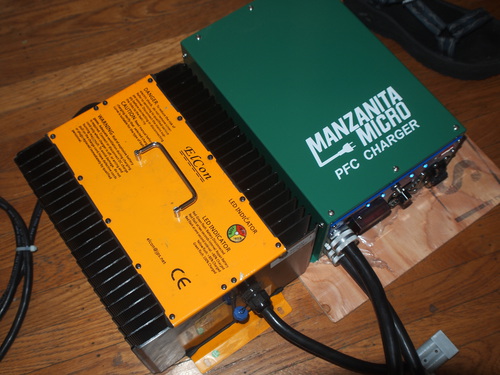 How powerful of a charger is required to kill electric car range anxiety?
Please
SHARE
with friends and include TorqueNews in
Google Alerts
for tomorrow's interesting stories.
How do electric car owners handle trips just outside the driving range of their car? Do they throw up their hands, frustrated that their zero emissions car is incapable of fulfilling that American past-time, the road trip? Do they rent a gasoline car? Or do they find charging stations along the way of the trip? Last weekend I had just that question, as I was to take a trip to a destination over 100 miles from home, to the Laguna Seca raceway for the e-Power/TTX electric motorcycle race. My only vehicle is an electric car, a home built conversion with a 50-60 mile driving range. Even though the car's driving range is much less than the distance required, I completed the journey, and learned a few things along the way. Last week at Plug-in 2012 a Coda Automotive representative called on electric car makers to build cars with longer driving range, to install "range confidence". My trip last weekend demonstrated that a higher powered charger goes further in creating range confidence, than does a bigger battery pack.
While my car has a driving range shorter than any of the currently available manufactured electric cars, its 50-60 mile range has been sufficient for most of my needs. Most trips require charging the car at home, and not straying too far from home. This is called "home base charging", where the electric car is only charged at home. Slightly longer trips, beyond 1/2 the driving range from home, can be easily accomplished if the destination is near a charging station. One simply parks the car at the charging station, goes about their business at the destination, waiting a sufficient time so the car is charged enough to drive home. This is called "destination charging," where the car is charged at home and at the destination. My trip last weekend required charging along the way while traveling, and charging the car becomes part of the trip.
The charging rate of an electric car on-board charger controls the speed of the trip. Chargers are rated by the kilowatt rate at which the battery pack is charged. Todays electric cars have on-board chargers rated for either 3.3 kilowatts or 6.6 kilowatts. Except for the cars manufactured by Tesla Motors. Most charging stations support a 240 volt 30 amp charging circuit that can handle a 6.6 kilowatt charger, but some are rated for more.
Roughly speaking the 3.3 kilowatt chargers give 12 miles of driving range per hour of charging, while the 6.6 kilowatt chargers give 25 miles of driving range. When I first built my electric Karmann Ghia, I chose a charger rated for 3 kilowatts charging rate. While that charger satisfied most of my charging needs, a complete recharge would require 8 hours and I could see that last weekends trip simply would not work out because of the distances that had to be covered.
Pages
Please
SHARE
with friends and include TorqueNews in
Google Alerts
for tomorrow's interesting stories.