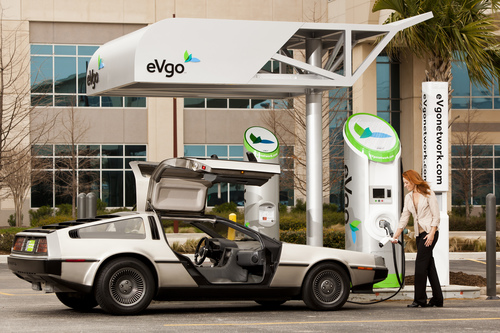 ECOtality rebuffed in attempt to block eVgo's entrance to California charging station market
Please
SHARE
with friends and include TorqueNews in
Google Alerts
for tomorrow's interesting stories.
Back in March 2012 a deal was reached between the State of California and NRG Energy that will cause NRG's subsidiary, eVgo, to build a large charging station network in California. The deal settled a long-standing lawsuit between California and two subsidiaries of NRG related to the California Energy Crisis over 10 years ago. In May, ECOtality filed a lawsuit seeking to block the settlement launching a legal battle between ECOtality, the California Public Utilities Commission and NRG Energy that has run in parallel with proceedings at the Federal Energy Regulatory Commission over approval of the settlement. Today, the California First District Court of Appeals today denied ECOtality's motion, ending their attempt to derail the settlement.
For details concerning the settlement and lawsuit see our previous coverage:- California settles energy crisis lawsuit, enabling NRG to build electric car charging network; NRG reaching out to quell concerns in electric car charging network deal with California; California's electric car charging deal with NRG clouded with controversy; ECOtality seeks to block NRG's electric car charging network in California; NRG's electric car charging network creating new jobs in California; and NRG fires back over ECOtality's lawsuit seeking to kill settlement with PUC
The backdrop to the settlement was the California Energy Crisis which was perpetrated by unscrupulous energy traders such as Enron. In the wake of that Crisis several companies went out of business, and Grey Davis was forced out as Governor to be replaced by the Governator. NRG had purchased two subsidiaries of Dynegy, thus inheriting the culpability of those subsidiaries for their role in the crisis. NRG and California had already settled part of the claims against the subsidiaries. The settlement announced in April covers the "long term contracts" issue, and in return for settling the case NRG has committed itself to building an electric car charging station network in California of over 10,000 stations.
This network is to be built by NRG's subsidiary eVgo and consist of 200 "Freedom Stations" which will contain two, or more, fast charging stations, and 1000 or more "Make Ready" sites that will have wiring for 10,000 or more level 2 charging stations. The Make Ready's are to be installed at businesses, multi-unit dwellings or other sites of public interest such as shopping centers.
Pages
Please
SHARE
with friends and include TorqueNews in
Google Alerts
for tomorrow's interesting stories.