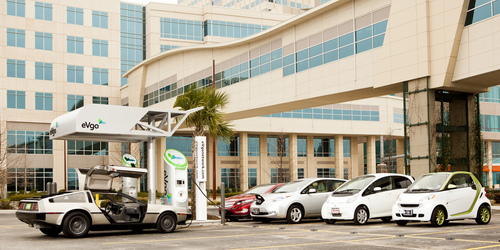 NRG reaching out to quell concerns in electric car charging network deal with California
Please
SHARE
with friends and include TorqueNews in
Google Alerts
for tomorrow's interesting stories.
Three weeks ago Gov. Jerry Brown and NRG announced a deal that is a huge step toward building the electric car charging infrastructure that California needs to meet the states environmental goals, but some electric car advocates are raising concerns and questioning whether the the deal will be good for California's electric car drivers. Late last week NRG provided a pair of documents previewing the proposed agreement between the company and the California Public Utilities Commission (CPUC). The documents answer most of the concerns and provide a glimpse into how the project is likely to progress over the next four years.
NRG's settlement deal with California breaks down to a $20 million payment to the CPUC, and a $100 million amount that will pay for a large electric car charging network. The network will be built and owned by NRG's subsidiary eVgo, a company which is already operating electric car charging stations in Texas. The documents we received from NRG's David Knox break out some of the details of how that $100 million will be allocated to different projects. However the deal is not finalized and has not been presented to the Federal Energy Regulatory Commission for approval, meaning it's possible the details will change.
A $50.5 million investment in a minimum of 200 electric vehicle (EV) fast-charging Freedom Station sites: The Freedom Stations consist of one DC Fast Charging station (CHADEMO), the wiring for a second fast charging station, plus some level 2 J1772 charging stations. NRG expects to install 110 sites in the Los Angeles Basin, 55 in the San Francisco Bay Area, 15 in the San Joaquin Valley, and 20 in San Diego County. Completion of the stations will be spread over four years, with 20% in year 1, 30% in year 2, 30% in year 3, 20% in year 4. The Freedom Stations will be owned and operated by NRG's subsidiary, eVgo.
The stations will be available both to eVgo members, and on a pay-as-you-go basis costing "no more than $10 per charge during off-peak hours and $15 per charge on-peak." This directly answers the Open Access concern raised by some advocates.
A concern we've raised before is the choice to support the CHADEMO DC Fast Charging protocol, rather than wait for the SAE J1772 committee DC Fast Charging system currently being debated. The committee is expected to standardize on a different DC Fast Charging system, and it stands to reason the investment in CHADEMO stations could be rendered obsolete. NRG is committing to support both current DC Fast Charging systems (CHADEMO) and the future system being standardized by the SAE committee. How this works out in practice is yet to be determined, and at worst NRG will have to install a second fast charging station supporting the SAE DC Fast Charging protocol alongside the existing CHADEMO stations.
Pages
Please
SHARE
with friends and include TorqueNews in
Google Alerts
for tomorrow's interesting stories.