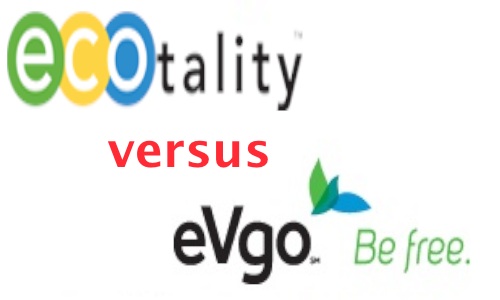 NRG fires back over ECOtality's lawsuit seeking to kill settlement with PUC
Please
SHARE
with friends and include TorqueNews in
Google Alerts
for tomorrow's interesting stories.
Last Friday, ECOtality filed a lawsuit seeking to block the massive new electric car charging station network to be built by eVgo in California, as well as the legal settlement between NRG and the California Public Utility Commissions. Yesterday NRG responded with legal briefs and other documents saying essentially that ECOtality doesn't have a leg to stand on.
The new electric car charging station network is slated to include over 200 fast charging stations ("Freedom Stations"), and wiring for over 10,000 level two charging stations ("Make Ready's"), spread around California's metropolitan areas. As a result of the settlement, NRG is in the process of expanding the company's subsidiary, eVgo, into California. ECOtality is also an electric car charging station network operator, making the two companies competitors.
The settlement between NRG and the CPUC stems from the California Energy Crisis 10-12 years ago. Some subsidiaries of Dynegy, that later became owned by by NRG, had signed long term contracts negotiated by California to supply enough power to run the state. Those long term contracts were later found to have been overpriced ("gouging") and there have been negotiations underway for some time to settle the matter. Those negotiations eventually came around to having NRG build an electric car charging station network.
Legal documents filed by both the CPUC and NRG not only answer most of the allegations raised by ECOtality, but points to a number of procedural errors made by ECOtality which undermines that company's lawsuit. Namely:-
ECOtality delayed filing its lawsuit for 64 days past the date of Gov. Brown's announcement of the settlement. If, as ECOtality claims, the settlement is causing irreparable harm, then why did the company wait so long to file its lawsuit? The delay before filing the lawsuit, and that it was filed on the Friday before a 3-day weekend, undermines ECOtality's case, according to NRG. Instead, the CPUC and NRG both describe ECOtality's claims as "vague allegations of financial harm" that do not meet the standard required for a "stay of action by the Public Utilities Commission."
According to the CPUC, there was a trio of procedural errors. First, ECOtality's lawsuit failed to specify, to the Court, the precise CPUC action to stop. Second, ECOtality failed to "submit an offer of a bond" which is a statutory requirement to stay a CPUC action. Third, the CPUC notes that ECOtality asked the Court to "entangle itself in proceedings now pending before the Federal Energy Regulatory Commission" which is beyond the jurisdiction of the Court.
ECOtality's lawsuit made several allegations that boil down to describing the settlement as illegal and monopolistic. The CPUC and NRG filings answered these allegations as follows:-
Pages
Please
SHARE
with friends and include TorqueNews in
Google Alerts
for tomorrow's interesting stories.