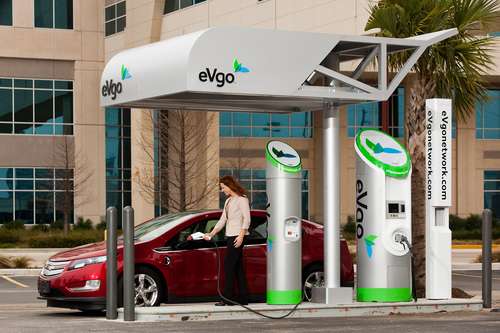 California's settlement with NRG for electric car charging network headed to FERC
In March NRG and the State of California announced a deal that both settles a decade-long legal wrangle stemming from the 2000-1 energy crisis, and also makes a bold move to create a huge network of electric car charging stations in California. Today NRG followed up by releasing the actual settlement filed by the CPUC with the Federal Energy Regulatory Commission (FERC) for approval. The details of the proposed EV charging network we published earlier were based on a preliminary document provided by NRG, and today we have available the finalized agreement (published on the CPUC website).
The agreement stems from a period in California, during 2000 and 2001, where some energy companies abused a flawed deregulated electricity market in California, resulting in millions upon millions of dollars in excess electricity costs in California. Among those companies were certain subsidiaries of Dynegy, that were later bought by NRG, who then assumed legal responsibility. According to a statement by CPUC Commissioner Mark Ferron, "Dynegy together with NRG will have returned to the people of California more than $400 million in consideration" to atone for these acts. Of that amount, $300 million "will be paid in the form of cash to offset the electric bills of customers in California" and the remainder, more than $100 million, is the to-be-built charging station network infrastructure.
The settlement breaks down into five major chunks: 1) $50.5 million to cover at a minimum 200 fast charging stations around California; 2) $40 million investment in electrical infrastructure that will support at least 10,000 level 2 charging stations; 3) $5 million for research and development of new EV charging services; 4) $4 million to support electric car based car sharing programs; 5) $20 million payment to the CPUC.
The fast charging stations will be owned by NRG's subsidiary eVgo. That company operates a charging station network in Texas today, and is preparing to expand into California. The fast charging stations are what eVgo calls a "Freedom Station" and consists of one DC Fast Charge station, at least one Level 2 charging station, and the wiring to add at least one or more fast charging and level 2 charging station at the same site. The fast charging stations will initially be compatible with the CHADEMO standard for DC Fast Charging, but as the SAE DC Fast Charge standard is finalized and becomes available in cars eVgo will make appropriate adjustments to the equipment. NRG expects to install 110 sites in the Los Angeles Basin, 55 in the San Francisco Bay Area, 15 in the San Joaquin Valley, and 20 in San Diego County. Completion of the stations will be spread over four years, with 20% in year 1, 30% in year 2, 30% in year 3, 20% in year 4.
The company could end up building more than the 200 Freedom Stations, if the cost to build stations drops and NRG ends up having not spent $50.5 million. The stations will be distributed every 5-10 miles, in major metropolitan areas, open on a 24/7 schedule, and located in retail areas near major highways.
A portion, 20%, will be installed in areas of low- to moderate- income households. This is meant to ensure access to charging stations by those less well off, and plays well with another provision of the agreement, the $4 million amount allocated in part to support EV Car Sharing programs. NRG and eVgo is not going into the car sharing business themselves. Instead eVgo is working with car sharing programs to ensure electric cars owned by the car sharing programs have access to the Freedom Stations. One goal is to increase car sharing program presence in low- to moderate- income areas, and to make electric cars more available to those of "all socioeconomic backgrounds" in part by offering EV Car Sharing and EV charging stations in low- to moderate- income areas of California.
In Texas, eVgo's network of Freedom Stations is only available to card carrying eVgo members. In California, however, the stations will be accessible to anybody on an "open" basis. Electric car owners will be able to drive up, provide a credit card, and pay on the spot to charge their car. The cost in this case will range between $7 to $15, and provide "50 miles of charging, in 15 minutes". Customers can become eVgo members, pay a monthly membership fee, and get a level of service that is yet to be announced.
Pages